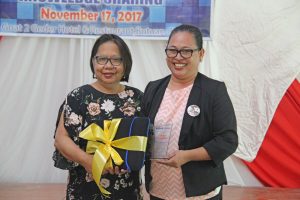 BUTUAN CITY- Nine (9) Local Government Units (LGUs) in Caraga Region won the 1st Regional Social Welfare and Development Good Practice Documentation Competition 2017 spearheaded by the Knowledge Management Team (KMT) of the Department of Social Welfare and Development (DSWD)-Caraga.
All winning entries received a plaque and one unit netbook worth Php12,000, while the non-winning entries received Certificate of Appreciation during the conduct of the year-end SWD Forum cum Knowledge Fair on November 17, 2017 at Goat 2 Geder, this city.
The said competition was conceptualized in order to recognize the initiative and innovations of the Local Social Welfare and Development Offices (LSWDOs) and Social Welfare Development Learning Network (SWD-LNET) members in delivering quality services in their localities. The agency also wants to acknowledge the existing exemplary practices – program, process or strategy of LGUs that has been proven to produce positive results relative to Social Protection.
The list of winners and their corresponding GP documentation are as follows: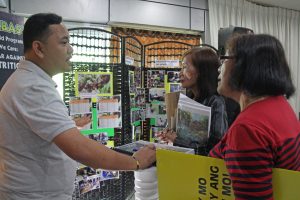 Carmen, Surigao del Sur – The Care for the Elderly:Provision of Hot Meals and Grooming Needs
San Francisco, Agusan del Sur – Bahay Kalinga Para sa mga Kabataan: A Shining Place of Hope and New Beginnings
San Miguel, Surigao del Sur – Child Minding Center: For Change and Empowerment
Taganaan, Surigao del Norte – Mano Po: Municipal Allocation for Needful Olds Pension Opportunity
Bislig City – Shades of a Childhood: Helping Children with Unfriendly Experience (Safe Home and Deserved Environment Situation
Bislig City – CHOSEN: Children Hub of Special Education and Nurturing CHILD: Crossing Over Hindrances in Learning and Development
Alegria, Surigao del Norte – Tawag Center: Home Care Program for Children with Disabilities)
Basilisa, Province of Dinagat Islands – KKK sa Taong May K: "Karunungan, Kabuhayan, at Kaagapay sa Taong may Kapansanan
Bayabas, Surigao del Sur – Adopt a Child Program and Project We Care: Waging War with Malnutrition
Other participants are the following: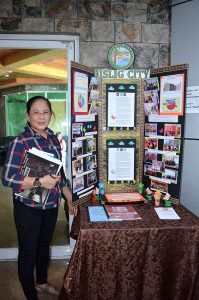 Province of Dinagat Islands –SICAD for PWDs: "Sustained Intervention s Through Customized Assistive Devices for Persons with Disabilities"
Santiago, Agusan del Norte – Supplementary Feeding Program
Surigao State College of Technology – Community Extension Services
Surigao del Norte – Medicine Assistance for Senior Citizen
Surigao City, Surigao del Norte – Special Intervention Program for Children in Conflict with the Law and Children at Risk
Surigao City, Surigao del Norte – NDPR Week: Success Behind limitations
Surigao City, Surigao del Norte – Local Recognition and Awards System: Motivating Barangay Participation against Poverty and its Associated Social Problems
This competition will encourage and challenge other LSWDOs to document their existing good practices.
On September 26, 2017, members of KMT of DSWD-Caraga as well as staff from the Central Office assessed all entries submitted by the participants for the SWD Good Practice Competition. The winning entries were evaluated based on packaged documentation and the good practice's sustainability, innovativeness, and responsiveness.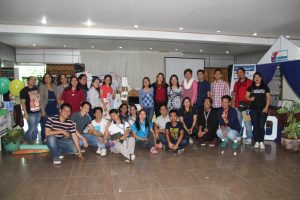 The KMT of DSWD-Caraga regularly meets to plan, develop, and recommend knowledge sharing within the office and motivate staff and partners to take part in knowledge sharing from tacit to explicit knowledge.###(ABEGAIL R. ALVAREZ/Social Marketing Unit/DSWD Field Office Caraga)