BUTUAN CITY- A documentary about one of the most isolated tribal communities in Esperanza, Agusan del Sur won the Department of Social Welfare and Development (DSWD) Kapit-Bisig Laban sa Kahirapan-Comprehensive and Integrated Delivery of Social Services (Kalahi-CIDSS) Caraga's first-ever short feature/documentary film-making contest last December 14, 2017 held at Almont Hotel's Inland Resort in this city.
After almost two months since the competition was announced last October, thirteen (13) entries were submitted from talented filmmakers in the region which showcased the contest's theme: Highlighting the Impact of Community-Driven Development With Different Partner-Stakeholders in the Implementation of DSWD Kalahi-CIDSS Caraga.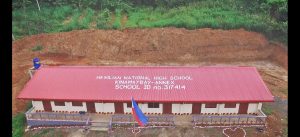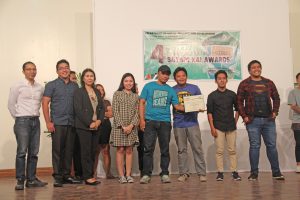 The entries were then narrowed down to six finalists to compete for the title. The film entry "Kinamaybay" produced by Elijah Multimedia bested five other finalists to become the first grand winner of the competition and bag the cash prize of Php40,000.
The film entries were judged based on the following criteria: Composition (30%), Relevance to the Theme (30%), Creativity (20%), and Originality (20%).
The grand winner, Elijah Multimedia created by Evvoh Vincent C. Orilla since 2014 that operates business mainly at San Francisco, Agusan del Sur, specializes mostly on documentary projects. According to Orilla, the concept behind their winning entry is to capture and seam the stories told by the people of Kinamaybay in their journey towards empowerment and realization of their community projects in the most compelling and honest way.
"Our entry features the impact of community-driven projects in the lives of the people in one of the remote communities of Esperanza, the Brgy. Kinamaybay. Our main objective is to let these people (in the community) speak about the project and its effect in their lives. As filmmakers, we wanted to convey to viewers their unscripted and straight from the heart stories," Orilla shared.
The contest is just one of the activities of DSWD in the region conducted to advance its advocacy efforts in promoting its programs, particularly the Community-Driven Development program/Kalahi-CIDSS of the agency. The film entries will be launched in social media to intensify the reach of the program's impact to the general public.
OIC-Regional Director Mita Chuchi G. Lim commended all the participants and finalists of the competition for their exceptional work. She also recognized the use of documentary films as a powerful medium to communicate the successful implementation of program to its partner-stakeholders more effectively.
"I would like to congratulate all the winners and finalists of this year's filmmaking competition. Overall, I am just grateful for everyone who took part in this activity. One of our main objectives in organizing competitions like this is to share the same level of appreciation of our partner-beneficiaries, communities that we serve coming from an outsider's perspective. I believe this has been an enriching experience for everyone involved in the production, "Lim said.
Here's the complete result of the film-making contest:
Grand Winner
(Php40,000 cash prize w/ certificate)
Kinamaybay by Elijah Multimedia
Production Team: Evvoh Vincent Orilla (Lead Producer/Director), Filmore Rabuya (Cameraman),
 Hubert Honculada (Cameraman), Archel Dela Cruz (Researcher/Production Staff)
1st Runner-Up
(Php30,000 cash prize w/ certificate)
Purok Syete by VS
Production Team: Victor Jomoc Jr. (Lead Producer/Director), Symoon Jugao (Lead Producer/Director)
2nd Runner-Up
(Php20,000 cash prize w/ certificate)
Mga Damgo Luyo sa Gabonong Kabukiran by Likha-Karaga Visual Arts
Production Team: Marychrist Novo (Lead Producer/Host), Alwin Musa (Director),
Roland Delara (Researcher), Dianna Abaa (Technical Assistant)
Winners of Consolation Prizes:
(Php5,000 each w/ certificate)
Barangay Amoslog by Richie Reynan Tan
Production Team: Richie Reynan Tan (Lead Producer/Director), Danilo Alunde Jr. (Cameraman)
Dindo Alunde (Production Staff), Gerald Baluran (Lights & Sound)

Water is Life by Team Wakita
Production Team:Nina Rikka Wakita (Lead Producer), Clint Chua (Cinematographer)
James Escabal (Editor), Harvey Bing (Cameraman), Jan Lisondra (Lightman)

Bat-aw na Kisoom by Tribu TagMariha
Production Team:John Monro Lominoque (Lead Producer/Director), Patricia Joy Andam (Film Editor)
Neil Dexter Tesorio (Cinematographer), Raniel John Sampiano (Screenplay/Logistics)