About nineteen (19) Community Volunteer groups from different municipalities in the region were recognized for their exemplary service in volunteerism last December 14, 2017. The groups were honored during the Department of Social Welfare and Development (DSWD) Kapit-Bisig Laban sa Kahirapan-Comprehensive and Integrated Delivery of Social Services (Kalahi-CIDSS) Caraga's 4th Regional BayanI Ka! Awards held at Almont Hotel's Inland Resort.
The volunteer groups were nominated by the Area Coordinating Teams (ACT) in various municipalities implementing Kalahi-CIDSS. The nomination is based on the impact and engagement of the volunteer groups actively participating in the implementation of the program. The active volunteer groups were then identified in accordance to 9 categories (program scopes, advocacies and safeguards) they fit in. The nominations were then judged by a technical working group composed of partner-agency representatives and selected Regional Program Management Office (RPMO) specialists/workers.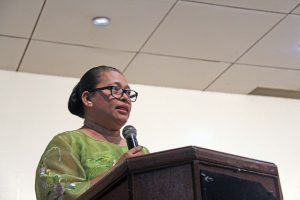 Former BayanI Ka! Regional Winner, Hon. Maria Clarita G. Limbaro, municipal mayor of Bayabas, Surigao del Sur, inspired the DSWD Kalahi-CIDSS community volunteers through her heartwarming message.
"Community-Driven Development (CDD) process creates communities by building necessary facilities for socio-economic and environmental development while it also builds people-empowered and committed people in community development… Through Kalahi-CIDSS and CDD we get to value volunteerism and highlight empowerment… Volunteers are not the chosen ones, they chose to heed the call," Mayor Limbaro shared.
Assistant Regional Director for Administration (ARDA) Nerisa T. Murih, RPMO specialists, and NPMO representative Jessica Pangan awarded the winners. Winners received a development incentive worth P15,000 and P10,000 for the runners-up, which will be added to their groups' developmental funds.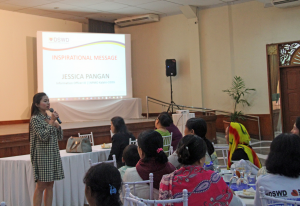 BayanI Ka! Awards is considered the highest recognition given by the DSWD Kalahi-CIDSS to its exemplary community volunteers and partner-stakeholders. The activity seeks to recognize all their efforts which significantly contributed to the success of the program's implementation and greatly impacted the advocacy for Sama-samang Pagkilos Nang May Malasakit. It also resonates to the true value of volunteerism-giving yourself to others. There is joy in helping other people without expecting anything in return. As what they say, you can only give what you have. And truly, the greatest gift that every community volunteer could ever give is a HEART na May Malasakit Para sa Nakararami.
Here is the complete list of winners:
ELDERLY CATEGORY:
WINNER:
Brgy. Ipil Senior Citizen's Organization (O& M Group)-Ipil, Placer, SdN
ENVIRONMENTAL PROTECTION CATEGORY:
WINNER:
Hinapoyan Farmers' Cooperative (HFC)-Brgy. Hinapoyan, Carmen, SdS
RUNNER UP:
Wangke Neighborhood Association (WANA)-Brgy. Wangke, Claver, SdN
Cabawa Seaweeds and Farmers' Association (CASEFA)-Brgy. Cabawa, Dapa, SdN
GENDER AND DEVELOPMENT CATEGORY:
WINNER:
BSPMC-Sta Cruz, Loreto, PDI
JUST PEACE CATEGORY:
WINNER:
Nagpabilin nga Tradisyonal nga Kadumalahan sa Higaonon Sulod sa CADT-118 (NTKSHC)-Sitio Bocbocon, Brgy. Durian, Las Nieves, AdN
RUNNER UP:
Trento Manobo Municipal Tribal Council (TMMTC)-Trento, AdS
IMPROVED LOCAL GOVERNANCE CATEGORY:
WINNER:
BSPMC of Katipunan/KABROM organizatio-Katipunan, Pilar, SdN
RUNNER UP:
BSPMC-Can-aga, Malimono,SdN
INDIGENOUS PEOPLES' WELFARE CATEGORY:
WINNER:
Cagwait Manobo Indigenous Cultural Community (CAMICC), Inc.-Cagwait, SdS
RUNNER UP:
Marayag Mamanwa Development Association (MMDA)-Marayag, Mainit, SdN
BSPMC-Payapag, Bacuag, SdN
WELFARE OF THE YOUTH CATEGORY:
WINNER:
Catholic Youth Organization-Pinana-an, Las Nieves, AdN
RUNNER UP:
BSPMC-Brgy. Amoslog, Placer, SdN
WELFARE OF PERSONS WITH DISABILITY CATEGORY:
WINNER:
BSPMC-Mampi, Lanuza, SdS
RUNNER UP:
BSPMC-Sta Cruz, Loreto, PDI
SUSTAINED COMMUNITY VOLUNTEER GROUP CATEGORY:
WINNERS:
Rural Improvement Club (RIC)- Poblacion 2, Burgos, SdN
Kababayen-an Nan Barangay Binga Association (KBBA)-Binga, Mainit, SdN
RUNNER UP:
Sapa Rice Farmer's and Miller's Association (SAFARMA)-Sapa, Claver, SdN ###(JOANA RICA P. MILLAMA & MARKO DAVEY D. REYES /Social Marketing Unit/DSWD Field Office Caraga