SURIGAO DEL SUR – Around 130 Kapit-Bisig Laban sa Kahirapan-Comprehensive and Integrated Delivery of Social Services (Kalahi-CIDSS) workers from DSWD Field Office 10 conducted a cross-learning visit in Field Office Caraga. The team was able to visit the evacuation center – community sub-project in the municipality of Hinatuan last January 10, 2018.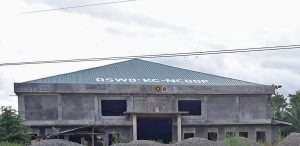 Successfully implemented in 2017, the Kalahi-CIDSS sub-project in Barangay Bitoon is considered as the biggest evacuation center nationwide.  The P14-million worth community sub-project became the subject for the visit since DSWD Caraga was the only Kalahi-CIDSS – implementing region that is able to complete such infrastructure with a tight budget. This was because of the combined efforts of the different partner-stakeholders, led by community volunteers from different barangays in the municipality.
"Diri gayud nako nasulayan sa Kalahi-CIDSS kung unsa ka-importante ang transparency sa pagpadagan sa usa ka-proyekto. Bisan pa adunay mga pagsulay ang niagi sa amuang organisasyon, nagpabilin kami nga madasigon; tungod niini, naangkon namo ang proyekto nga dugay na namong gihandom (It is only through Kalahi-CIDSS that I have experienced how important transparency in implementing a project. Even though our organization faced trials, we remained courageous; because of this, we achieved the project that we have long been dreaming)," Cris Tarona, the Barangay Sub-Project Management Committee Chairperson exclaimed during the Focus Group Discussion.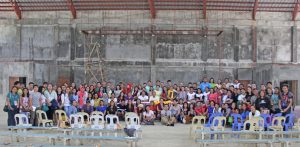 The FGD was facilitated by the Area Coordinating Team (ACT), the Municipal Local Government Unit of Hinatuan, and the Sub/Regional Program Management Office.
The visitors commended the empowered volunteers as they narrated their stories of challenges, strategies, and best practices implementing the Community-Driven Development (CDD) Program. The said community sub-project was a great challenge for the stakeholders to complete. But with its completion, it has greatly impacted the communities in Hinatuan.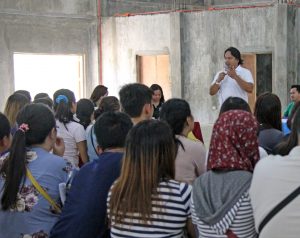 Shem "Titing" Garay, Municipal Mayor of Hinatuan, recognized the proper and consistent coordination of the volunteers in their effort to successfully finish the biggest evacuation center in the Philippines, and thanked the visitors for coming to their municipality to learn from the success and challenges encountered by Hinatuan in the implementation of the program.  ###(JOANA RICA P. MILLAMA/ MARKO DAVEY D. REYES/Social Marketing Unit/DSWD Field Office Caraga)