BUTUAN CITY – The Department of Social Welfare and Development Kapit-Bisig Laban sa Kahirapan – Comprehensive and Integrated Delivery of Social Services (DSWD Kalahi-CIDSS) aims to strengthen the capability of the Operation and Maintenance (O&M) Community Volunteer Groups all throughout Kalahi-CIDSS implementing barangays, thus, launched the O&M Management Support Unit (OMMSU) which had its orientation and levelling off on February 14-15, 2018 at Almont Hotel's Inland Resort.
An orientation activity on OMMSU was conducted and was attended by members of the different units of the program, namely, the Social Development Unit, Engineering Unit, and Finance Unit.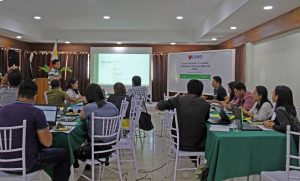 The orientation aimed at ironing standard operating procedures for the Regional / Sub-Regional Program Management Office (R/SRPMO) in ensuring that completed community sub-projects are kept operational and maintained according to the O&M plans formulated by the volunteers and ensure that sub-projects will be sustained.
These procedures will then be cascaded to the Area Coordinating Teams (ACTs) in the field so they will be able to guide the community volunteers, most specifically the O&M groups. Guidelines for the said initiative will identify key stakeholders and their role in ensuring sustainability of the community projects.
The O&M plan is actually part of the Community Empowerment Activity Cycle (CEAC), the actual stages of the program implementation.
Elsa D. Montemor, Regional Community Development Specialist (RCDS), hopes that in the upcoming National Program Review Evaluation Workshop (PREW) on February 26-March 2, 2018 in Metro Manila, the OMMSU will be presented to the National Program Management Office (NPMO) so that the O&M will be given much emphasis especially that the program is set to end in 2019.
"Our ultimate objective is to ensure that our partner-communities would enjoy the sub-projects of Kalahi-CIDSS and that they can benefit from it," Montemor added.
First initiated in Kalahi-CIDSS, the creation of the OMMSU in DSWD-Caraga is one of the preparations for the closing of the Kalahi-CIDSS NCDDP implementation in 2019.
The Kalahi-CIDSS is one of the big ticket programs of the DSWD which aims to empower communities by providing them with the opportunity to participate in active planning, budgeting, and implementation of community-sub-projects which will address their needs.###(SHERYL M. LORENZO/ MARKO DAVEY D. REYES/Social Marketing Unit/DSWD Field Office Caraga)