BUTUAN CITY – To celebrate the agency's 67th founding anniversary and to honor the noteworthy contributions of its partners and staff, the Department of Social Welfare and Development (DSWD) Field Office Caraga hosted an awarding ceremony on February 27, 2018 at Watergate Hotel.
Highlighting the theme, "Walang Puwang sa Katiwalian ang Paglilingkod nang Tapat sa Bayan," the momentous event was graced by notable guests and awardees represented by various stakeholders and staff of DSWD, carrying the service brands #DSWDMayMalasakit and #DSWDParaSaNakararami.
In her welcome address, OIC-Regional Director Mita Chuchi G. Lim, acknowledged their undying support in the endeavors of DSWD.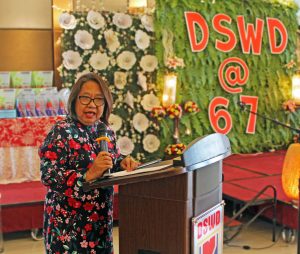 "You are all our inspiration. We strive hard to ensure that we are doing the best job possible because of all of you. Without you, we will not be able to achieve the success that we are enjoying right now," Lim said in gratitude.
The highlight of the event was the awarding of the Pagkilala sa Natatanging Kontribusyon (PANATA Ko) sa Bayan Awards to non-government organizations (NGOs), local government units (LGUs), People's Organizations (POs), media persons/organizations, and volunteer individual/groups.
Under the PANATA Ko sa Bayan Awards are the Salamat Po, Gawad sa Makabagong Teknolohiyang Panlipunan, Gawad Serbisyo, Gawad Ulat, Promoting Resurgence and Excellence of Social Welfare Officers as Transformation Agents for Inclusive Growth and People Empowerment (PRESTIGE), and Gawad sa Paglilingkod sa Sambayanan (GAPAS). These six (6) categories are for DSWD's external partners who have showed their unwavering commitment and support, through assisting the Agency in its drive to achieve long-term goals and good practices for the poor, vulnerable, and disadvantaged sectors in Caraga.
The first part of the awarding was followed by a keynote speech delivered by Civil Service Commission (CSC) Chairperson Alicia Dela Rosa-Bala, former DSWD undersecretary, stressing the rise of innovation and how it already is affecting everyone.
"The use of information is such a powerful tool in the empowerment of people. Work can become efficient and innovation starts. [Knowing that] resources will never be enough; we need a partnership with the private and civil society organizations," Bala said challenging everyone to get involved.
"Know what is going on around us, [because] your voice are very important to make sure that every members of society will take part," she added.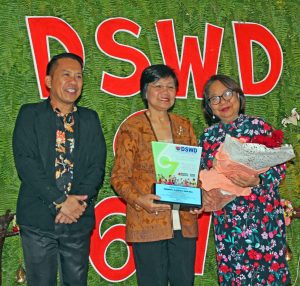 The second part is the giving of Loyalty and Program on Awards and Incentives for Service Excellence (PRAISE) Awards. It is a commendation for all the exemplary employees who have rendered untiring service for ten (10) straight years and above, and exhibited outstanding performance through the delivery of DSWD's core programs and initiatives respectively.
In her concluding message, Lim challenged the employees to uphold being fair, equal, and just service saying, "There are still a lot of work to be done – individuals to capacitate so that they could stand on their own; families who rely on the opportunities we give them for their sustenance; communities to empower so that they will be able to change for their society."
Here are all the prestigious awardees:
SALAMAT PO
Best Volunteer Group – Las Nieves Poblacion Rural Waterworks and Sanitation Association
Best Non-Government Organization
Gesu Eucaristico Children's, Inc. (GECI)
Por Cristo Foundation, Inc.
Development Partner
Justice, Peace and Integrity of Creation –Integrated Development Center (JPIC-IDC)
MASICAP MSME Development Foundation, Inc.
National Auxiliary Chaplaincy of the Philippines, Inc. (NACPHIL, Inc.)
CITY of Bislig under the leadership of Mayor Librado C. Navarro
Bureau of Immigration – Butuan City
Department of Health
Department of Education
Butuan City Habitat for Humanity, Inc.
Surigao Economic Development & Micro-Finance Foundation, Inc.
Father Saturnino Urios University
Robinsons Land Corporation
International Holistic Engagement for Life Progress (iHELP Caraga)
Weegol's Garden, Butuan City
Youth for Christ (YFC) – Agusan del Sur Provincial Chapter
Gawad sa Makabagong Teknolohiyang Panlipunan Award
Bayabas, Surigao del Sur
Bacuag, Surigao del Norte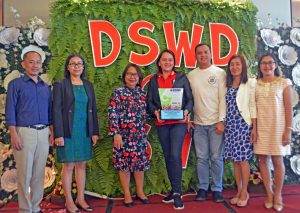 Gawad Serbisyo
Provincial Disaster Risk Reduction & Management Council (PDRRMC) – Province of Dinagat Islands
Municipal Disaster Risk Reduction & Management Council (MDRRMC) – Hinatuan, Surigao del Sur
Gawad Ulat
Most DSWD-Supportive Print Media Outlet  National Newspaper – Manila Bulletin
DSWD-Supportive TV Station
ABS-CBN TV Patrol Caraga
NMBS Bee TV 7
Most DSWD-Supportive Radio Station
Radyo Trumpeta
Hope Radio
Most DSWD-Supportive Online Media – PIA – Caraga
DSWD Social Media Advocate – Mayor Clarita G. Limbaro,
PRESTIGE (Promoting Resurgence and Excellence of Social Welfare Officers as Transformation Agents for Inclusive Growth and People Empowerment)
Fully Functional LSWDO
Mainit, Surigao del Norte
Tubod, Surigao del Norte
Gawad sa Paglilingkod Sa Sambayanan (GAPAS) Award
Model LGU Implementing Kalahi-CIDSS – Bayabas, Surigao del Sur
LGU Implementing Protective Programs & Services for Children – Las Nieves, Agusan del Norte
LGU Implementing Protective Programs & Services for Children – Prosperidad, Agusan del Sur
LGU Implementing Protective Programs & Services for PWDs – Cabadbaran City
LGU Implementing Outstanding SLP-MD Model – Butuan City
LGU Implementing Outstanding SLP-EF Model – Bayugan City
LGU Supporting the Implementation of Pantawid Pamilyang Pilipino Program – Agusan del Norte, Surigao del Norte, Surigao del Sur, Dinagat Islands,
LGU Supporting the Implementation of Social Pension for Indigent Senior Citizens Program – Bayabas, Surigao del Sur, Kitcharao, Agusan del Norte,
People's Organization –
Regional Federation of Day Care Workers of Caraga
Home Care & Support Services For Older Persons Team – Province of Dinagat Islands
Persons With Disability Affairs Office (PDAO) – Tagbina, Surigao del Sur
Municipal Federation Of Senior Citizens Association – Carmen, Surigao del Sur
LOYALTY AWARDEES
10 years in Service
Aldie Mae A. Andoy – Regional Field Coordinator
Teresa M. Bidaure – Administrative Officer II
Janelee B. Entrada – Social Welfare Aide
Jay G. Galleron – House Parent II
Emelyn L. Mintal – Social Welfare Officer II
Jean Paul S. Parajes – Planning Officer IV
Hazel N. Vete – Administrative Officer II
15 years in Service
Jessie Catherine B. Aranas – Social Welfare Officer III
Wilma B. Geralla – Social Welfare Officer II
Eval B. Makinano – Social Welfare Assistant
Alicia T. Marquiso – Social Welfare Officer I
Mary Chill L. Momo – Administrative Officer V
Roy R. Serdeña – Project Development Officer III
Ramil M. Taculod – Administrative Officer V
20 years in Service
Mary Ann M. Manla – Project Development Officer III
Pio V. Japitana – Supervising Administrative Officer
Teresa C. Macuno – Administrative Officer Aide
Genelyn P. Marturillas – Planning Officer II
Violeto C. Marturillas – Administrative Aide IV
Golda V. Pocon – Social Welfare Officer IV
Nerisa T. Murih – Assistant Regional Director For Administration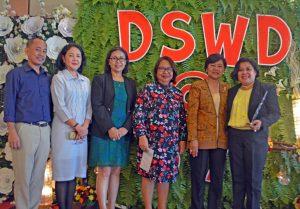 35 years in Service
Asuncion S. Flauta – Administrative Officer IV
PRAISE (Program on Awards and Incentives for Service Excellence)
Punctuality Award
Merlina Asendente – Utility Worker
Ramil Decamotan – Financial Analyst II
Esphar Lamela – Regional Procurement Officer
Gawad para sa Maagap at Mapagkalingang Serbisyo Award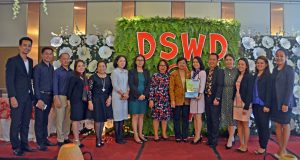 Best Support Unit – Financial Management Office
Best Operations Unit Nominee – Social Pension for Indigent Senior Citizens Program
Best Operations Unit Nominee – Pantawid Pamilyang Pilipino Program (RPMO)
Best Operations Unit Winner – Capacity Building Unit
Gawad Kalihim
Rachel B. Bade – Community Development Officer III
Gawad Huwaran (MaHUsay, WAsto at Responsableng BayANi ng DSWD) Nominee
Pio V. Japitana – Supervising Administrative Officer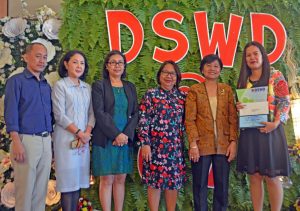 Gawad Huwaran (MaHUsay, WAsto at Responsableng BayANi ng DSWD) Winner
Jessie Catherine B. Aranas – Social Welfare Officer III
###(JOANA RICA P. MILLAMA/Social Marketing Unit/DSWD Field Office Caraga)