"The future is an empty canvas or a blank sheet of paper, and if you have the courage of your own thought and your own observation, you can make of it what you will."
-Lewis H. Lapham
She is the artist of her own fate. When she starts to hold that brush and palette, she never ceases to amaze the crowd. This story tells about one youthful achiever that goes by the name Daegee Mandano Alcazar – a K-12 pioneer, a promising architect-to-be in the making, and a home buddy.
Her humble beginnings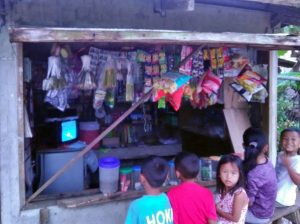 She is the first fruit of love between Diolito and Jernalyn. Daeg (Deyj), as fondly called by her family, was born as a millennium baby on the 18th day of March and raised in a humble abode situated in Barangay Mahayahay, San Jose, in the majestic province of Dinagat Islands.
Growing up with her other three siblings, she realized that she was not born with silver spoon in her mouth. Her father worked as a hired laborer in a mining industry located at Cabadbaran, Agusan del Norte, and her mother, runs a small sari-sari store and even sidelined to other income-generating means just to sustain their daily needs.
Daegee would always go home after school to help her mother. She often sleeps late at night to study and make homework/project. She wakes up early in the morning to prepare their breakfast before going to school. It was a routine, a challenging one.
"Kaniadto, lisod gayud ang kinabuhi. Dili pwede nga ang akong bana lang ang manarbaho, tungod kay nagkadako ang among pamilya, mao nga naningkamot gayud ko nga mangita ug panginabuhian aron makakwarta. Naninda ko ug nag-dealer sa produkto sa Avon ug Natasha (Life was really hard before. As our family got bigger, it was impossible for my husband to just work alone, so I had to look for a living to earn. I ran a store and sold products of Avon and Natasha)," her mother shared.
Her empty canvas slowly painted
When the Pantawid Pamilya Pilipinong Program was piloted in Caraga region in 2007, it raised hopes for millions of Filipino households, including her family. Her mother thankfully said that the government, through the Program, is a major contribution to her success, which enabled them to provide and support her in any way.
"My family is behind all my success. They have always been on my side, providing me with moral, emotional, and financial support. I always put in mind what my father said, that the only treasure they can give is education, this can never be taken away from me," she shared.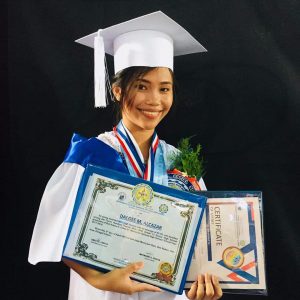 Being a scholastically-oriented child, her success often happens inside the portals of her school, Don Ruben Edera Ecleo Sr. Memorial National High School (DREESMNHS). She never missed to be on the cream of the crop since freshmen years, bagging numerous awards and recognitions.
Among the 329 pioneers of the K-12 program in DREESMNHS, she top-ranked and received a High Honors award with an average grade of 95.0 and an Outstanding Performance in Specific Disciplines – Social Science award.
She loved essay writing. Proving this as a fact, she fortunately won the 1st place in the essay writing contest (Secondary Level) during the Division First Values Month Culmination, among 20 contenders last November 29, 2017. She is active in extra-curricular activities – from quiz bee competitions to singing or dancing contest, she has all the confidence to win it all. The school trusts her in almost everything – just recently, she took an oath as the secretary for the DREESMNHS Office of the Senior High Alumni association.
But wait, she is not just endowed with a brilliant mind but also with overwhelming talent.
Her life's future masterpiece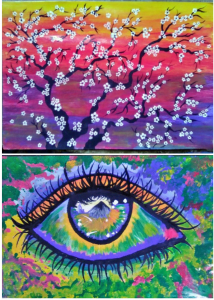 She is also excellent in painting and has created several remarkable masterpieces. Painting is her way to relieve stress. When they have lots of paper works and deadlines, she always finds time to paint. With a blank canvas, her old brush and colorful palette, her life seems to be a little less stressful and blissfully looks at her finished artwork.
With just few months before college, she aspires to be an architect in the near future. "As I move forward, it is my fervent dream to be an architect. Considering our financial status, it seems that this dream will be impossible, but I am keeping my hopes high to achieve and finish my life's future masterpiece," she positively shared.
Life is indeed a blank or empty canvas, and we are the artists of our own fate. #