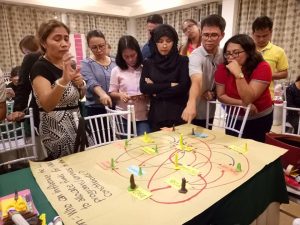 BUTUAN CITY – Communication plays an important role in the effective realization of the goals and objective of any organization, including the Department of Social Welfare and Development (DSWD). With this a Roll-out Training on Strategic Communication cum Writeshop on Packaging Development Stories for Regional Management Development Conference (RMDC) members was conducted by DSWD Caraga last April 4-6, 2018 at Almont Hotel's Inland Resort.
During the activity, the participants enjoyed different activities that will enhance their skills along strategic communication to achieve desired behavior change for target audience (partners, stakeholders, and public) and ensure successful implementation of different social welfare and development programs. Different competencies were also discussed so that the participants will be equipped in plotting-out goal-driven plans that will help them achieve their goals individually and as an organization.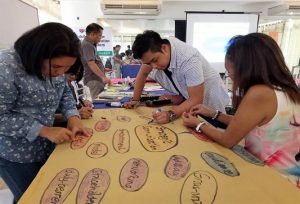 Regional Training Specialist Glezza T. Ty, Capacity Building Unit Head, Social Welfare Officer Golda V. Pocon, Standards Unit Head, Regional Information Officer Eunice M. Plaza, Social Marketing Unit Head and Theresa D. Barsobia, Training Specialist II, served as the resource persons during the activity. They employed various training methodologies such as interactive discussion, simulations, and audio-visual presentation among others.
The topic of the three-day capacity building activity included the following: Overview on Strategic Communication, The "P" Process, Message Designing, Audience Analysis, Communication Strategies, Stakeholders Mapping, The Science of Persuasion, Basic on Newswriting, and Mobile Photography.
"Our work needs perfect and effective communication for the fact that our poverty situation is so complex and alleviation from this situation requires not only the poor families themselves but including us, the stakeholders, who are part and parcel of the whole region in poverty," Chief Administrative Officer Ramel F. Jamen, one of the participants stated.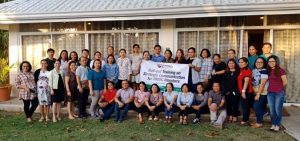 As tackled during the training, Behavior Change Communication (BCC) is an interactive process of any intervention with individuals, communities and/or societies to develop communication strategies to promote positive behaviors which are appropriate to their settings.
Strategic communication means communicating a concept, a process, or data that satisfies a long term strategic goal of an organization by allowing facilitation of advanced planning. Having this capability building for RMDC members shall one way or another contribute to the attainment of DSWD's vision which states, "all Filipinos are free from hunger and poverty, have equal access to opportunities, enabled by a fair, just, and peaceful society."###(RUSS CLEPPIN M. PASTER/Social Marketing Unit/DSWD Field Office Caraga)