BUTUAN CITY – Local chief executives and local government units' department heads of different municipalities in Caraga implementing the Department of Social Welfare and Development's (DSWD) Kapit-Bisig Laban sa Kahirapan-Comprehensive and Integrated Delivery of Social Services (Kalahi-CIDSS) participated in the conduct of the annual Regional Stakeholders' Forum last April 6, 2018 at Almont Hotel's Inland Resort, here.
The activity aims to update stakeholders of the program's implementation and discuss matters critical in the success of Kalahi-CIDSS.
With one of the modalities of the program – National Community-Driven Development Program (NCDDP) – coming to a close in 2019, the Regional Program Management Office (RPMO) took the opportunity to ensure the smooth transition of implementing municipalities and sustainability of the program's gains through the years of implementation.
Representing the partner-stakeholders, Vice Mayor Melchor C. Pasquito of Las Nieves, Agusan del Norte shared his long experience in Kalahi-CIDSS.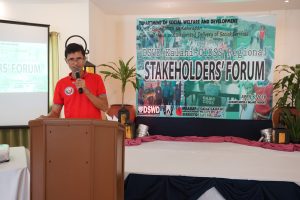 "Dugay na ako nakasinati niining Kalahi-CIDSS. Sa 2004, isa kami sa among barangay ang nakadawat ug pondo sa programa. Barangay Captain pa ako niadtong panahona. Karon, 2018 na, padayon gihapon ako sa pagsuporta sa maong programa isip Bise-Mayor tungod kay nakita ko gayud nga dako ug katabang ang Kalahi-CIDSS sa mga komunidad, labi na sa Las Nieves (We have been recipients of Kalahi-CIDSS for a long time now. In 2004, we were fortunate enough to have our barangay funded through the program. I was still a Barangay Chairman that time. Now as elected Vice-Mayor of Las Nieves, I still continue to support the program because I am convinced that the program is really helping our communities)," Pasquito said.
Other than sharing of experiences, the RPMO also answered queries raised by participants during the one-day forum.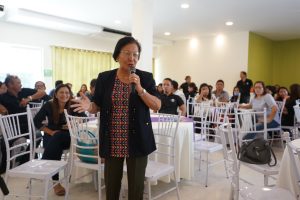 "Naa ta'y sunod nga tigom kay para sa pag-close officially sa program. Kay nanuktok man mi sa inyo, manamilit pud mi sa inyo (We will be having another activity for the official closing of the program. Since we have knocked on your doors in your municipalities, we will make sure that we also gracefully bid our goodbyes)," said Deputy Regional Program Manager Esterlita V. Villamor.
Also part of the forum was the awarding of plaques of appreciation to active and supportive partner-implementers who have significantly contributed to the program most especially in meeting timelines and targets.
Municipal Mayor
Hon. Jane V. Plaza – Carmen, Surigao del Sur
Hon. Ernie M. Ceniza – RTR, Agusan del Norte
Atty. Maria Liza G. Ressureccion – Pilar, Surigao del Norte
Hon. Maria Clarita Limbaro – Bayabas, Surigao del Sur
Hon. Avelina S. Rosales – Las Nieves, Agusan del Norte
Hon. Albin D. Magdamit – Prosperidad, Agusan del Sur
Hon. Leonida P. Manpatilan – Esperanza, Agusan del Sur
Hon. Lamberto T. Llamera – Libjo, Province of Dinagat Islands
Hon. Felixberto S. Urbiztondo – Barobo, Surigao del Sur
Municipal Vice-Mayor
Hon. Joey S. Pama – Barobo, Surigao del Sur
Hon. Simplicia P. Pedrablanca – Tubajon, Province of Dinagat Islands
Hon. Melchor C. Pasquito – Las Nieves, Agusan del Norte
Municipal Area Coordinator
Marifi D. Villa – Pilar, Surigao del Norte
Jean B. Sanders – Lianga, Surigao del Sur
Marianito D. Bayron – Rosario, Agusan del Sur
Jude Geji C. Limbaro – Bayabas, Surigao del Sur
Juliet D. Longos – Cagdianao, Province of Dinagat Islands
Municipal Deputy Area Coordinator
Engr. Jhonamie S. Manawatao – Carmen, Surigao del Sur
Engr. Stendina Conciles – Gigaquit, Surigao del Norte
Engr. Samuel Panerio – San Jose, Province of Dinagat Islands
Engr. Celestino L. Miras – Libjo, Province of Dinagat Islands
Engr. Richard Nogalo – Pilar, Surigao del Norte
Engr. Ephraim C. Mondragon – Surigao del Norte
Engr. Juniven Llandino – Prosperidad, Agusan del Sur
Engr. Jerwin P. Yee – Las Nieves, Agusan del Norte
Municipal Engineer
Engr. Jhonamie S. Manawatao – Carmen, Surigao del Sur
Engr. Celestino L. Miras – Libjo, Province of Dinagat Islands
Engr. Harry Russel M. Cotanda – Cagdianao, Province of Dinagat Islands
Engr. Genevieve Aparece – Lingig, Surigao del Sur
Engr. Alex T. Navarra – San Jose, Province of Dinagat Islands
Engr. Joseph Stephen C. Cubal – Las Nieves, Agusan del Norte
Engr. Richard P. Nogalo – Pilar, Surigao del Norte
Engr. Carlo L. Medrano – Bayabas, Surigao del Sur
Engr. Oscar O. Ga – Rosario, Agusan del Sur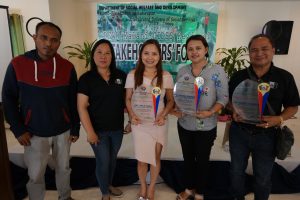 Kalahi-CIDSS, one of the Government's programs implemented by DSWD, aims to provide communities the opportunity to be more active in participating in the planning, budgeting and implementing of community projects aimed at addressing their needs. It utilizes the Community-Driven Development strategy which is a more inclusive and multi-stakeholder approach. ###(SHERYL M. LORENZO & CHRISTINE T. TIKIM/MARKO DAVEY D. REYES/Social Marketing Unit/DSWD Field Office Caraga)