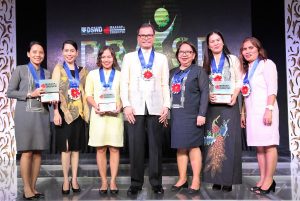 MANILA- In the recently concluded Program on Awards and Incentives for Service Excellence (PRAISE) activity held on March 21, 2018 in Metro Manila, the Field Office Caraga of the Department of Social Welfare and Development (DSWD) won recognitions as the National Best Crisis Intervention Unit (CIU) and 2nd Best Operations Office (Capacity Building Unit).
The Best CIU Award recognizes the delivery of timely and appropriate direct financial benefits to indigent Filipinos, including medical assistance, burial assistance, education, and transportation assistance.
Being one of the office's frontline services, the DSWD-Caraga CIU was awarded as it excellently performed its mandate of providing package of interventions for individuals, families in crisis or difficult situation and vulnerable communities. The unit follows a Standard Operating Procedure (SOP), inspired by the Operation Manual guidelines of the Assistance to Individuals in Crisis Situation (AICS), which has contributed to the prompt and organized processing of request of assistance from clients.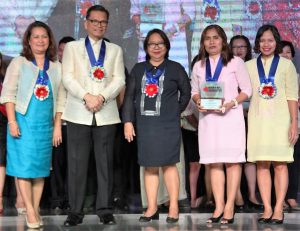 Furthermore, the office also institutionalized a feedback mechanism through a Client Satisfaction Survey which is an avenue for clients to give their comments and rating to the unit's service delivery. Majority of feedbacks gathered were positive while some were negative comments and considerable suggestions that were directly acted
upon. The Field Office has also networked with various service providers comprised of hospitals, pharmacies, funeral homes, and dialysis center throughout the region for clients to immediately avail assistance and ensure that assistance is utilized as purposed.
The FO Caraga CIU is currently headed (as officer in charge) by Administrative Officer Hazel Vete. Then unit heads were Vilma Bare and Harvey Manto. The CIU staff are the following: Flora Minda Lintao, Nova Dagooc, Yerave Vasquez, Josefina Aligado, Don Cedrick Pujadas, Loraine Cagula, Josua Disucatan, Chris Marie Manatad, Jules Barry Intino, and Sarah May Galido.
Other winners for the category are the CIUs of the FO National Capital Region (NCR) as second and Region XI (Davao) as third placer.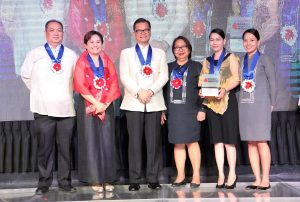 Meanwhile, the Best Operations Office award is given to units/sections who have exemplary contribution to the achievement of DSWD's organizational outcomes through team work in delivering excellent results through the overall display of technical/managerial competence of the members of the team. Also, the awardee office is expected to set exemplary practices of Functional Unit based on the AO 5 series of 2016 or the Good Practice Documentation guidelines set by the Capacity Building Bureau.
The FO Caraga CBU was hailed as second place at the national level as it delivered excellent results based on the Department's thrusts and priorities and in response to customer requirements. Spearheading the Education Committee of the International Organization for Standardization-Quality Management System (ISO-QMS) Core Team, the unit played significant role in cascading to all staff and hosting of benchmarking activities along ISO-QMS. The team also developed SOPs of its four main services, namely, Knowledge Management, Institutional Development and Capacity Building, Training
, and Student Training Program.
Headed by Regional Training Specialist Glezza Ty, the CBU staff include Eval Makinano, Theresa Barsobia, Anafe Lecciones, Maria Teresa Ole, Steffan Skye Reyes, Gelmar Faith Montillado, Jen-eric Dominggo, Mary Grace Bendijo, and Kristine April Bunao.
Sixteen (16) DSWD employees, including Social Welfare Officer Jessie Catherine Aranas of FO Caraga, also received awards for the Gawad HUWARAN (MaHUsay, WAsto at Responsableng Lingkod BayANi). The said accolade is given to DSWD employees who have rendered extraordinary work on service and showed exemplary application of DSWD's core values in his/her work execution, thereby significantly contributing to the achievement of the strategic goals of DSWD.
OIC Regional Director Mita Chuchi Gupana-Lim congratulated the awardees and thanked them for their outstanding service to the public.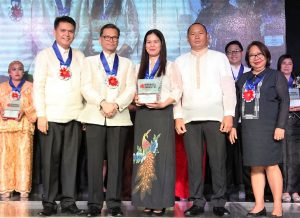 "You are the Field Office's pride and living proofs of the organization's commitment towards quality public service that is prompt and compassionate. May these accolades inspire us more to dedicatedly serve the poor, vulnerable, and disadvantaged sectors in Caraga," Lim added.
The PRAISE is given to honor men and women of DSWD who have devoted their lives to our beneficiaries, and who continue to use all their strength, skills, intelligence, and compassion to uphold a standard of professionalism that fully benefits the poor, vulnerable, and disadvantaged sector.
This year, the PRAISE Awards is the DSWD's culminating activity for its 67th anniversary that has become a venue for the entire DSWD workforce to affirm its commitment to social work and inclusive development. This year's DSWD anniversary bears the theme, "DSWD@67:Walang Puwang sa Katiwalian ang Paglilingkod nang Tapat sa Bayan". ###(EUNICE MONTAOS PLAZA/Social Marketing Unit/DSWD Field Office Caraga)