Who is Joanna?
Over a month ago, an appalling news raged most of the Filipinos when a 29-year old Overseas Filipino Worker (OFW) in Kuwait was found lifeless in a freezer. The corpse, who have been stored for more than a year in the abandoned apartment in Al Shaab area, was identified as Joanna Daniela Demafelis.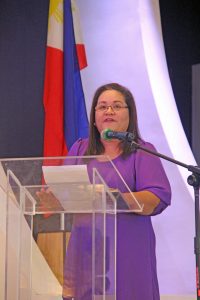 Mourning along with Joanna's family are concerned government agencies including the Regional Gender and Development Committee (RGADC)-Caraga. Her tragic story was brought up by the committee during this year's commemoration of International Women's Day as the observance gives emphasis on Republic Act 9262 or Anti Violence against Women and Their Children Act of 2004 (VAWC) – a law established for the protection of women and children from any form of violence and threats to their personal safety. Representatives from the Local Government Units (LGUs) of Caraga Region also signed a Pledge of Commitment to fully support the fight against VAWC so that there will be no more cases such that of Joanna.
"Empowered women play a vital role in the society. Let us show that Joanna is not alone," Atty. Jerefe Bacang, chair of RGADC-Caraga strongly shared in the almost 400 full-packed crowd supporting the Women's Summit held on March 8, 2018 at LMX Convention, Butuan City. Being empowered means inspiring not just the women sector, but all other sectors including men, persons with disability, senior citizens, youth and even children. It is breaking the cliché that women cannot contribute much in the development of the society. It is creating a stronger strength that would later attain the change that they are aiming.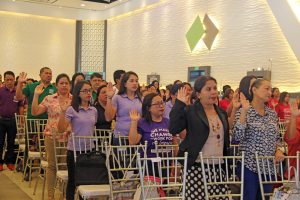 Now, why is there a need to attain change? The Philippine Commission on Women (PCW) set a 5-year long theme stating, "We Make Change Work for Women," including the hashtag #WomenMakeChange. There are four (4) major elements that they intend to highlight. We symbolizes Women Empowerment, because "empowering women enables them to confidently and meaningfully engage with appropriate institutions to ensure that they contribute to and benefit from development and changes." It also means "kami" or "tayo" in Filipino that symbolizes the collective effort, collaboration, and participation between government officials and employees, private sectors, the academe, non-government organizations, and private individuals to ensure that women are well taken care of.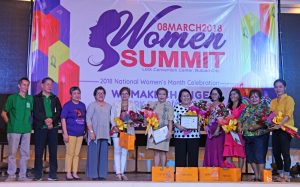 Make Change Work is taken from the acronym MCW which stands for Magna Carta of Women. This urges all the institutions, both public and private, to take heed of the MCW at all times and put in place all the functional mechanisms, programs, and services that address the gender needs of women. Change means Compassionate and Harmonized Actions and Networks for Gender Equality. During the summit, 5 extraordinary entrepreneurs in each province were awarded as 2018 Successful Women Entrepreneurs in Caraga by the Department of Trade and Industry (DTI). These women made change in their respective provinces by promoting organic food products and native handicrafts fastidiously made and processed by them.
Another highpoint of the summit are the learning sessions expertly presented by various agencies. This includes "Entrepreneurial Mind-setting" discussed by Clarke Nebrao, chairman of the Association of Laguna Food Processors (ALAFOP), that inspired women to begin the first step towards their "pangarap" (dream) and make big life change though it is a scary road to take. "Kung mahirap ang pangarap mo, mas magpupurisigi ka na gawin yan (If your dreams are hard, you will be more eager to achieve them)," he shared.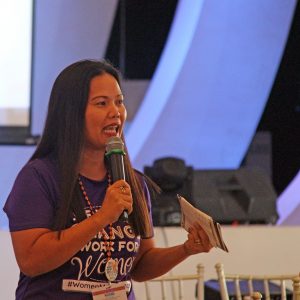 Distinguished representatives from government offices also had the opportunity to enlighten the women on the services they offer. The Department of Social Welfare and Development (DSWD)-Caraga through Jessie Catherine B. Aranas, talked about the necessary requirement and the dos and don'ts of processing an application for Legal Adoption. Other DSWD staff distributed brochures to interested participants in the summit. Other discussions were:
Online Shopping Tips – Department of Trade of Industry (Lorijane D. Sacote)
Membership & Loyalty Card – Pag-ibig (Nena L. Importante)
Services and Benefits – Philhealth (Zandro B. Etic)
Civil Registration Services – Philippine Statistics Authority (Bernadeth I. Bonachita)
Exhibits and booths were also placed in the area to cater the needs of all the participants. Beauty care experts were invited by the Technical Education and Skills Development Authority (TESDA) to perform manicure, pedicure, haircut, and facial sponsored by Mary Kay. These simple treats were adored by women in a budget-friendly cost. These are also a way to relieve their stress and make them feel good by being beautifully taken care of.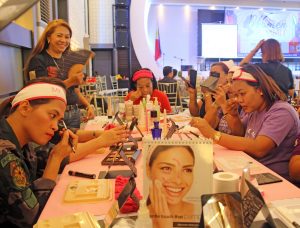 In this world were women stereotyping is still rampant, RGAD-C Chairperson challenged everyone to not just be observers in the corner. "Let us be paramount change-makers. In whatever gender you are, you should empower another woman to make her life better. It is also important that we recognize the efforts of our Local Government Units (LGUs) in promoting gender equality through their programs," she shared.
"The fight for women empowerment can be won," she concluded. The fight for all the Joanna Demafelis, symbolizing all women, can be won. With the solid pledge and commitment that we all can contribute, the modern Juanas are surely equipped with an empowered, established, and efficient future, truly showing that they indeed made change work.
Yes. WOMEN MADE IT.