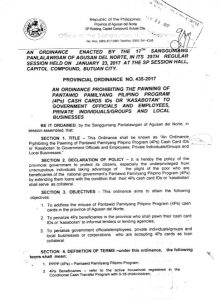 Due to the intensifying issue of Pantawid Pamilyang Pilipino Program partner-beneficiaries pawning their cash cards, the Department of Social Welfare and Development (DSWD) Caraga lobbied to all provincial lawmakers to craft an ordinance prohibiting the illegal act and penalizing the persons involved.
This was an offshoot of the discussions done by the Caraga Regional Advisory Committee (RAC) on the said issue prevailing nationwide. The lobbying efforts were primarily initiated by the Provincial Links with the support of the Regional Program Management Office.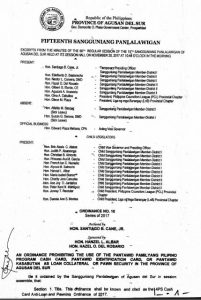 The use of 4Ps cash cards, identification cards, and "kasabutan" as loan collateral or pawn security has been a communication issue since 2011 – where it was magnified as a widespread failure.
To address this concern, different legislative bodies in the five provinces of Caraga, namely, Agusan del Norte, Agusan del Sur, Dinagat Islands, Surigao del Norte, and Surigao del Sur, purposely created provincial ordinances last year to penalize and sanction loan sharks, lenders, and government officials who would violate the law.
These ordinances state that "government officials and employees, private individual or groups, financial or lending institutions, and local businesses or corporations, are prohibited to accept cash cards as loan collateral," with penal provisions having a fine of Php1000 to Php5000, suspension/cancellation of business permits and registrations, and a 10-day imprisonment with the discretion of the court. Furthermore, officials who would violate shall be filed a case under RA. 6713 or be removed from government service.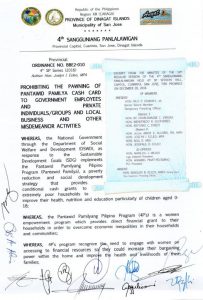 The provisions based on the National Advisory Committee (NAC) Resolution No. 20 of 4Ps, "Procedural guidelines in handling misdemeanor cases of beneficiaries," were also reiterated in the ordinances to warn the beneficiaries of the sanctions should they continue to pawn their cards. Violation of these will result to:
First Offense – Counselling by the City/Municipal Link with a written warning from the head of the Provincial Operations Office.
Second Offense – Counselling by the Provincial Link (Social Welfare Officer III) with a written warning from the Regional Director; Household grants shall be suspended/not released for one (1) payment period or two months.
Third Offense – Delisting of the concerned households under Grievance Redress System (GRS) Fraud duly addressed by the Regional Director and tagging shall be facilitated by the Regional Grievance Officers; Household's delisted status is non-appealable.
These laws have an enforcement structure called as Provincial/City/Municipal Convergence Advisory Committees headed by the City/Municipal Governor/Mayor as chairperson and P/C/MSWDO as vice-chairperson. They shall ensure the full implementation of these ordinances.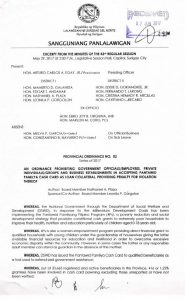 With the ordinances being passed, DSWD Caraga expects for this illegal act to lessen this year.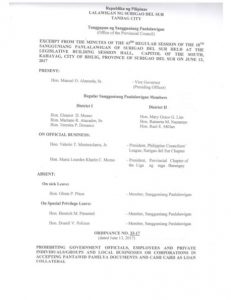 Pantawid Pamilya is only one of the poverty reduction strategies of the national government implemented by the DSWD, which focuses on human capital investment through provision of health and education cash grants to eligible poor households with children 0-18 years old, with the primary aim to break the intergenerational poverty cycle.