SURIGAO DEL SUR –The Department of Social Welfare and Development (DSWD) Caraga, through the Kapit-Bisig Laban sa Kahirapan Comprehensive and Integrated Delivery of Social Services (Kalahi-CIDSS) turned–over the drainage canal community sub-project worth 1.1 million pesos to the people of Brgy. Sasa in the municipality of Hinatuan on May 24, 2018.
The community project is among the hundreds being implemented all throughout the region through the Kalahi-CIDSS program for this year to address issues of the community related to climate change response and mitigation.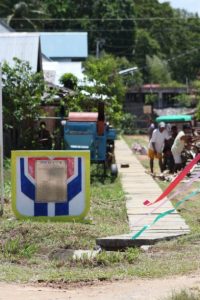 Since the town of Hinatuan is a disaster-prone area, the people of Brgy. Sasa had difficulties in times of typhoons and other weather disturbances. This became the drive for the community to propose the drainage canal sub-project to address their issues on flooding.
"Dako akong pasalamat kamayo sa panaghiusa labi na sa panahon sa pag-implementar sa Kalahi-CIDSS nga sub-projects. Kay kung waya kamo, dili matukod kana nga drainage canal. Dako usab ang ako, kanamong tanan sa Kalahi-CIDSS kay sa mga kaniadto kanunay kaming mabahaan, apan karun salamat gajud kay anaa na ang kasulbaran sa among problema sa baha (I am so thankful to those part of the implementation of this Kalahi-CIDSS sub-project. If it were not for you, we will never be able to implement this drainage canal. I am also thankful to the Kalahi-CIDSS program because we were able to resolve our long standing problem of flooding in our barangay)," Brgy. Chairperson Elmar V. Acedilla said.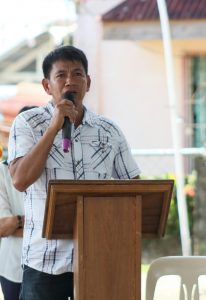 The turn-over activity was attended by several prominent public figures who have been part of the program's implementation. Congressman Johnny T. Pimentel, Mayor Shem Garay, Vice-Mayor Candelario J. Viola, Jr., and members of the Sangguniang Bayan graced the event. Also present were officials from the barangay and representatives from DSWD Caraga headed by Kalahi-CIDSS Regional Program Coordinator Maredith H. Julve.
The 310 linear meter drainage canal costs Php1,096,877.12, with the Local Government Unit counterpart of Php5,000.00.
Community volunteers were in full force, headed by Barangay Sub-Project Management Committee – Chairperson Ricardo C. Traya, who celebrated the successful completion of their community project which they have worked so hard planning for and implementing.
The symbolic turn-over of the key of responsibility was headed by RPC Julve on behalf of DSWD Caraga Regional Director Mita Chuchi Gupana-Lim. This symbolic sharing of responsibility in taking care of the project will ensure the sustainability of Kalahi-CIDSS community projects. All stakeholders, from the implementing agency, down to the Provincial, Municipal, Barangay local government units, to the operation and maintenance volunteers, vow to keep the projects operational.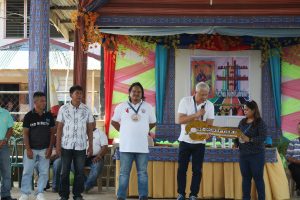 "Kung atong mahinumduman, ang Hinatuan bahaunon kini nga lugar. Daghan na ang mga miaging bagyo nga nagpalisod sa katawhan. Nanghinaot kami nga mapuslan ninyo kining drainage canal ug ampingan nga kini maglungtad sa katuigan nga gitagan-an niini o mosubra pa (Hinatuan is a flood-prone/typhoon prone area. There have been quite a number of typhoons that have passed through and caused problems to the people here. We hope that this will be of great help to you all, and that you all take care of it so that it will be sustained)," RPC Maredith H. Julve said.
Kalahi-CIDSS is one of the programs of the government implemented by DSWD, which utilizes the CDD process of project implementation. This process involves the community in the active identification of their community's problems – solution formulation – project proposal preparation and budgeting and implementation.
###(SHERYL M. LORENZO/MARKO DAVEY D. REYES/Kalahi-CIDSS/Social Marketing Unit/DSWD Field Office Caraga)