When people reach the twilight of their existence, one of the most common questions they get to ask themselves is if whether they have lived a full life – a life that they would be proud of. One looks back at the decisions he/she has done in his/her lifetime, and weigh in if these have made them better individuals, or productive members of the society.
There are those who would spend their old age regretting their decisions in life – that they have wasted a large part of their lives on things that did not matter. There are those who have achieved their goals, fulfilled of where they are at present.
Some gauge their fulfillment with the positions they hold, with the number of children they have – how many are degree holders. There are those who base it with the total amount of investments they have – their bank accounts, perhaps. But there are those who feel complete just by doing little things for their communities; sometimes, even if they do not get the acknowledgment due them.
Benjamin Cabucas, Sr. (Tatay Ben to those close to him), 63 years of age, a resident of Purok 2, Barangay Rosario, Las Nieves, Agusan del Norte lived a simple life. A farmer who spent his adult life growing bananas and root crops. He never asked for anything extravagant for his life, all he wanted was a simple life for him and his family.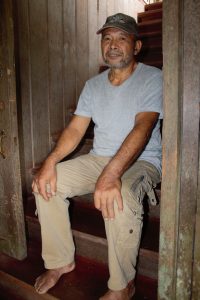 "Kontento naman kami sa simple nga kinabuhi, labi na nga usa ako ka mang-uuma. Makita lang nako nga malipayon akong asawa ug mga anak, dako na kana nga kalipay kanako. Kontento na ako nga mabuhi sa abot nga makuha namo sa among umahan, (As a farmer, I am used to and contented with a simple life. As long as I see my wife and my kids happy, that is already a big thing for me, even if we get through with the produce we have from our farm)," he said.
Tatay Ben spends his days either at the farm, or at home, doing simple chores. This was the routine he had, up until a program from Department of Social Welfare and Development (DSWD) was introduced to their community. The upgraded Kapit-Bisig Laban sa Kahirapan, Comprehensive and Integrated Delivery of Social Services (Kalahi-CIDSS) was implemented in the municipality of Las Nieves.
At first, Tatay Ben was hesitant to be part of the program's implementation. But after listening to the concept of the program, which utilizes the Community-Driven Development (CDD) process, he was encouraged to take part and be a volunteer.
"Kami ang magbuot, kauban akong mga ka-barangay ug unsa among proyekto. Bag-o sa ako kini nga proseso sa programa sa goberno. Mao nga naengganyo ko moapil, (We were given the opportunity to choose the project to be implemented. This was a new process for me, especially that this was a government program. I liked it, that is why I was convinced to take part in the implementation)," Tatay Ben said.
In 2003, during the pilot implementation of the program, Barangay Rosario was able to propose, implement and complete a Php2.8 million worth road opening/road gravelling community sub-project. Tatay Ben was one of the community volunteers who made the implementation a success. They were able to come up with the project since a lot of the people in Rosario are farmers, and one of the major problems that they had was transporting their goods because of the condition of the road.
"Dakong tabang ang road opening labi na sa amo nga mga farmers. Sa una, dako kami magasto sa pag naog sa among produkto kay mahal ang pangayo sa habal-habal. Karon nga maayo na ang dalan, halos katunga nalang among gasto sa hauling kay barato na among bayad sa motor or truck (The road opening/gravelling really helped our community, especially for the farmers. Before, we used to spend a lot for the transport of our goods because the habal-habal (motorcycle for hire) rental was high because of the condition of the road. But since the road was improved, we are now paying half the price we used to pay for hauling because the road condition is better), Tatay Ben shared.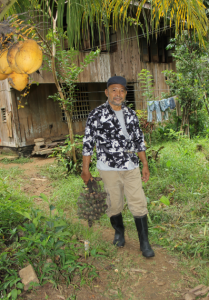 But his volunteering days were cut short as the family needed more of his time with two (2) of his children studying in college. They needed to look for a better income-generating job or had to double-up on his farming to accommodate the needs of the family. There was no income in volunteering, but because he needed to send his children to college, he had to let go of his position as community volunteer.
"Na miss nako mag volunteer. Nakatukod napud mi ug maayo nga relasyon sa uban volunteers, ug daghan kami natun-an diha sa Kalahi-CIDSS labi na diha sa mga trainings. Apan kinahanglan ko moatiman sa akong pamilya. Anaa ko'y mga anak nga ana-a sa kolehiyo (I missed volunteering. We built a good camaraderie among us, volunteers, and we had a great time volunteering. We learned a lot, especially from the trainings we had. But I had to attend to the needs of my family, especially that two of my children were now in college)," he said.
Though he missed out on the activities in Kalahi-CIDSS, his decision paid off. He was able to have three (3) of his children graduate in college. He said it was fulfilling on his part, but he misses the life he had volunteering.
In 2015, Las Nieves was once again part of the Kalahi-CIDSS implementation, this time under the Kalahi-CIDSS National Community-Driven Development Program modality. This time, Tatay Ben was more than willing to again be a volunteer for the said program. From 2015 up until 2017, he was an active volunteer in the implementation of the construction of an Evacuation Center, Road Concreting sub-project, and the construction of a School Building in their barangay.
He was proud of being part of the implementation even as a volunteer. He said that it was fulfilling to help those in their community. It was like he was living a legacy for the next generations in Rosario, Las Nieves, Agusan del Norte.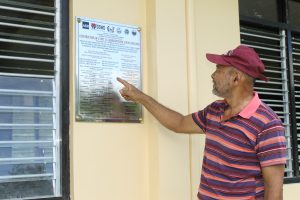 "Proud ko nga parte ko ani nga programa. Dako nga butang nga parte ko paghimo ani nga mga proyekto labi na nga ang katawhan ang makinabang ani – dili lang karon, apan apil na ang mga umaabot nga henerasyon. Kining eskwelahan, amo pang pamilya nagdonate sa maong yuta, masnalipay kayo ko kay sa pagtukod sa dugang classroom, apil ako niini (I am proud to be part of this program. This means a lot to me, especially that the projects we completed would be benefitted by the community – not just by those who are here now, but including the next generartions will be able to enjoy it. Our family donated the school lot here, but I am so elated having to be part of the volunteers who completed one of the classrooms through the program)," he said.
Kalahi-CIDSS is a unique program of the government. The utilization of CDD makes it possible for common voices of common people to be heard and for volunteers to step in and work for the needs of the community. Indeed, it has been an instrument for people and communities to find their meaning, to find fulfillment in the lives, just like Tatay Ben.
###(MARKO DAVEY D. REYES/Kalahi-CIDSS/Social Marketing Unit/DSWD Field Office Caraga)