Barangay Katipunan is one of the barangays of Pilar, Surigao del Norte. A fishing community, they get to enjoy the rich, abundant waters surrounding the barangay. They have fishing as their main source of livelihood. But with the blessings of their rich seas and mangrove forests surrounding their barangay, also comes challenges to their community.
For communities to prosper, it is important for them to manage their resources and maximize on whatever they have, for their own benefit. And that, the people of Katipunan were able to accomplish. But with their growing population, issues and problems arose. They could not just rely on their existing resources, but they also need to access basic services. Here lies the dilemma for their community.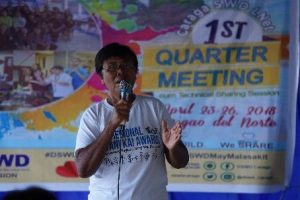 Flora Forcadilla, Barangay Chairperson of Katipunan, who has been living in the area for decades now shares their community's story. "Sa una, pipila lang kami lumulupyo dinhi sa Katipunan. Mga mangingisda ang mga unang namuyo dinhi. Tungod sa bakhawan, daghan isda dinhi. Apan niabot ang panahon nga midaghan na ang mga tawo. Tungod niini, nigawas ang mga panginahanglanon namo (Before, we were only few residents here in Katipunan – mostly fisher folks.  But when the time came when the population ballooned, people began to realize there are different needs we had to address)," Kapitanan Flora said.
Indeed, the significant location of the barangay was quite advantageous for livelihood, specifically fishing. But with the terrain they had, it was difficult to travel to and fro the barangay.
From the Poblacion, one could take a Bangka going to Katipunan. But traversing the seas is more challenging. The seas are usually rough especially during the rainy season. Several bangkas have been capsized within the waters of Katipunan. But you could also take another route. But it is farther, and you have to spend more riding a habal-habal.
Because of this, the people of Katipunan have this dilemma – they either have to stay in Katipunan and be near their fishing grounds, or move to another place, where they would have to find ways to adapt in another environment, in an unfamiliar community.
Kapitana Flora has been Barangay Chairperson for 10 years now – she has been the community's leader since 2007. The barangay local government unit (BLGU) has been doing their best for the community, but still, they fall short of providing all the necessary needs of the community with the meager allocated budget they have for the barangay.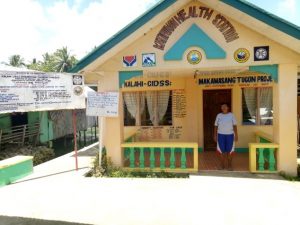 "Daghan na kami mga bata, apan walay eskwelahan nga tarong. Daghan kami mga nagkinahanglan sa mga tambal ug regular nga check-up. Wala kami source nang tubig. Ang mga balay nga anaa sa kilid sa dagat maigo sa mga kusog nga balod. Mga motor maglisod ug byahe kay adunay mga suba, ug tubig, unya ang tulay, sinumpay ra nga kahoy – gabok pa gyud (The population of our children is growing, yet we do not have proper schools. There are quite a number of persons needing medical attention. We do not have a viable source of water. The houses near the shores are being pounded by the powerful waves. Motorcycles have a hard time traversing the barangay because a large parts of the barangay covered by water, and they are passing through makeshift, dilapidated wooden bridges)," Kapitan Flora laments when asked about the condition of their barangay, especially in the past.
But this changed when the Department of Social Welfare and Development's (DSWD) Kapit-Bisig Laban sa Kahirapan – Comprehensive and Integrated Delivery of Social Services (Kalahi-CIDSS) Program. The program, which utilizes the Community-Driven Development strategy in its implementation, provided opportunities to the community to deal with the different problems which challenged them.
When the program started, everyone was hopeful that the Kalahi-CIDSS would somewhat, be the solution to their problems. Kapitana Flora was among those who was most hopeful.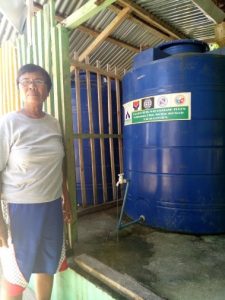 "Sa Kalahi-CIDSS, nahatagan mi ug paglaum kay adunay dakong pondo mosulod nga maoy magamit namo sa pagtukod sa mga imprastraktura nga makatabang sa among mga katawhan. Excited kaming tanan kay nindot ang pamaagi sa programa, tanan adunay tingog, ug pwede mokapartisipar sa implimentasyon (With Kalahi-CIDSS, we now have funds that we could use to build different infrastructures that would definitely help us – this gave us hope. We were all excited because the program's implementation strategy was unique, everyone has the chance to participate and let their voices be heard)," Kapitana Flora added.
Through the program, the barangay was able to implement, and complete a 108 linear meters Sea wall which protected the houses from strong waves.  In their second year with the program, they were able to have their first ever Health Care Station.
To address their problems with their water provision, the community proposed, and received rain water harvesters distributed among the households. Another community project they proposed and implemented was their Day Care Center – it was a dream come true to them, especially parents who have prayed for it for a long time.
To address their problems of accessibility, since their barangay is basically surrounded by bodies of water that hindered them from easily travelling from one part of the barangay to another, two Foot Bridge, 6 and 7 linear meters length, joined Purok-1, Purok-2 and Purok-3
Lastly, the community was able to propose and implement 35 solar street lights going to Sitio Emanuel, ensuring the safety of the residents in the area.
Though the community projects were successfully implemented, it was a big challenge to the BLGU. Kapitana Flora faced a lot of challenges during the course of the implementation of the program. Though the community leads in the implementation (with the BLGU supporting), Kapitana Flora could not just sit back and let the opportunity pass by without extending her services to the community.
With the challenge of meeting deadlines, and ensuring everything were in place, she was present in the project sites. She was even active in filing rocks in their seawall project because the BLGU could only provide in-kind counterpart.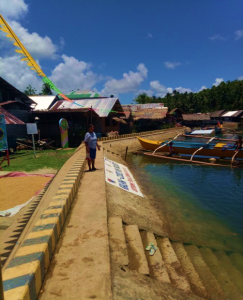 "Dako ang pondo nga gikan sa Kalahi-CIDSS. Ang barangay halos walay mahatag nga counterpart nga cash kay wala gayud kami pondo. Mao nga in-kind nalang among contribution, mao kana nga nag pahina o bayanihan kami. Ako ang magsayo gayud diha sa site aron motrabaho ug mag alsa sa mga bato aron mapasunod nako ang katawhan nga motabang usab sila (Kalahi-CIDSS was able to provide us with enough budget. The barangay could not raise enough budget for counterpart because we were short of cash. We could only afford to contribute in-kind, that is why we had to do "pahina" or "bayanihan" instead. I woke up early to be at the site and file large rocks to lead the community in helping out in the project)," she said
Through her leadership, and her will to transform their community, and by simply showing her love and care for the people of Katipunan, Kapitana Flora was able to inspire and lead her community and make their dreams and aspirations a reality.
Through their hard work and dedication, the community was able to capitalize and ensure that the goals of the program were achieved. With the support of the BLGU, they were able to turn the challenges they faced into a strong determination to better their community – and this is through the harmonious implementation of the program.
Today, Kapitana Flora, who is in her last term as Barangay Chairperson could easily look back at her legacy and claim that she was able to deliver for the people of Katipunan, through the help of the Kalahi-CIDSS program.   ###(CHRISTINE T. TIKIM/MARKO DAVEY D. REYES – Social Marketing Unit/DSWD Field Office Caraga)