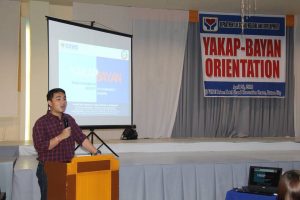 BUTUAN CITY- In response to the growing number of drug dependents who have surrendered since the Duterte administration began its intensified campaign against illegal drugs, the government, including the Department of Social Welfare and Development (DSWD), has been undertaking convergent efforts to provide support for the treatment and rehabilitation of recovering drug users.
To further support these initiatives, the DSWD introduced the Yakap Bayan Framework to help the drug surrenderers in Caraga.
According to DSWD Assistant Secretary for Special Concerns Jose Antonio R. Hernandez, who personally provided an orientation about Yakap Bayan on April 26,2018 at Prince Hotel Convention in Butuan City, the said strategy has been tried in some regions in the country including the Cordillera Administrative Region (CAR) and was successful as it transformed a number of drug surrenderers.
"Yakap Bayan is a framework to embrace drug surrenderers and assist them become volunteers, advocates, and community leaders from being considered cancers of society," Asec.Hernandez bared.
The one-day orientation was attended by members of the Regional Technical Working Group (RTWG) on Reintegration and Rehabilitation Cluster (RRC), Local Social Welfare and Development Officers, Health Officers, Representatives from the Local Anti-Illegal Drug Council, and staff from the DSWD-Caraga.
Aside from the Yakap Bayan Orientation, some members of the RTWG-RRC shared accomplishments and selected local government units presented good practices on assisting drug surrenderers.
Chief Administrative Officer Ramel F. Jamen, who delivered the welcome message, shared that the orientation is conducted to guide the frontline workers in the provision of sustainable rehabilitation, aftercare, and reintegration support services to former drug users in the region.
"It has been the concern of our local social welfare officers and direct service workers of the Department on how to handle the cases of persons who use drugs. Hence we are thankful that the office on Special Concerns has called for the orientation on Yakap Bayan," Jamen said.
"This is only the first batch of orientation. We will be calling another round of orientation for the rest of the LSWDOs to equip them of this framework," he added.
Through the issued Executive Order No.15 by President Rodrigo Roa Duterte on March 6, 2017 mandated the creation of an Inter-agency Committee on Anti-Illegal Drugs (ICAD) and Anti-illegal Drug Task Force to suppress drug problem in the country. This is pursuant to Republic Act 9165 otherwise known as Comprehensive Dangerous Drug Act of 2002.
With the EO, agencies are clustered into four (4), namely,  (1) Enforcement Cluster, (2) Justice Cluster, (3) Advocacy Cluster, and (4) Rehabilitation and Reintegration Cluster. The DSWD is part of the rehabilitation and reintegration cluster. ###(EUNICE MONTAOS PLAZA/Social Marketing Unit/DSWD Field Office Caraga)