Some people tend to make excuses when it comes to pursuing their dreams even when circumstances favor them. However, there are people who challenge the odds and turn the circumstances to their side. And that's the program participants of the Rosario Persons With Disability (PWD) Association – a group of people redefining their success through the intervention of Sustainable Livelihood Program (SLP) and other stakeholders.
It is quite a challenge for them to be living in a 2nd class municipality where the primary source of livelihood is crop production and aquaculture, and has limited opportunities for those who belong to the marginalized sectors.
Before the livelihood intervention, the members of the association only earn Php150-200 per day from irregular labor as farmers. They have limited access to resources for livelihood productivity and security.
The established PWD group identified a need for livelihood assistance from SLP – Bottom-up Budgeting (BUB) to finally venture on hollow block business and address the high demand for construction materials in their area and nearby municipalities.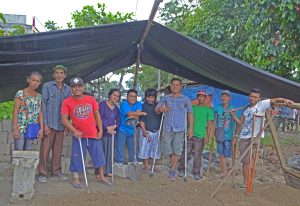 "Dako akong pasalamat sa atung gobyerno kay bisan tuod naa mi kapansanan, gitagaan mi ug pagtagad ug nakaambit kami sa usa ka programa sa SLP (I am immensely grateful to the government because despite our disabilities, we are given the opportunity to avail one of the government's program called SLP)," shared Noli Oliver, SLPA President.
After a year of operations, a delivery truck was also provided to further enable them to have efficient business operations.
The group's average production volume is 320 blocks per cycle, which has significantly improved their delivery services to acquire more buyers. They are now formally registered in Department of Labor and Employment (DOLE), Bureau of Internal Revenue (BIR), and Securities and Exchange Commission (SEC).
Eager to sustain their livelihood project, the group was able to engage Philsaga Mining Corporation as their institutional buyer with a Memorandum of Agreement (MOA). They also serve as the supplier of hollow blocks to LGUs, SLP- Payapa at Masaganang Pamayanan (PAMANA) and Kapit-Bisig Laban sa Kahirapan – Comprehensive Integrated Delivery of Social Service (Kalahi-CIDSS) projects.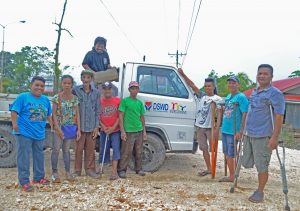 With hardwork and dedication, SLPA's average net come ranges from Php30,000-Php40,000 per month. This translates to an additional income of about Php2,000 per month for each member.
Partnership with various stakeholders has contributed in the efficient implementation of the project. Department of Industry-BUB (DTI-BUB) has provided financial counterparts in the implementation of the project. The Local Government Unit (LGU) showed support buy providing logistical assistance and enlisting them to supply hollowblocks for LGU projects; while the partnership with PhilSaga ensures regular purchases with a minimum cost of Php15,000.00 per order.
The group continues to save for capital build-up to improve their storage and production area. With majority of the members having skills on carpentry, they are planning to venture on furniture making as well.
 "Sa akong mga pareha na PWD, ayaw mo kaulaw kay wala ta gipasagdan sa gobyerno ug naay gigahin sa alang sa atung panginabuhian (To all the PWDs like me, don't be ashamed because the government has ready resources for our livelihood)," Noli added.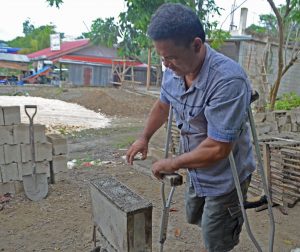 He is beyond grateful for the opportunity the program has given to them. The project served as a means to maximize their potential despite their disability.
More than that, this endeavor provides an empowering support for this disadvantaged sector.###(MARY CARMELLE C. JUMAWAN/Social Marketing Unit/DSWD Field Office Caraga)