SURIGAO DEL SUR – To address the existing accessibility and road problems of the residents of Brgy. Pocto in the municipality of Hinatuan, the Department of Social Welfare and Development (DSWD) –  Kapit-Bisig-Laban sa Kahirapan – Comprehensive and Integrated Delivery of Social Services (Kalahi-CIDSS) came to help them solve and realize the concrete pathway they longed for.
The Php1,334,541 – worth 455 linear meter concrete pathway community sub-project was turned-over to the community and inaugurated last May 28, 2018.

The said infrastructure was proposed by the community to address their difficult and distant terrain which requires passing through a rough and hilly road to reach the highway.
"Usa kini ka dakong tabang kanato. Dili na malisod ug layo ang pagbyahi ngadto sa lungsod. Dili na kita malangan sa atong mga transaksyon. Dako among pasalamat gayud sa Kalahi-CIDSS (This is a big help to us. It will not be far and difficult for us to go to the town. Our transactions will not be delayed. We are so thankful to Kalahi-CIDSS)," Brgy. Chairperson Rogelio L. Capunong said.
In attendance during the turn-over activity were the Barangay Officials, Kalahi-CIDSS community volunteers, Barangay Health Workers, Barangay Disaster Risk Reduction and Management Council, Senior Citizens Organization, Barangay Tourism Council, Women's Club Organization, Pocto Coconut Farmers Association, Lupon Members, Parish Youth Apostole, Religious Groups, Pantawid Pamilyang Pilipino partner-beneficiaries, Purok Officals and Members, Sangguniang Bayan Member Nerito P. Malinao, Pocto Elementary School Principal Merle L. Linao, and SRPMO staff.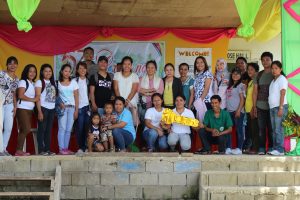 On behalf of DSWD Caraga OIC-Regional Director Mita Chuchi G. Lim, SRPMO representative Liezer Dumagan spearheaded the symbolic turn-over of the key of responsibility to the community's Operation and Maintenance Group. This signifies the sharing of responsibility in taking care of the sub-project and keeping its functionality and sustainability.
The willingness and spirit of volunteerism of the community volunteers headed by the Barangay Sub-Project Management Committee – Chairperson Rena R. Tecson.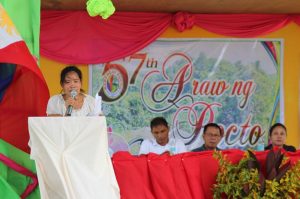 "Usa ka consolation prize na kini atong pathway. Ang dako gajud nga tabang kanato gikan sa Kalahi-CIDSS kay ang learnings sa assembly meeting, trainings, ug kun uno pagpatukod sa proyekto. Empowerment gajud kini kanato (Our pathway is form of consolation prize to us. The big help to us from Kalahi-CIDSS were the learnings from assembly meetings, tranings, and the process of project implementation. It is a form of empowerment to us)," BSPMC Tecson said.
Kalahi-CIDSS is one of the prime programs of the government implemented by DSWD to alleviate the people from poverty. It utilizes the Community-Driven Development process of project implementation, which encourages the community volunteers and involve them from identifying their problems –formulating solutions, preparing project proposal, budgeting, and implementation.
###(SHERYL M. LORENZO/MARKO DAVEY D. REYES/Kalahi-CIDSS/Social Marketing Unit/DSWD Field Office Caraga)