Graduating from college is no easy achievement; nor is raising two children without a father.
But last April 11, a 26-year old Jaysan Dela Cruz of Loreto, Agusan del Sur graduated as Magna Cum Laude from Philippine Normal University-Agusan Campus, and proved that being a single mom in the verge of poverty is not an excuse for not succeeding in life.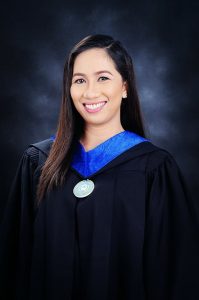 Crossing to the cruel world
She did not realize how cruel the world could be, until she was 17. She was on her junior year in Nursing at Southway College of Technology, when she fell in love and got pregnant. For this reason, she stopped her schooling and faced a greater responsibility – embracing the world of parenting at a young age.
"Bisan gusto nako ipadayon ang akong pagskwela, dili makakaya ug suporta ang akong mga ginikanan tungod sa among kalisod. Daghan kog nadungog nga mga sakit nga storya gikan sa mga tawo tungod lang sa akong pagkabuntis og sayo. Naay mga panahon nga makadumdom ko sa akong kinabuhi sauna sa bata pa ko, ug usahay gusto to nako balikan (Although I would like to continue my studies, my parents cannot support me fully because of our hardships. I have heard a lot of criticisms from people just because I got pregnant at an early age. There are times that I look back on the life I had before, and I just want to go back)," she tearfully shared.
Remembering good ol' days
It was all simple for the young Jaysan back then. She grew up knowing that their family is not well-off. During her elementary years, she would sell rice cakes (kakakin) her mother made, to her classmates to have allowance (baon) on the next day. Her father was a farmer, cultivating a quarter portion in the rice fields; while her mother was a canteen vendor earning a hundred pesos in a day.
Amidst nothingness, she was excellent at school. Their humble community in Barangay Magaud, served as an avenue where she nurtured her God-given intellect. She graduated as Class Valedictorian in Magaud Elementary School; and Salutatorian at Sto. Tomas National High School.
Fortunately, her mother Susan was listed as one of the grantees of the Pantawid Pamilyang Pilipino Program in 2008. This lifted their situation a little higher. "Kadtong naapil na si Mama sa 4Ps, nahatagan kami ug higayon nga maka-avail sa mga benefits niini, isa na ang pagkahimo nga student-grantee sa ESGP-PA (When my mother was included in 4Ps, we are given the chance to avail of its benefits, one of these is becoming a student-grantee of ESGP-PA)," Jaysan said.
The Expanded Students Grant-in-Aid Program for Poverty Alleviation (ESGP-PA) is one of the social development services offered by the Program for its partner-beneficiaries. Student-grantees like Jaysan is entitled to a maximum grant of Php60,000 per school year or Php30,000 per semester for tuition and other school fees, textbooks or other learning materials in a form of stipend.
Juggling motherhood, business, and studies
With this, her hopes glistened as she started to trust herself again. Through the assistance of her uncle Guillermo Jonillas and the ESGP-PA, she was able to enroll at PNU with Bachelor in Mathematics and Science Elementary Education course.
During her four (4) years in the university, problems never seem to fade especially on their financial capacity. Though she was a student-grantee, she didn't depend her needs on it alone. She ventured into networking to further support her children's finances, because they are her utmost responsibility. She also helped in the small hog raising business of her aunt to earn additional income.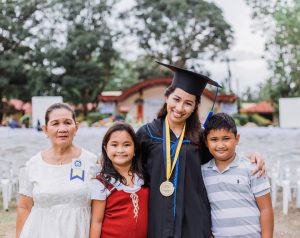 She juggled all of these for her two charming kids, Mac Jay (10) and Mycca Jaylein (8), through the moral support of her parents, James and Susan. She never did regret raising them all by herself and going through a lot of failures – most specifically with the broken relationship she had with their father.
"Nagplano na siya ato manarbaho sa gawas, pero samtang ga-proseso siya sa mga requirements, niuli siya sailang lugar, ug naminyo siyag lain didto (He planned to work abroad, but while he was processing his requirements, he went home to their place, and married another woman)," she reminisced.
But she chose to live her life and move on. With the help of ESGP-PA scholarship, her obligations at school were paid. She appreciated the program of DSWD and CHED in their goal to alleviate the life of unfortunate Filipinos especially the beneficiaries of 4Ps.
Educating young minds in the future
Jaysan is not just thankful to Pantawid Pamilyang Pilipino Program, she also extends her heartfelt gratitude to her Alma Mater. PNU, considered as national center for Education, molded her to be a better version of herself by providing an opportunity and good venue to showcase her talents and abilities to the best that she can be.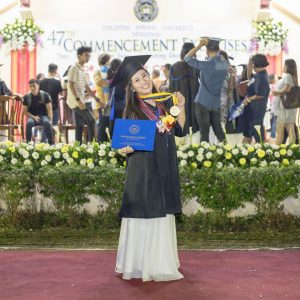 "My mentors in PNU inspire me. They helped me boost my self-confidence, prepared me for a brighter future, and unleashed my highest potential to be an efficient educator following our core values of truth, excellence and service," Jaysan proudly shared.
With her passion in teaching, she plans to pass the Board Licensure Examination for Professional Teachers (BLEPT) this September and have a permanent position in the Department of Education (DepEd) in the future. This June, she will be teaching as an elementary teacher in PNU-Center for Teaching Learning while reviewing for the BLEPT. She also aspires to earn a Master of Arts degree believing that as a future educator, she should also educate herself and continue learning for her future students.
Truly, graduating with college with Latin honors is such a great feat, but what makes a great testimony are not literally the achievements, but the amazing stories of failures-turned-to-success, breakthrough over struggles, and victories over sufferings and hardships. #