Safety is always top priority among individuals, especially if it involves their loved ones. As much as possible, people would like to ensure that everything is fine, and no threat or harm would ever come their way. But there are instances that even the most safety-conscious, with the best precautionary actions or preparations could be caught off guard.
Calamities for instance. As much as a family or community prepares for it, there are still occasions when the impact and the devastation would be great it will undermine all preparations done. But then again, mitigating actions could still have an impact – it maybe the thin line that would mean life or death to an individual.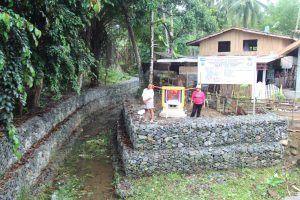 The town of RTR is a river basin, with mountain ranges draining its waters in rivers, waterfalls, and creeks all throughout the municipality. It is one of the most productive municipalities in terms of grains and crops production because of the excellent water supply to the lowlands.
Balangbalang is a small village in the municipality of Remedios T. Romualdez (RTR), Agusan del Norte. The barangay has quite a number of rivers and creeks, but some only have flowing water during rainy days. The community recognizes these dead rivers and creeks as hazards since there are instances that these overflow during heavy rains.
The community wanted to do something to this problem that has been recurring for years, especially with the effects of climate change brings heavier rainfall. Add to that the problems caused by illegal logging – flash floods are now more common, and the community are really suffering especially during rainy season.
Nonetheless, something fortunate came the community's way. One of the program of the Philippine government has given them hope to address the issues in their community. The Department of Social Welfare and Development through the Kapit-Bisig Laban sa Kahirapan- Comprehensive and Integrated Delivery of Social Services (Kalahi-CIDSS) was implemented in their municipality. And with it, came the opportunity for the community to propose a project that would better their living conditions in the barangay.
After a series of meetings and barangay assemblies, the community decided to build a river protection project which would protect them from flashfloods. The said project was proposed to protect the houses near the bridge and to provide short term protection for the bridge from flashfloods by absorbing energy from the raging waters. It would also support soil erosion which has caused the river to be more shallow, thus causing overflow.
They started working with their 100-Linear meter River Bank Protection (using gabions) worth Php1, 310,000. With everyone's cooperation and hard work, the community project was completed and inaugurated on May 30, 2018.
In his welcome message, Barangay Chairman Alex Rolona expressed his gratitude to the different stakeholders who have made possible the completion of the community project. "Nagpasalamat ko og dako sa Kalahi-CIDSS sa gihatag nila nga proyekto sa among Barangay, kani nga proyekto dili rani para sa amo, para mani sa katawhan sa komunidad (I am very thankful to Kalahi-CIDSS for the project that they have given us. this project is not just for us it's for the people in the community)," Rolona said.
Kalahi-CIDSS Deputy Regional Program Manager (DRPM) Esterlita Villamor, on behalf of DSWD OIC-Regional Director Mita Chuchi G. Lim, expressed the agencies heartwarming thanks to the Local Government Unit (LGU) of RTR, represented by Municipal Vice Mayor Oscar Apat, the Barangay LGU of Balangbalang, and the community volunteers for their all-out support and hardwork to complete the community project.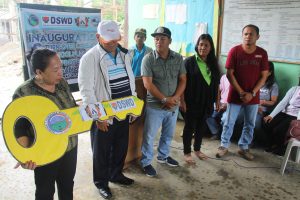 "Kining Balangbalang usa na kini ka maaktibong Barangay. Ang Kalahi-CIDSS wala mi nagbit-bit ug proyekto, nagbit-bit mi og opurtunidad ug proseso. Pamaagi ni nga atong gitudlo sa mga katawhan pinaagi sa gitawag nato ug Community Driven-Development (CDD) process, ug gidawat usab sa komunidad. Mao natuman kini nga proyekto ug nitubo ang komunidad (Balangbalang is now an active/responsive barangay.  Kalahi-CIDSS did not necessarily bring a project to this community, but we just introduced an opportunity and a process. This process, the Community-Driven Development process, was taught to the community, and the community embraced it. Through this process, the community grew and was able to complete this project)," Villamor said.
The people of Balangbalang can now sleep in peace even during the rainy days as their homes are now protected with the project which they proudly identified, proposed, and implemented. And since they have worked hard in trying to better their community, the volunteers and the community will ensure that they keep their river bank protection project operational. During the turnover ceremony, the MLGU/BLGU and the community, through the Operation and Maintenance Team, vowed to take care of their hard-earned project.
Kalahi-CIDSS is one of the instrumental programs of the government implemented by DSWD which empowers communities by utilizing the CDD process where communities are provided opportunities to be part of the planning/decision making, budgeting, and implementation of development projects and initiatives that would lead to better living conditions.
###(CHRISTINE T. TIKIM/MARKO DAVEY D. REYES- Social Marketing Unit/ DSWD Field Office Caraga)