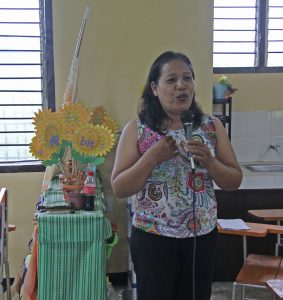 Claudy Loraine Orejas, a mother of five, has given her time for volunteerism in their little community in Datu, Pilar, Surigao del Norte. She was able to manage her time despite having a day job working as a government employee, and volunteering – serving as Barangay Sub-Project Management Team Chairperson. She shared that volunteering was never an easy job for her.
"Sugod pa gane gajud bagan mudili na gane tana ako na kay daghan ako trabaho. Pagkahibayo nako na mud crab fattening ang proyekto, nasayangan ako ba na balibaran nako so, ako tag-ingganyo ang mga tao kay dli man lagi mu attend nan meeting, tag-ingganyo nako sila na mu-attend kay ang Kalahi-CIDSS kinahanglan 100 percent gajud ang attendance bisan ang isa ka bayay tag-isa ka representante. Sunod kon jaoy mga seminar support ra ako pirmi gajud na dapat muintra ang mga volunteers kay isa man jaon na dapat nila himuon para makuha ang mud crab na project. (At the start, I did not want to engage with the implementation since I was busy. But when I learned that the proposed project was mud crab fattening, I changed my mind and did not want to waste the opportunity, that is why I began encouraging the people to participate, because Kalahi-CIDSS demands 100% participation – at least one me
mber per household. I also encouraged them to attend seminars because it was required)," she said.
Claudy was a bit shy during the interview – a typical characteristic for newbie volunteers of the program. But through their exposure with Kalahi-CIDSS, they have learned how to cope with their environment and use their voice to encourage and empower others. "Ang empowerment bagan jaon na strengthen kaw kay ako sab medyo may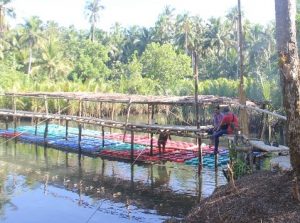 pagka-masipogon man sab ako jaon dili ako karajaw tig-storya. Pero mu try gajud ako bisan dli ako mahibayo mu try gihapon para dili sab sila muhaod magsipog-sipog." (Before, I was shy and passive but because of Kalahi-CIDSS I was empowered and strengthened. Even though sometimes I doubt myself, I always try my best to participate so that other volunteers might also be encouraged to be active," she said.
Community Driven-Development is one of the most effective community empowerment schemes recognized by World Bank. It enables the people to address local problems with the help of the government's financial and technical support. This process is being utilized by the Department of Social Welfare and Development (DSWD) through Kapit Bisig Laban sa Kahirapan – Comprehensive and Integrated Delivery of Social Services (Kalahi-CIDSS) to address the existing problems in the communities. ###(RUSS CLEPPIN M. PASTER/MARKO DAVEY D. REYES/Kalahi-CIDSS/Social Marketing Unit/DSWD Field Office Caraga)