The Department of Social Welfare and Development Field Office Caraga joined in celebrating the 97th Foundation day of Jabonga, Agusan del Norte.
The activity, dubbed Adlaw Nan Habongan, with the theme "Habongan: Bahandi Mo, Kinabuhi Ko", was opened with the turn-over program of 69 housing units for the Mamanua community in Sitio Coro, Barangay Colorado on June 30, 2018.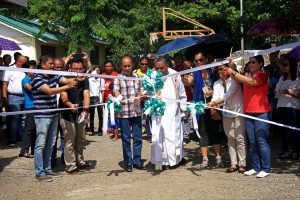 On Behalf of DSWD OIC – Regional Director Mita Chuchi Lim, the field office was ably represented by Administrative Services Division Chief Ramel Jamen, who was among the guests who participated in the ceremonial ribbon cutting and turn-over of the housing units.
Municipal Vice Mayor, Hon. Glicerio Monton, Jr. thanked all the stakeholders who have been part of the National Housing Authority (NHA) – Jabonga Tribal Village Housing Project, which was his brainchild way back in 2012, when he was still the municipal mayor.
He specifically thanked the DSWD program Kalahi-CIDSS (Kapit-Bisig Laban sa Kahirapan – Comprehensive and Integrated Delivery of Social Services) for being a significant influence in achieving the project.
"Dako akong pasalamat kay anaa ang NHA to fund this project. Dili kaya sa LGU to fund this alone, mao nga gigamit namo ang proseso sa Kalahi-CIDSS kun asa nagbuhat kami ug scheme for counterparting. Naay pondo gikan sa LGU, sa NHA, pati sa Provincial LGU. Mao na kini ang Sistema gigamit namo (local counterpart contribution) sa pag kalap ug pondo sukad kami nag Kalahi-CIDSS (We are very thankful to the National Housing Authority who helped us fund this project. It is impossible for the LGU to solely fund this alone, that is why we replicated the process Kalahi-CIDSS has taught us, which is for stakeholders to provide counterpart for the funds. We utilized funds from the LGU, NHA, even from the Provincial LGU. This is the system that we have utilized in allocating funds since we had Kalahi-CIDSS)," Vice Mayor Monton said.
Municipal Mayor Jasmine Monton also thanked line agencies and other stakeholders who have been aiding the growth and development of the municipality.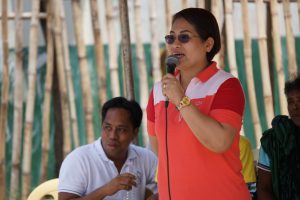 "Mapasalamton mi sa tanan nga nahimong instrument sa paglambo sa Jabonga, ug hinaot pa nga magpadayon ang atong engagement sa padayon pa nga paghatag serbisyo dili lang sa mga lumad communities sa Jabonga, kun dili sa tanan katawhan (I am thankful to everyone who have been instrumental in the progress of Jabonga, and we are hopeful that we will continue our engagements for the continued service, not just for the lumad communities of Jabonga, but for everyone)," Mayor Monton said.
Jabonga was among the piloted areas of the Kalahi-CIDSS program way back in 2003. The LGU has also been an active and responsive partner of DSWD Caraga in extending social welfare programs and services, and will continue to partner with the LGU with on-going and upcoming programs and services.