After a series of desk and field validation within the region, the Department of Social Welfare and Development (DSWD)-Caraga officially named this year's Huwarang Pantawid Pamilya.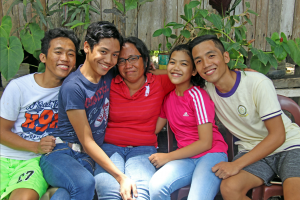 Adoralin Miones, a solo parent along with her four children, won the regional search besting other four families vying for the 2018 competition. Her children, John Michael, Oliver, Adrian, and Aldea, live with her in the modest barangay in Camagong, Nasipit, Agusan del Norte.
In spite of experiencing a broken relationship with her husband, 44-year old Adoralin raised her children by being a single motor driver.
"Pagbiya sa akong bana tuig 2009, nagsulay ko og drive sa motor nga kabilin sa akong tatay. Sa permiro, lisod gayud kay naay mga tawo nga tahado musakay. Pero nakalahutay ko tungod sa akong mga anak, sa ila ko nagkuha og hugot nga kusog (When my husband left in 2009, I tried driving the motorcycle which was my father's heritage. At first, it was very hard since people are intimidated to ride. But I endured because of my children, they are my strength), she shared.
Aside from being a female driver, she is also an active Pantawid Pamilya parent leader, secretary of various organizations in their barangay such as Camagong Farmers Multi-Purpose, Fisherfolks Cooperative, Sustainable Livelihood Association, consultant of Soam Phil-International Distributors Corporation, and alumni president of their batch at Camagong Elementary School.
"Wala gayud namo sukad gikaulaw si Mama sa tanan, kay siya ang nagbuhi sa amoang pamilya bisag siya ra isa naningkamot (Never have we ever looked down on our mother, because she raised our family on her own hardwork)," the third son, Adrian proudly said.
Adoralin's involvement does not end there though, for she always enjoins her children in every activity during their free time. Both John Michael and Oliver are registered members of the community's association namely CFMC and SLP respectively. Meanwhile, Adrian and Aldea are also receiving recognitions for their achievement. As a family, they are also devoted to their faith and passionate in serving and helping others.
The field validation (regional search) was conducted last July 16-20, 2018 through the validating team composed of the Regional Training Specialist Anafe Lecciones, CSO/ESGP-PA Focal Mark June Torillo, IP Focal Anamie Echano, and three Information Officers from the Social Marketing Unit.
The objective of the activity is to recognize family-beneficiaries of the Pantawid Pamilyang Pilipino Program (4Ps) who maintain strong family ties, demonstrate positive Filipino values, create positive impact in the community and empower children and family beneficiaries for an improved quality of life.
The Miones Family is expected to compete as the Region's entry to the national search this September. ###(JOANA RICA P. MILLAMA/Social Marketing Unit/DSWD Field Office Caraga)