SAN FRANCISCO, AGUSAN DEL SUR — Compliant to the mandate of providing financial assistance to the identified poor Filipinos in the wake of the Tax Reform for Acceleration and Inclusion (TRAIN) Law, the Department of Social Welfare and Development (DSWD)-Caraga has started its Unconditional Cash Transfer (UCT) pay-out to beneficiaries of Social Pension for Indigent Senior Citizens, July 14, this municipality.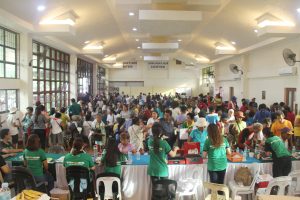 A total of 3, 317 social pensioners here received their cash grants amounting to P2, 400.00 each for this year, equivalent to additional P200.00 to their P500.00 per month stipend.
Assistant Regional Director for Operations Nerisa T. Murih mentioned in her message during a program prior to the pay-out that even though the TRAIN Law has been beneficial to earning employees, this has hurt a lot of poor Filipinos as the prices of goods have also increased.
"DSWD hopes that although this additional gift from the government is just minimal, may this be a help to provide for the daily needs of our dear senior citizens, especially in buying their medicines," Murih stated.
She also said that she is positive that UCT will make the social pensioners happy and enthusiastic towards fulfilling their functions in the community.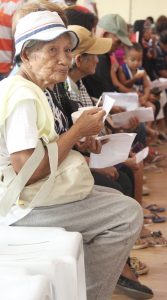 "[On] behalf of the senior citizens of the municipality of San Francisco, I am very much grateful especially to the national government down to the regional government for the additional grant [provided by the] UCT," expressed Ma. Rogelia Noja, Office of the Senior Citizen Association (OSCA) Head of this municipality.
Noja added that they are privileged that UCT cash pay-out for social pensioners in the region has been launched here and that they are the first social pensioners to "receive this gift from the government" in the region.
DSWD-Caraga is set to complete the UCT pay-out to all social pensioners before the end of September. Starting July 21, there will be simultaneous cash pay-outs to different cities and municipalities in the region.
During the pay-out, the funds will be coursed through Landbank of the Philippines representatives who are assigned for the release of cash after the validation done by the staff of DSWD-Caraga.
It can be recalled that the beneficiaries of the Pantawid Pamilyang Pilipino Program (4Ps) received their UCT grants last March. As of press time, DSWD-C
araga is still finalizing the validated list of Listahanan identified poor who are also targeted beneficiaries for UCT.
The Philippine government, through the UCT, targets to provide P2,400.00 to 10 million poor Filipinos in 2018 and P3,600.00 each in 2019 and 2020.###(MIKE ARIEL P. PLAZA/Social Marketing Unit/DSWD Field Office Caraga)