"It takes a community to prevent trafficking in persons from happening."
This was said by Hon. Judge Isabel Corazon Plaza, keynote speaker of the celebration of the 2018 World Day Against Trafficking (WDAT) organized by the Regional Inter-agency Committee Against Trafficking – Violence Against Women and their Children (RIACAT-VAWC), July 31 at the Agusan del Norte Capitol Gym.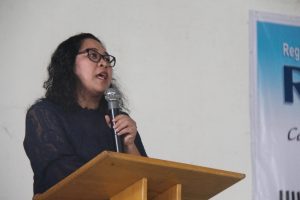 In her speech, Plaza stressed how fighting against human trafficking continues to be a struggle but with the help of RIACAT-VAWC member government agencies and non-government organizations in the region, she hopes that the call to end human trafficking will become more "resounding."
"Trafficking in persons is not only a national problem; it is a global one. They call it modern slavery but I would like to call it the worst kind of business a person can think of," Plaza said.
DSWD-Caraga OIC Regional Director Mita Chuchi Gupana-Lim, who also chairs RIACAT-VAWC, said that in ending human trafficking, the agencies need the cooperation of all the citizens to report existence of this crime in their localities.
"We want to emphasize that all of us can do something to stop trafficking in persons," Lim said, urging everyone to report to the proper authorities any form of trafficking that they observe on their neighbourhood as "this terrible crime cannot be solved by one agency alone."
"If we are not going to do something, one of us or a member of our family could be a victim because this is happening everywhere. We should do something. We should do something more. We shouldn't be just complacent. We should be observant," Plaza emphasized.
'Be wary'
During the program, two victim-survivors of trafficking, who are both former overseas Filipino workers gave their testimonials.
Elsie Saguso and Rosejean German of Butuan City were both victims of illegal recruitment.
Saguso who worked in Saudi Arabia was maltreated and unpaid by her employer for a year.
"Wala koy contact sa akong mga anak ug gipatrabaho ko sa laing balay nga walay suhol (I was not allowed to contact my children and I was made to work in other households without being paid)," Saguso said while narrating how she spent days looking for food in trash bins as she was not provided by her employer.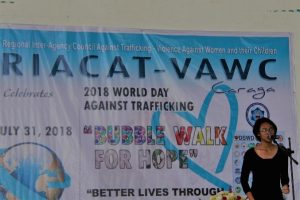 "Halos ikamatay na nako ang sakit sa akong lawas (I already almost died because of physical pain)," she said.
German, on one hand, worked underpaid for more than a year in China in two different employers without day-off.
"Niabot ang panahon nga nadakapan ko sa Immigration ug nadetain for 45 days (I was caught by the Immigration and got detained for 45 days)," German said.
Saguso and German said that people should be wary in applying for jobs abroad.
"Sa tanan nga gusto mag-abroad, gihangyo nako nga siguraduon ninyo nga ang inyong agency ligal. Ayaw mo og adto kung walay kasiguradoan kay lisod didto (Those who wanted to work abroad, please make sure that your recruitment agency is legal. Don't go if you're not sure of the agency's legality because life there will be very difficult)," Saguso expressed.
DSWD's RRPTP
Both victim-survivors were assisted by the Philippine government in flying back home and were referred to the DSWD-Caraga through the Protective Services Unit's Recovery and Reintegration Program for the Trafficked Persons (RRPTP).
"Daku akong pasalamat sa RRPTP sa DSWD kay ako nakauli nga maayo sa among panimalay. Gihatagan ko nila og livelihood assistance ug educational assistance ang akong mga anak (I am very much grateful of DSWD's RRPTP because I was able to come home okay. They gave livelihood assistance and educational assistance for my children," German said.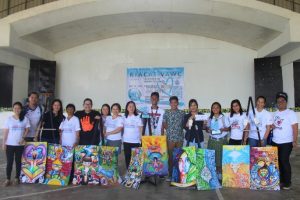 DSWD-Caraga has served a total of 39 victim-survivors of trafficking from January to June 2018.
According to Lim, 24 of these clients are from Agusan del Norte, six from Agusan del Sur, four from Surigao del Norte and five from Surigao del Sur. Most of the victims are female and are between 18 and 30 years old.
"These are the only cases reported to us; we do not know yet of the many cases that probably remain unreported," Lim said, emphasizing the importance of making acts of trafficking known for the authorities to respond to it.
Spoken word, poster making
RIACAT-VAWC's celebration started with a "Bubble Walk for Hope" from Butuan City Guingona Park to the Capitol Gym of Agusan del Norte where participants from member agencies and organizations had a morning zumba cum foam party.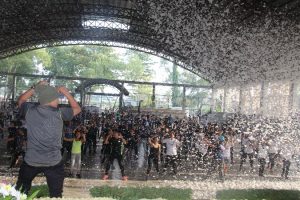 Competitions on spoken word poetry for college students and poster making for high school students were also held.
Winners of the competition are as follows:
          Spoken Word Poetry
1st – Ann Mae Monique R. Jongko (Father Saturnino Urios University)
2nd – Donna Mae P. Magtibay (Caraga State University)
3rd – Jexan Macate (Butuan City Colleges)
         Poster Making
1st – Hannah Clarice P. Cagadas (Bayugan National Comprehensive High School)
2nd – Earl Brian V. Corregidor (Tandag National Science High School)
3rd – Jhanna Vanessa Marie E. Cañete (Gamut National High School)
All the outputs of the competitions revolved around this year's theme for WDAT, "Better Lives thru Safer Migration, Stop Human Trafficking!"###(MIKE ARIEL P. PLAZA/Social Marketing Unit/DSWD Field Office Caraga)