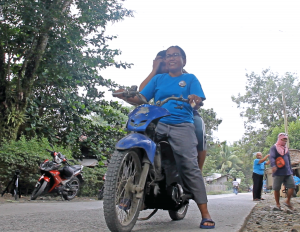 Vrooom! Vrooom!
The sound of the engine indicates the start of a new day for 44-year old Adoralin.
As she revs up driving along their humble barangay in Camagong, she recounts all the memories she had with her 10-year old Honda Wave 100 motorcycle – the good, the bad and everything in between.
Broken vows and severed ties
It was year 1996. Adoralin was 23, innocent, and care-free when she married Oliver Miones. Their relationship went smoothly and happily. Her husband performed his duty well as a responsible provider for the family – a solid foundation or matatag na haligi ng tahanan as she would describe.
After two years of faithful living, she observed that her husband has gone cold and discovered that he was having secret affairs with other women. Knowing this broke her heart, yet she continued living with him and hoped that staying in the relationship would save their marriage and the future of their two children then – John Michael and Oliver Jr.
For 12 years, their relationship was rough, as her husband never ceased to be unfaithful to her. He broke their vows; so she severed their ties, deciding to accept full responsibility in taking care of their children, with Adrian and Aldea as new additions.
Combined 'haligi at ilaw ng tahanan'
It was year 2009. Adoralin did not know where to start after abandoning a failed marriage. She had many hopes for her children's future, and it seemed so hard for her to do it on her own. She needed some boost, and fortunately she found it from her father, and she turned to God for her spiritual needs.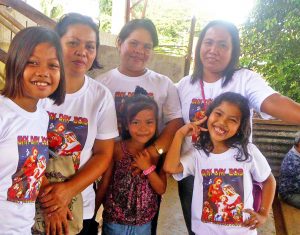 "Dako ang akong pasalamat nga ang una nako nga nasudlan mao ang simbahan, dili ang videokehan. Wala niuban ang akong mga anak sa akong bana maong ako gayud ang maningkamot nga mahimong inahan ug amahan saila pinaagi sa pag-drive nako og motor nga gibilin sa akong Papa (I am greatly thankful that the very first place I stepped into was the church, and not a karaoke place. My children did not go with him that's why I had to work hard to be a mother and father to them through driving a motorcycle which was my father's heirloom)," she shared.
As a woman, driving a habal-habal or motorcycle-for-hire was never easy. People doubted her capabilities and questioned driving skills. So she searched for other means to gain extra income and support her children for their daily needs. She engaged in direct-selling industry, joined various barangay cooperatives, and participated in community activities. However, there was still insufficient funds available. Then a blessing came.
On the same year, a survey conducted by the National Household Targeting System for Poverty Reduction (NHTS-PR) or Listahanan was done and their household was fortunately included – it was to identify possible grantees for Pantawid Pamilyang Pilipino Program (4Ps) of the Department of Social Welfare and Development (DSWD).
Paved avenue for opportunities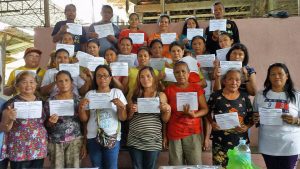 It was year 2012. Adoralin received her first cash grants and was appointed by her co-beneficiaries as a parent leader. She accepted the role vested unto her and little did she know that it would pave an avenue for opportunities for her.
Through Pantawid Pamilya, she was exposed to numerous trainings given to selected parent leaders of the Program. It made her realize her worth as an individual contributing for the betterment of the society, specifically in their municipality – Nasipit, Agusan del Norte.
"Nagsugod gayud ang akong pagka-aktibo sa pagkahimo nakong parent leader sa 4Ps. Niapil ko og mga seminars nga nakadugang sa akong kahibalo isip usa ka-lumulupyo sa komunidad. Didto nako nakita ang bili nako, ug unsa kanindot nga mahimong parte sa kalamboan sa inyong lugar (I started being active when I was selected to be a parent leader of the Program. I attended seminars wich enhanced my learnings. I honored my value and appreciated how great it is to be a part of the development in your area)," she thankfully reminisced.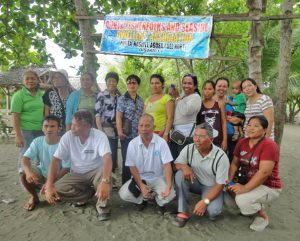 Her avenue got a lot bigger when she was elected as the secretary or record-keeper of the Camagong Farmers Multi-purpose Cooperative (CFMC) and Punta Fisherfolks and Seaside Dwellers Association (PFSDA). These two organizations extend opportunities to the residents of Nasipit by providing them with basic knowledge on farming, forestry, and fishing – the main sources of their livelihood. The members of these associations were also trained by other national government agencies such as the Department of Agriculture to further enhance their skills and make them competent in their fields of expertise. She also registered her two children John Michael and Oliver Jr. in these associations, and trained them while they were still young.
Through the years, she availed of different opportunities. She also has a National Certificate II (NCII) on Household Services, Tocino and Longganiza Making and Candle Making through the Technical Education and Skills Development Authority (TESDA). She was also elected as an Alumni President of their batch at Camagong Elementary School, awarded as a Consultant of Soam Phil-International Distributors Corporation, and appointed as an officer of the Sustainable Livelihood Program-PAMANA.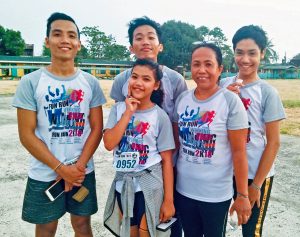 For Adoralin, these opportunities filled the void of loneliness in her heart, self-love is indeed an important aspect in life. But more than this, there are those who really completed her, healed her, and made her whole again – her four precious children.
Strengthened bond and relationship
Presently, though Adoralin has a busy schedule, she never forgets to spend time with her children and attend to their school activities and needs. She also involves them in community activities during their free time – participating in zumba exercises, fun running for a cause, actively sharing their talents during fiesta celebrations, and being involved in Church activities.
"I am always proud of what our family has become. Bisan asa nga aspeto, mag-uban gayud kami pirmi mao ng dako kaayo ang among pagpasalamat sa Ginoo nga bisan gibiyaan mi sa akong Papa, Iya kaming gihatagan og ina at tatay, sa giingon pa nila 'inatay' pinaagi ni Mama (In every aspect, we always go along, I am grateful to God that even though our Papa left us, He gave us a mother and father figure, through my Mama)," Oliver Jr. tearfully shared.
"Wala gayud namo sukad gikaulaw si Mama sa tanan, kay siya ang nagbuhi sa amoang pamilya bisag siya ra isa naningkamot (Never have we ever looked down on our mother, because she raised our family on her own hardwork)," the third son Adrian also proudly said.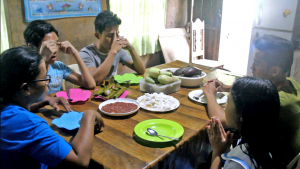 Truly, raising four children as a solo parent is never easy. But for Adoralin, it has made her stronger and wiser – as she finds herself a woman of self-worth after overcoming all the obstacles by standing solo. As she revs forward, she never will fret because with her four precious pillars, she finds herself the inner light that was once dimmed. ###(JOANA RICA P. MILLAMA/Social Marketing Unit/DSWD Field Office Caraga)