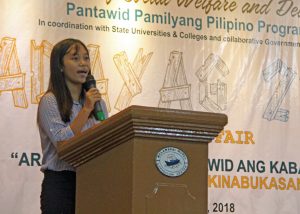 "Education is the ticket to never-ending opportunities ahead of young individuals, especially us students. Quality education is the tool to understand what is best for the community and what is not. But to finish education is the best key to amend life and alleviate poverty."
These words from Daegee Alcazar, a Pantawid Pamilyang Pilipino Program (4Ps) pioneer K-12 graduate, garnered applauses from the crowd as she shared her testimony during the 4th Padayag cum Mini Job Fair at Balanghai Hotel last August.
Along with Alcazar, single mother Jaysan dela Cruz, who graduated magna cum laude from Philippine Normal University (PNU)-Mindanao, also shared her life struggles and successes as an Expanded Students Grants-in-Aid Program for Poverty Alleviation (ESGP-PA) scholar.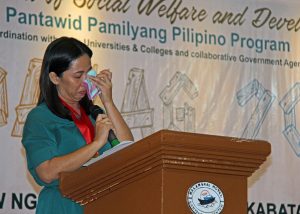 "To my little angels who serve as my motivation to keep my heart beating, thank you and I love you more than words can say. I finished [school] because you needed me to do it. I'm not strong because I want to be, but I am strong because I should be an example for [the] both of you. I am looking forward for the years we will conquer things together," Dela Cruz broke down to tears as she shared her journey as a solo parent.
In her welcome message DSWD OIC-Regional Director Mita Chuchi Lim gave her warmest congratulations to all of the graduates.
"For over four years of implementation (since 2014), we have already produced 1,734 graduates as of this year and 692 remaining ESGP-PA scholars. With that, we want to congratulate all of you for marking a beginning towards your dreams," Lim said.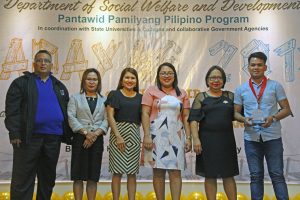 Engr. Philip Donald Sanchez, a former ESGP-PA scholar, also gave a message that inspired the graduates to "wake up and make their dreams come true." Sanchez emphasized the help of the DSWD and other national government agencies (NGAs) that contributed to his success.
He challenged the graduates to believe in themselves, go beyond their capabilities, and to not waste the opportunity given to them by Pantawid Pamilya through the ESGP-PA.
This year's Padayag, unlike the previous years, also highlighted a mini job fair in partnership with the Department of Labor and Employment (DOLE) to provide employment assistance and facilitation for the graduates. Three scholars were hired on the spot (HOTS), 24 were near-hired, and five qualified for further processing of documents.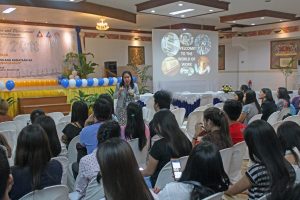 Prior to the opening of the job fair, Lilian M. Solis, labor and employment officer III, gave a career guidance talk to provide the graduates with a real overview of careers and jobs. Interested applicants then filled out the National Skills Registration Program (NSRP) form, then "shopped" from the list of local and overseas job vacancies provided by DOLE and Public Employment Service Office (PESO) Butuan.
With the theme, "Itawid ang Kabataan sa mas Maunlad na Kinabukasan," Padayag was attended by selected ESGP-PA scholars who in their field have excelled and graduated with flying colors. They were all awarded with medals and certificates, while plaques were given to those who graduated with Latin honors.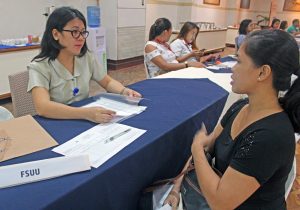 More than 1,450 ESGP-PA scholars have graduated this year in Caraga, in the five identified State Universities and Colleges (SUCs) all over the Region. ESGP-PA is one of the social development services of the Department wherein poor but deserving Pantawid Pamilya beneficiaries are given the priority to enroll in SUCs. ###(JOANA RICA P. MILLAMA/Social Marketing Unit/DSWD Field Office Caraga)