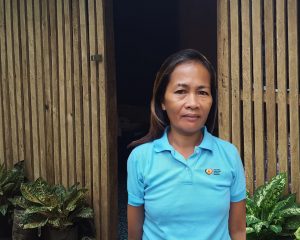 A Pantawid Pamilya parent leader. A Kalahi-CIDSS volunteer. A Listahanan notifier. Julieta Dahang had heaps of these designations. For the 50-year old beneficiary from Brgy. Canaway, Kitcharao, Agusan del Norte, life-changing experiences happened the moment she became a Pantawid Pamilya grantee seven years ago.
"Gumikan kay nahimo kong 4Ps grantee, nakakat-on ko unsa ang saktong pamaagi sa  pag-amoma sa relasyon sa usa ka-pamilya; kanang bisan sa panahon sa kapit-os ug kalisod, makuha gihapon namo nga maglig-on ug magpadayon sa pagkinabuhi (Because of being a 4Ps grantee, I learned to truly cherish my relationship with my family; that even in times of deprivation and struggle, we still manage to stay strong and continue living)," Julieta shared during the home visitation conducted by the municipal link.
She and her husband Reynaldo are blessed with four children. The eldest is now a college degree holder and works at the Local Government Unit of Kitcharao. The second child is now a 4th year Business Administration student, while third and fourth children are now on the tenth and sixth grade respectively.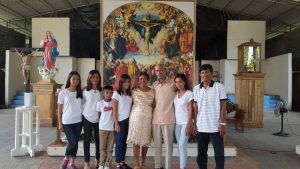 "Ang amoa raman gyung damgo alang sa among mga anak mao ang makahuman silang tanan og kolehiyo, ug makapangita sila og trabaho nga malipay sila (Our only dream is for them all to finish college and find a job that would make them happy), she said. Aside from being a Lupon Tagapayapa and actively involved in community activities, she also engaged in hog and poultry raising to further sustain their needs. Her husband also works as a dump truck driver at Taganito Mining Corporation. With all these hard works, Julieta slowly embarks the road from survival to self-sufficiency as she sees a great improvement in their household's economic development and level of well-being through the Program. ###(JOANA RICA P. MILLAMA/Social Marketing Unit/DSWD Field Office Caraga)