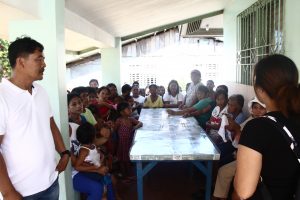 SURIGAO DEL NORTE, October 10 – Department of Social Welfare and Development (DSWD)-Caraga with the member agencies of Regional Disaster Response Committee (RDRC) conducted a monitoring of Emergency Shelter Assistance (ESA) household beneficiaries affected by TD Basyang in the municipalities of Mainit and Alegria.
The monitoring cum focus group discussion aimed to check and evaluate the current status of the beneficiaries' houses which were partially and totally damaged last February 13.
With ESA, the Department through the Disaster and Risk Management Division has provided beneficiaries with totally damaged houses P30, 000 and P10, 000 for beneficiaries with partially damaged houses.
As of press time, the Department has already disbursed P26, 590, 000 as assistance to a total of 2, 000 beneficiaries in the entire region specifically for the provinces of Surigao del Norte, Surigao del Sur and Agusan del Norte.
During the focus group discussion and random visit of houses, beneficiaries have expressed gratefulness for the assistance provided them through the ESA and the Cash for Work (CFW), a program where disaster-affected individuals are paid cash for working in rehabilitation related works and activities.
Marianita Tulang of Brgy. Quezon, Mainit said that the cash assistance provided them has been a very big help as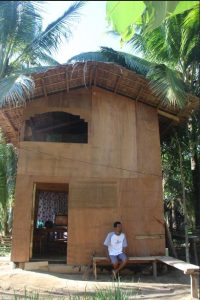 they start anew with her family.
"Hinay hinay na kami na nakapatukod nan amo bayay ug bisan wala pa kini mahuman, karun aduna na kami kapuy-an ug katulogan (we have already slowly rebuilt our house and although it is not completed yet, at least we now have a shelter where we snugly sleep)," Tulang expressed.
Carpenter Richel Cagampang of Brgy. Alipao, Alegria, has already completely built a small two-story house after thefloods of Basyang has entirely washed out their house back then.
"Dakung tabang ang gihatag nga kwarta arun makasagud kami pag-usab (the assistance has been a big help as I and my family start anew)," said Cagampang as he recalled the struggle when the flash flood hit their community.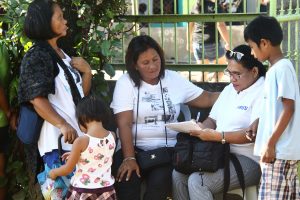 Representatives from the Department of Interior and Local Government (DILG), Department of Public Works and Highways (DPWH), Department of Environment and Natural Resources (DENR), Philippine Port Authority (PPA), Armed Forces of the Philippines (AFP), Philippine Red Cross and Father Saturnino Urios University were present in the monitoring and served as interviewers in the evaluation and collation of testimonials of beneficiaries.###(MIKE ARIEL P. PLAZA/Social Marketing Section/DSWD Field Office Caraga)