Themed "Healing Within the Family," the parent-child encounter of the Department of Social Welfare and Development (DSWD)-Caraga's Home for Girls focused on the restoration of family relationships as part of furthering the department's aim in bringing "vulnerable" children close to their homes, September 18.
Parents and guardians of HFG residents coming from different provinces of Caraga attended the one-day encounter which is anchored on the celebration of the National Family Week.
Resource person Rev. Fr. Dandy Marababol started his talk by underscoring parents' role in molding their children's character "which many tend to look over because of the struggle to provide for their children's basic needs."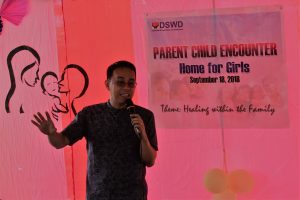 "Kasagaran sa mga ginikanan makalimut na sa ilang relasyon sa ilang mga anak tungod kay mas nafocus sila sa pagpaningkamot nga mahatag ang ilang mga kinahanglanon (most of the parents have forgotten the importance of their relationship with their chidlren as they are very much focused on providing their needs)," Marababol said.
Marababol underscored that part of the many problems of young people today is their relationship with their parents because a lot of them seem to feel distant from their families as they do not feel happy inside their homes.
"Ang balay nga ang haligi gianay, lisod dyud mulampusay (a house whose pillars are weak will hardly survive)," Marababol stressed, adding that "kung ang gihatag sa ilaw ng tahanan kangitngit, aha man padulong ang mga anak (where will a burnt out light of a home take the children)?"
He also pointed out that parents should help their children in learning to love others.
"Maningkamot kita nga ang atong pamilya naa dyud kabag-ohan (work on bringing change to your family)," Marababol reminded the parents.
A parent said in a testimony that "maningkamot kita makahatag og kalamboan ug kaayohan sa mga hiwi nga kinaiya ug tabangan usab nato ang DSWD nga maporma ang atong mga anak (let us strive to develop our children and change their unpleasant traits; let us help the DSWD in molding them)."
After Marababol's talk, parents and children were given time to write each other letters which they personally read on a private dialogue.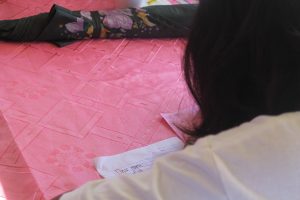 "Nalipay ko nga makauban akong pamilya karung adlawa ug maistoryahan ang mga gusto namo isulti sa ila (I am happy to be spending time with my family today and tell each other what we wanted to)," said one of the residents.
Also featured in the encounter are testimonies of successful discharged clients, tribute to parents and participants' sharing of learnings.
The parent child encounter is an annual activity of the HFG done every September. This year, the activity has commenced right after the groundbreaking of the two-story dormitory for the center which is set to be completed in January next year.
HFG, which was built in 1997, still continues to provide protection, care, treatment and rehabilitation to vulnerable, abused and exploited girls below 18 years old. ###(MIKE ARIEL P. PLAZA/Social Marketing Section/DSWD Field Office Caraga)