BUTUAN CITY- The Department of Social Welfare and Development (DSWD)-Caraga, through the Land bank of the Philippines (LBP) has already disbursed a total of Php38,570,000 for the Unconditional Cash Transfer (UCT) program beneficiaries identified through the Listahanan database.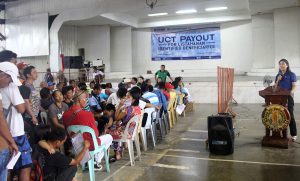 With this figure, 16,071 beneficiaries have already received their cash grant worth Php2,400.
This came after the department launched the pilot payout for UCT-Listahanan on September 12, 2018 in Buenavista, Agusan del Norte, and series of payouts conducted thereafter. This is spearhedead by the National Household Targeting Section (NHTS) in coordination with the Local Government Units (LGUs) through its officials, City/Municipal Social Welfare and Development Officer (MSWDO), Philippine National Police (PNP), and DSWD's field staff.
To date, the department has already conducted successful payouts to the municipalities of Buenavista, Las Nieves, Carmen, Nasipit, Esperanza, Sibagat, San Jose, Province of Dinagat Islands, and Butuan City.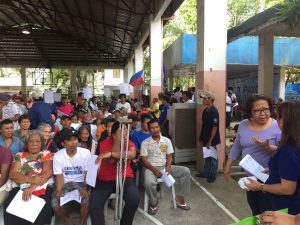 During the pilot launching of UCT-Listahanan payout, Assistant Regional Director for Operation (ARDO) Nerisa T. Murih encouraged the beneficiaries to use the cash grant in buying their basic needs.
"This is just assistance from the government amidst the increasing prices of commodities, but we hope that this will be used in buying your food,'' Murih said.
Currently, the UCT-RPMO headed by Regional Field Coordinator (RFC) Adelito Mendoza is coordinating with other branches of LBP to conduct payout for other municipalities. The team is also preparing for the notification and registration activities, where possible beneficiaries will be notified of their eligibility to avail of the said program.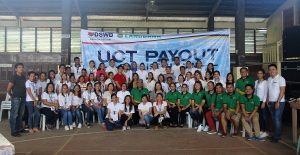 The Department targets to complete the payout for 74,207 UCT-Listahanan beneficiaries in the region at the end of October.
All beneficiaries from UCT-Listahanan were all validated last April by Listahanan validators using the Household Validation Form (HVF). The result of the data collected was processed through Proxy Means Test (PMT). The said validation aims to ensure that poor households belong from 1st to 7th income deciles will benefit the UCT program. ### (ABEGAIL R. ALVAREZ/Social marketing Unit/DSWD Field Office Caraga)