BUTUAN CITY – In its continued advocacy on protecting and providing justice to children in conflict with the law (CICL) and children at risk, Department of Social Welfare and Development (DSWD) – Caraga reiterated its opposition on the issue of lowering the minimum age of criminal responsibility (MACR) from 15 to 12 as it led the celebration of the 7th Juvenile Justice and Welfare Consciousness Week here.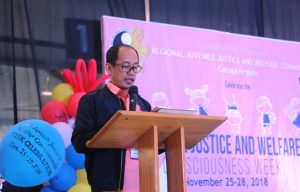 In a program held November 26, DSWD-Caraga OIC Regional Director Mita Chuchi Gupana-Lim, through Administrative Division Chief Ramel Jamen, expressed that "the celebration only emphasizes our principle and mantra that 'we will give chance to everyone, especially the young ones.'"
Lim, who also chairs the Regional Juvenile Justice and Welfare Committee (RJJWC), explained that no child was naturally born stubborn and that the CICLs are only victim of certain social circumstances.
"It was said that it takes a village to raise a child therefore all of them are our responsibility," Lim said, adding that "we should all give these children our protection by upholding the [Republic Act] 9344 as amended by R.A. 10630."
R.A. 9344 as amended by R.A. 10630 places that the "state shall apply the principles of restorative justice in all its laws, policies and programs applicable to children in conflict with the law" and that "a child 15 years of age or under at the time of the commission of the offense shall be exempt from criminal liability but shall be subjected to an intervention program."
Lim also said that "we need more and more helping hands to raise the good people – good children – through appropriate, prompt and proper interventions."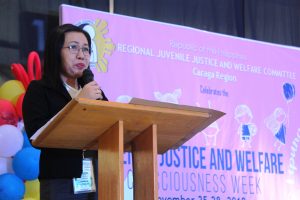 Lawyer Ingrid Tricia Nastor, director of Public Attorney's Office (PAO)-Caraga, who served as the resource person of the program said that "before R.A. 9344 was enacted, children were subjected to court proceedings just like how adult offenders are tried."
"The state is mandated to protect the children and see to it that they are not to be subjected to abuse, negligence, and all forms of exploitation even if they allegedly violated the laws," Nastor added.
Both Lim and Nastor stressed that children should not be handled like adult offenders therefore inter-agency committees were created to make sure that there will be prevention, diversion, rehabilitation, reintegration and aftercare programs to ensure the growth and development of children.
However, Lim pointed out that "significant groups in our village today wanted a twist and even plot a move to squash out this remarkable document (RA 9344) which favors and protects the rights of the young people."
"It is so sad to think that those who never really had a good grasp and deep understanding of this law had been very bold to oppose it and went to a great length of involving the media, especially on TV almost every night, just to spread the notion on how evil the CICLs are."
Nastor, meanwhile, discussed that "the lowering of MACR has never resulted in lower crime rates, based on the Philppines' experience and the same is true in other countries," pointing out that before the passage of RA 9344, a total of 52,576 children were in detention or under custodial setting. In 2012 to 2015, the PNP has recorded a drop to 27,823 incidences of CICL cases."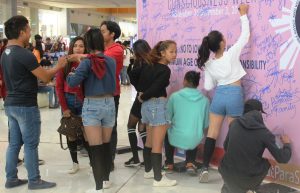 "It will still be a long way before we reach the peak success but with this law, we are already heading towards it," Nastor stressed.
The Juvenile Justice and Welfare Consciousness Week is observed every last week of November adjacent the National Children's Month.
With the theme, "Lipunan, Bata at Magulang Sabay-sabay para sa Kaularan," this year's celebration includes a color-me-run kick off on November 23, poster making contest and 'got talent' on November 24, dragon boat race on November 26 and an inter-agency dialogue on December 3. ###(MIKE ARIEL P. PLAZA /Social Marketing Section/DSWD Field Office Caraga)