Recognizing the high rate of young Filipinos experiencing violence even at their own homes, the Regional Council for the Welfare of Children (RCWC) led by the Department of Social Welfare and Development (DSWD)-Caraga strengthened its advocacy on providing a safe place to children through encouraging 'positive parenting' in line with the celebration of the National Children's Month.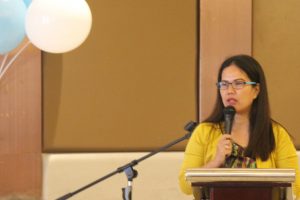 In a kick-off program last November 6, OIC-Regional Director Mita Chuchi Gupana-Lim, through Protective Services Division Chief Jessie Catherine Aranas, said that the 26th NCM aims to "advocate building a safe, nurturing and protective environment for children through positive parenting among parents, guardians, and caregivers."
"We always keep on saying that children are the hope of our future; but children already are tired of being called the future. They want to enjoy their childhood and end violence now," Lim stressed.
Lim, who also chairs RCWC, stated that statistics of Violence Against Children (VAC) in the Philippines is very much alarming and that "people who should be the one taking care of them are actually the ones who are also perpetuators of different forms of violence."
In fact, results of the 2015 Philippine National Baseline Study on Violence Against Children (NBS-VAC) revealed that most of Filipino children experience and are vulnerable to physical, psychosocial and sexual violence in any setting.
It was found out that three in five children experience physical violence, with more than half of this happening at home and that most common cases of violence at home are corporal punishment committed by parents and siblings.
"Our focus today is on positive parenting where we promote positive discipline by changing cultural practices that contribute to VAC, including the elimination of corporal punishment," Lim stated, adding that parents and caretakers should promote non-violent values, communication and relationship with children through respecting the whole child and their family, their dignity and their development.
"The damage of violence in childhood goes far beyond immediate trauma and fear, extending through many aspects of child's life, affecting the child's health and education, and restricting future opportunities," Lim said.
However, Lim stressed that "no violence against children or anyone is justifiable and all forms of violence is preventable."
"The DSWD as the chair of RCWC is with you in looking into the implementation of the laws protecting and promoting the welfare of children and recommending policies to enhance their capacities," Lim stated, also expressing that "we continue to advocate that children have a right to protection from all forms of violence."
Parent-teen trail, child-friendly LGUs
Also noting the number of suicide cases among youths in Caraga, RCWC encourages open communication between children and their parents thus the conduct of a parent-teen trail activity facilitated by the Commission on Population (POPCOM)-Caraga last October 6 at Watergate Hotel Function Hall, Butuan City.
The parent-teen trail was composed of two separate sessions for children and their parents where "journey to adolescence" and "journey to parenthood" modules were discussed simultaneously.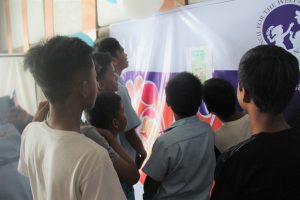 The activity ended with letter-writing where both children and parents wrote their message for each other and read these letters personally during the parent-child encounter session.
"Open communication between children and parents will always be a good step in understanding the problems of the youth especially that many of them have problems on dealing with mental health issues," said Population Officer Angie Antonio.
Antonio, who served as one of the facilitators of the parent-teen trail, added that "it is always touching to see parents and children opening up with each other most especially that many of our participants have previous issues with their families."
Also recognizing the efforts of different local government units in providing programs and projects for the benefit and welfare of children, DSWD-Caraga awarded the seal of Child-Friendly LGU to 68 cities and municipalities in Caraga last November 13 during the Regional Social Welfare and Development Forum cum Knowledge Fair at Dotties Place, Butuan City.
The said recognition is given to LGUs that scored high during an audit of child-related programs and practices. Mainit, Surigao del Norte had the highest percentage among the awardees.
Celebrating, recognizing Filipino Children
NCM is an annual event to celebrate and recognize the Filipino children as the most valuable assets of the nation and to emphasize the importance of the role of the child within the Filipino family and within Philippine society.
Republic Act No. 10661 or the National Children's Month Act declares every November as the National Children's Month with the DSWD, Council for the Welfare of Children (CWC), and the National Youth Commission (NYC) as lead agencies. This declaration commemorates the adoption of the Convention on the Rights of the Child by the United Nations General Assembly on November 20, 1989, and seeks to instil its significance in the Filipino consciousness.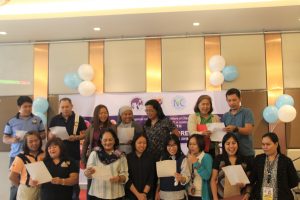 This year's celebration specifically aims to increase awareness on the importance of positive parenting and positive discipline, increase knowledge of parents/caregivers on how to handle or educate their children while in the cyberspace, intensify the advocacy of Positive Discipline in Classrooms responsive to the needs of the learners, strengthen the integration of appropriate classroom dynamics in daily teaching, provide space for children's participation in legislative advocacy, push for the passage of the Positive Discipline Bill, and celebrate gains and successes on child rights promotion and protection of the country.
With the theme, "Isulong: Tamang Pag-aaruga para sa lahat ng Bata," the 26th NCM is celebrated adjacent the Juvenile Justice Welfare and Consciousness Week on November 24-28 and the start of the 18-Day Campaign to End Violence Against Women and their Children (VAWC) on November 25. #(MIKE ARIEL P. PLAZA/Social Marketing Section/DSWD Field Office Caraga)