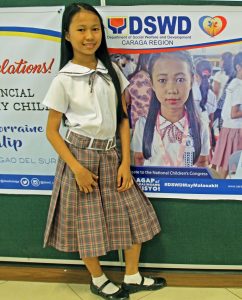 In a field full of roses, she is a wildflower.
– Anonymous
This quote mirrors the colorful life of Xycrese Mae Uba-Amogis, the national finalist for DSWD Caraga Region to the Search for Exemplary Child 2018.
Hailing from the land of golden opportunities, the 12-year old girl was born to Tony and Jenifer, a bonafide grantee of the Pantawid Pamilyang Pilipino Program (4Ps) residing at Barangay Poblacion, Prosperidad, Agusan del Sur.
Beautifully tuned
When she was five, her parents have seen her potential as a singer when she sang in one of the activities in their school. It was not a surprise for her parents though, as both of them are musicians.
Her father Tony was a former guitarist in a local band, Aftershock, in the early 2000s. Jenifer on the other hand was introduced to the band, and later on became the vocalist. Tony said that he was captivated by Jenifer's golden voice and grabbed the chance to court her. Their love which developed through music blossomed and produced a much more beautiful melody, their daughter Xycrese who was born on the 19th of May  in 2006.
The two gave up their careers as musicians to support the needs of their child. Jenifer worked as a beautician and Tony as a driver. It was in 2009 when things started to get rough – Jenifer gave birth to their second baby, Christian Marc.
Greatly blessed
"Didto namo nabantayan nga dili na paigo ang among kita para sa duha namo ka-anak. Hinuon, naa man mi makaon sa matag-adlaw, pero usahay lisod gayud (It was during this time that we realized that our income was not enough for our children. Although we're able to eat every day, but we really felt hardship)," Jenifer said.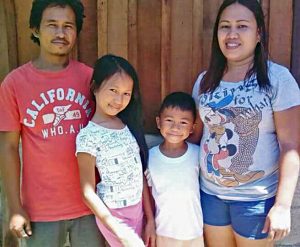 When Pantawid Pamilya was piloted in their province last 2007, she was one of the validated prospect grantees for the Program; and in 2012, she qualified as one of the grantees for the sixth set.
4Ps is a human development program of the national government that invests in the health and education of poor households, particularly families with children aged 0-18 years old.
Patterned after the conditional cash transfer scheme implemented in other developing countries, it provides cash grants to beneficiaries provided that they comply with the set of conditions required by the program.
"Sangko sa langit ang among kalipay ato nga higayon. Daghan nga mga kabus diri sa among dapit ang nahatagan og pagtagad tungod sa 4Ps (We were overjoyed. A lot of poor households were given opportunities because of 4Ps)," she recalled. The grants she receives has been allocated for Xycrese and Christian's education.
Naturally multi-talented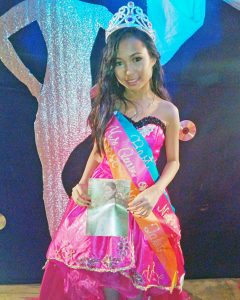 During her elementary years in East Prosperidad Central Elementary School, Xycrese was a consistent honor student. Recently, she received a Certificate of Achievement during their first grading at the Prosperidad National High School where she is enrolled in Grade 7.
Aside from being active academically, she also spends her free time in extra-curricular activities. She was hailed as 2018 Queen of the Night and bagged various awards during one of their school activities, she also joined the Search for Miss Little Mabagoy and won 2nd runner-up, and she represented their school during the 2017 District Arts Gallery Show Time (DAGAST) where she 3rd after singing a kundiman.
She is also an advocate for environmental protection. She has consistently joined tree planting activities and she also writes poems about nature. In one of the stanzas in her composition, she challenged the people to man up for Mother Earth:
"Kailan pa ba natin sosolusyunan?
Kapag ba tayong lahat nagkasakit na?
Kailan pa ba natin titigilan ang mga kalokohan?
Kapag ang kalikasan ba ay lubog na?"
As a young dreamer, she is full of aspirations. "Pagdako nako, gusto nako mahimong pediatrician, aron daghan ko og matabangan nga mga bata nga nanginahanglan. Usa sa mga problema nga akong nakita mao ang kakulangon sa mga mananambal para sa mga kabus (When I grow up, I want to be a pediatrician, so that I will be able to help a lot of kids who are needy. One of the problems that I have observed is the lack of doctors for the poor people)," she shared during an interview.
Their family was also the chosen as one of the model families in Agusan del Sur, placing 3rd place during the Provincial Search for Huwarang Pantawid Pamilya 2016.
This implies that their family has maintained strong ties to the community, demonstrated positive Filipino culture and values, created huge impact in the community by being actively-involved in its programs, and empowered their children for an improved quality of life.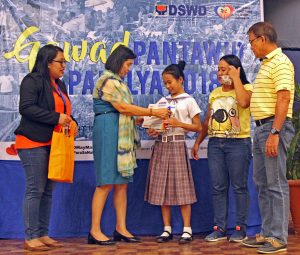 Truly a wildflower
During the recently concluded regional search for the Exemplary Child, Xycrese bested four other contenders from the different provinces. She amazed the judges with her sunny personality and self-confidence.
"Gusto lang nako nga makalampos ko sa kinabuhi, inubanan sa akong pamilya. Dili namo pasagdan nga malubong mi sa kalisod, maong naningkamot ko sa akong pag-eskwela (I just wanted to be successful with my family. We will not let proverty win over, that's why I am doing my best in my studies)," she exclaimed.
She firmly believes that poverty cannot define them, because they define themselves. She also invests on her God-given talent prioritizing in her heart the importance of education – and that's what truly makes her a wandering wildflower. ###(JOANA RICA P. MILLAMA/Social Marketing Section/DSWD Field Office Caraga)