During the regional consultation forum, the participants were grouped to talk about their personal, family, employer, and agency concerns.
BUTUAN CITY – With the primordial objective to clarify and strengthen the programs and services concerning the migrant workers, the Department of Social Welfare and Development (DSWD)-Caraga gathered more than 50 overseas Filipino workers (OFWs) and representatives from different national government agencies into the Regional Consultation Forum on Overseas Filipinos and Families, May 21, here.
Assistant Regional Director for Operations Nerisa T. Murih said that the activity was initiated to give importance to the OFWs' concerns and issues as these "modern heroes need heroes, too."
"Today, the Philippines is the major source of labor migrants. However, most overseas Filipino workers are returning because of the rampant physical, sexual, mental and financial abuses caused by their employers or even because of illegal recruitments," Murih said.
Murih added that because of these alarming cases, the government and non-government agencies exert efforts and continue to develop laws, policies, and guidelines to address the needs of the migrants and OFWs.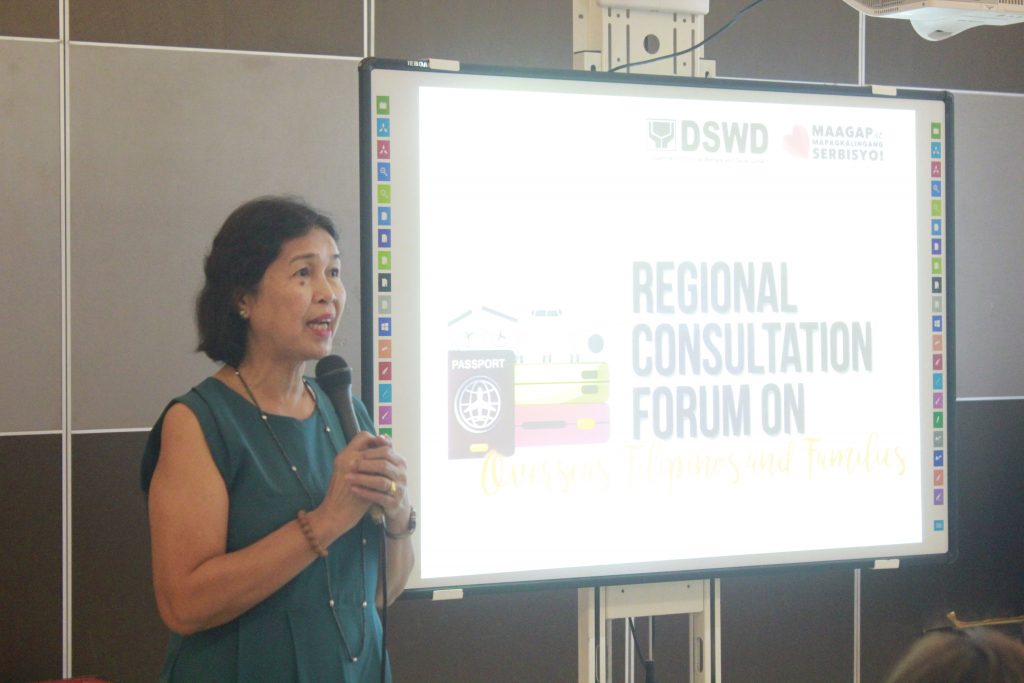 "Each agency has its own mandates to deliver and programs and services to provide the overseas workers. This consultation forum is a way of presenting these programs and shed light on OFW's issues and concerns especially those which remain unresolved today," Murih said.
Director Priscilla Razon, former social welfare attache to Jeddah, Kingdom of Saudi Arabia and Director Perlita Panganiban, technical support division chief of the International Social Services Office, discussed the importance of the social welfare attaches to the different countries to make sure that Filipino workers are heard and assisted.
Razon said that most of the problems of the OFWs are inflicted by their employer and it is with these situations that they should seek help to the different government agencies.
"These problems are always difficult to handle but they (OFWs) should always be reminded that these agencies and the DSWD are always willing to help them get out of these situations," Razon said.
The deployment of social welfare attaches is pursuant to Executive Order 287 Series of 2004, "directing the deployment/posting of social welfare attaches in selected diplomatic posts with large concentration of overseas Filipino workers" and by Republic Act 10022 or an Act Amending Republic Act No. 8042, otherwise known as the Migrant Workers and Overseas Filipinos Act of 1995 which provides the mandate to improve the country's standard of protection and promotion of the welfare of overseas Filipinos and their Families.
The social welfare attaches help migrant Filipinos and other overseas Filipino nationals who are in crisis situation and in need of special protection especially for irregular and distressed OFWs, such as victims of sexual and physical abuse, maltreatment, mistreatment, trafficking, marital conflicts and non-marital relationships and children who were abandoned and needing special protection.
The participants also presented their personal, family, employer, and agency concerns which were then addressed by representatives from the Department of Labor and Employment (DOLE), Department of Health (DOH), Bureau of Immigration, Overseas Workers Welfare Association (OWWA), Technical Education and Skills Development and Authority (TESDA), and Philippine Overseas Employment Association (POEA).
Most of the addressed issues centered on educational and livelihood assistance that many former OFWs need after deciding to come back home.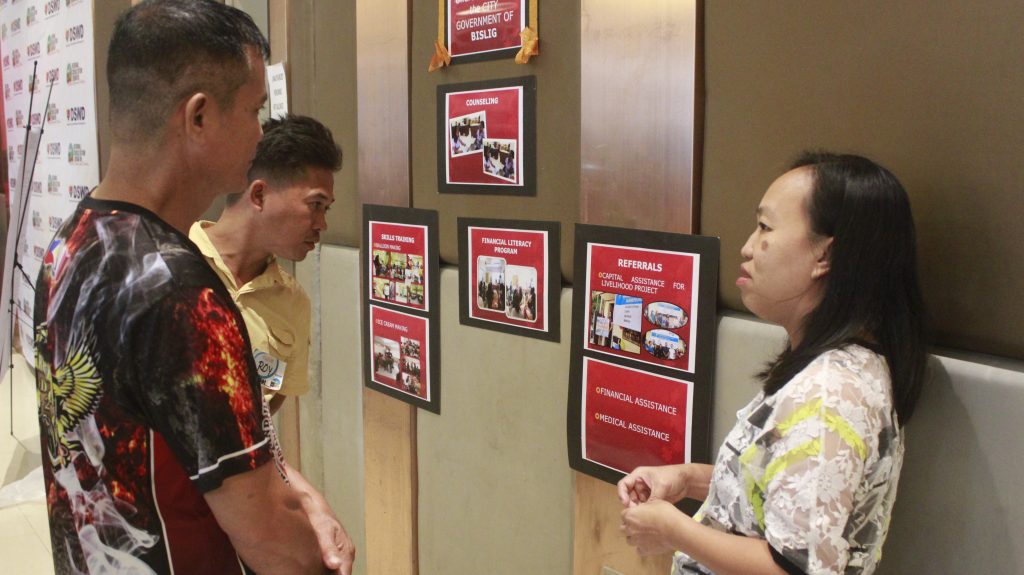 One of the participants has expressed her gratefulness to the different agencies after she has been assisted during the physical abuse she had to go through.
"Daku dyud akong pasalamat sa POLO (Philippine Overseas Labor Office) sa Kuwait kay sila ang nahimo nakong dangpanan sa akong kalisod didto (I am thankful with the assistance POLO has extended me following my negative experiences there)," she said.
POLO acts as the operating arm of DOLE for the administration and enforcement of its policies and programs applicable to the OFWs, In the performance of its services, the POLOs work in partnership with relevant Philippine government agencies, host government, Filipino communities, and NGOs that monitor and assist our overseas workforce. This includes the DSWD.
The consultation forum ended with the distribution of sacks of rice and grocery items to the participants. – MIKE ARIEL PLAZA/DSWD-CARAGA