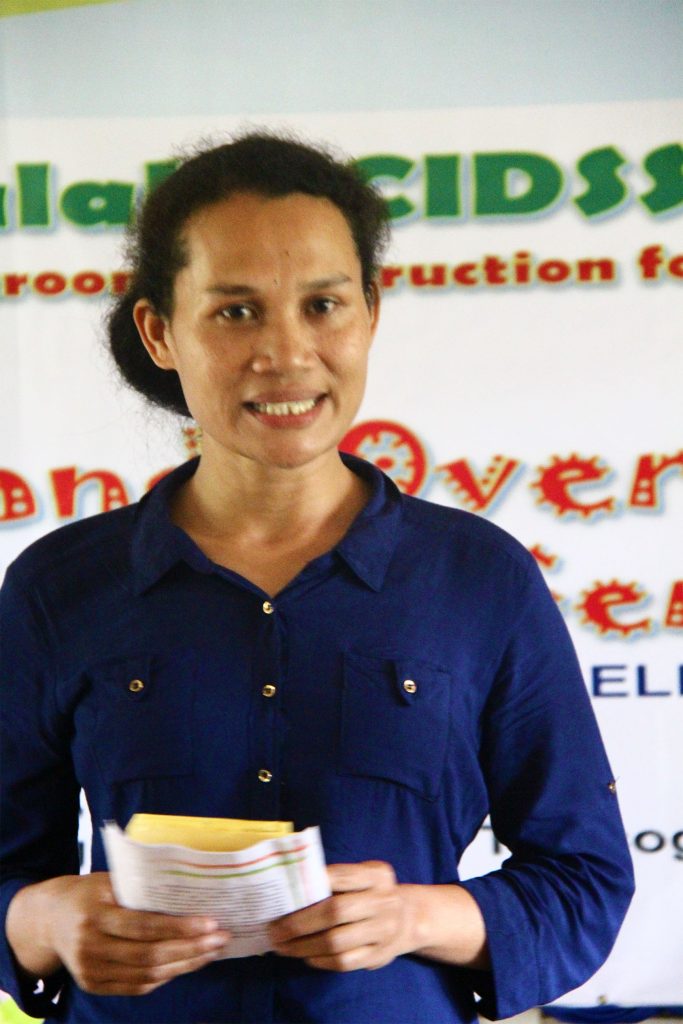 TALACOGON, AGUSAN DEL SUR – Education is a basic human right for all. Hence, the Department of Social Welfare and Development (DSWD) Caraga through its Kapit-Bisig Laban sa Kahirapan – Comprehensive and Integrated Delivery of Social Services (Kalahi-CIDSS) turned a one-unit two-classroom and two-unit two-classroom elementary school buildings over to the Talaandig community in Sitio Akbayan – Hope Village and Sitio Tigbaw, Brgy. Zillovia, Talacogon, Agusan del Sur on April 26 to 27, 2019.
The one-unit two-classroom and two-unit two-classroom elementary school buildings, which was implemented through the Classroom Construction for Lumads (CCL) Project, cost a total of Php 2,269,465.00 Php 4,360,149.00 respectively. The CCL Project aims to improve access of indigenous communities in Geographically Isolated and Disadvantaged Areas (GIDAs) in Mindanao to learning and development activities by supporting the construction of these public school buildings using the Community-Driven Development (CDD) approach.
Moreover, the CCL Project is a joint effort of the DSWD, the Department of Education (DepEd), and the National Commission on Indigenous Peoples (NCIP). These government agencies collaborated to scale up the education of the indigenous communities in the country.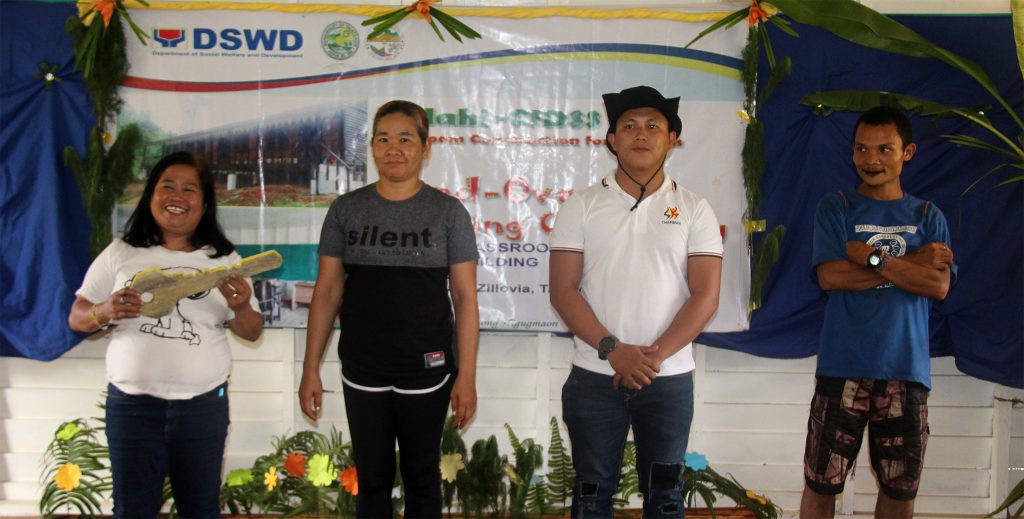 "Nalipay ko nga naa nay eskwelahan kay maka eskwela na gyud akong mga manghod ug ang laing bata diri sa among komunidad sa tarong na eskwelahan (I am very happy with this school building because my siblings and the other children in our community can finally go to school)," David Lalinan said. David is a 13 year old Talaandig boy from Sitio Tigbaw. He is excited with the fact that his little brother and sister can now study in a venue conducive for learning and growth. Now that they have the school building in their community, he believes that the children will be more motivated to go to school.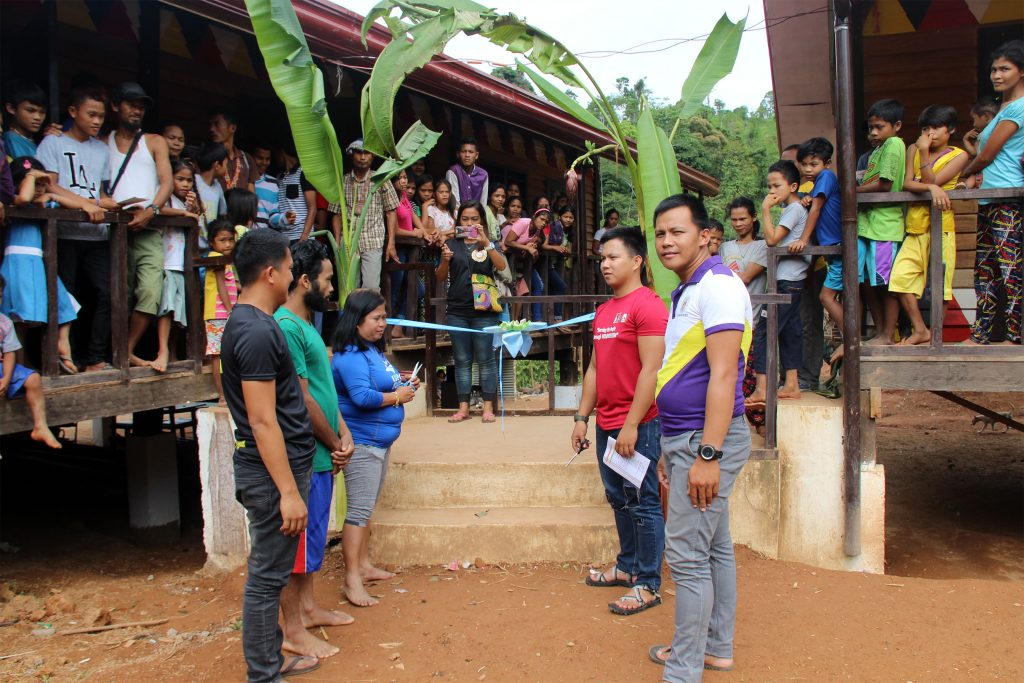 Before these projects were implemented, the children, ranging from the kinder 1 to grade 6, would cram their selves inside a small house. Elsa Balansag, a member of the Talaandig tribe and teacher-in-charge for Sitio Tigbaw, can testify about the struggles she and her students had to go through just to get their lessons done. Because the room was too packed, they had to endure the hot and uncomfortable atmosphere of the room.
"Lisod kaayo among kahimtang. Gamay kaayo ang among room. Magdasok ra mi sa isa ka gamay nga lamisa. Grabe kaayo ang akong sakripisyo (We were stuck in a difficult and unfavorable situation. Our classroom was too small. During classes, we would just squeeze ourselves in a small table. I had to sacrifice a lot just to teach the children)," Elsa shared.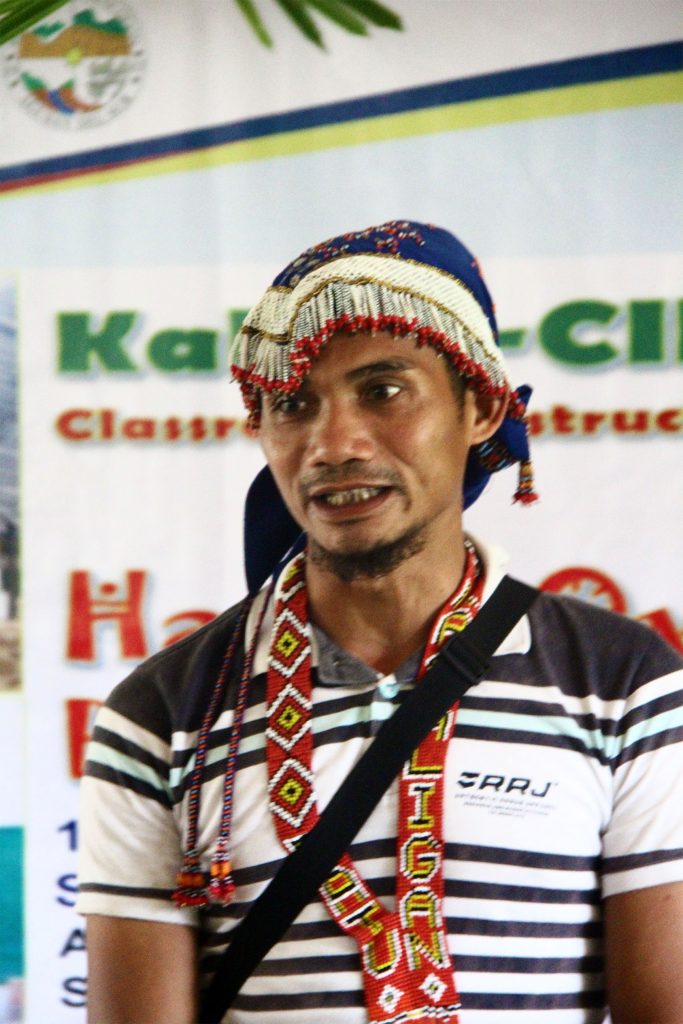 According to Datu Philip Lalinan, Barangay Sub-Project Management Committee Chairperson of Sitio Tigbaw, this is the first time that the communities of Sitio Akbayan – Hope Village and Sitio Tigbaw received an intervention from the government – DSWD Kalahi-CIDSS Caraga being the first one.
Going to Sitio Akbayan – Hope Village and Sitio Tigbaw is an arduous journey. These are the farthest communities in the municipality – located within the boundary of Agusan del Sur and Bukidnon. To get there, one has to go through a five-hour "habal-habal" ride, a five-hour hike to Sitio Akbayan, and another five-hour walk to Sitio Tigbaw.
"Dako gyud akong pasalamat sa DSWD Kalahi-CIDSS ani nga project. First time gyud nagka eskwelahan mi diri. Dako ang gikatabang ani sa amoa kay mao na gyud ni ang sugod sa paglambo sa among komunidad (I have the deepest gratitude to the DSWD Kalahi-CIDSS for this project. This is our community's first time to have our own school. Finally, our community is on its way towards progress)," Datu Jestoni Balansag, tribal leader and PPT Chairperson, expressed. Datu Jestoni is one of the leaders who walked an extra mile just to meet the target date of completion of the school buildings.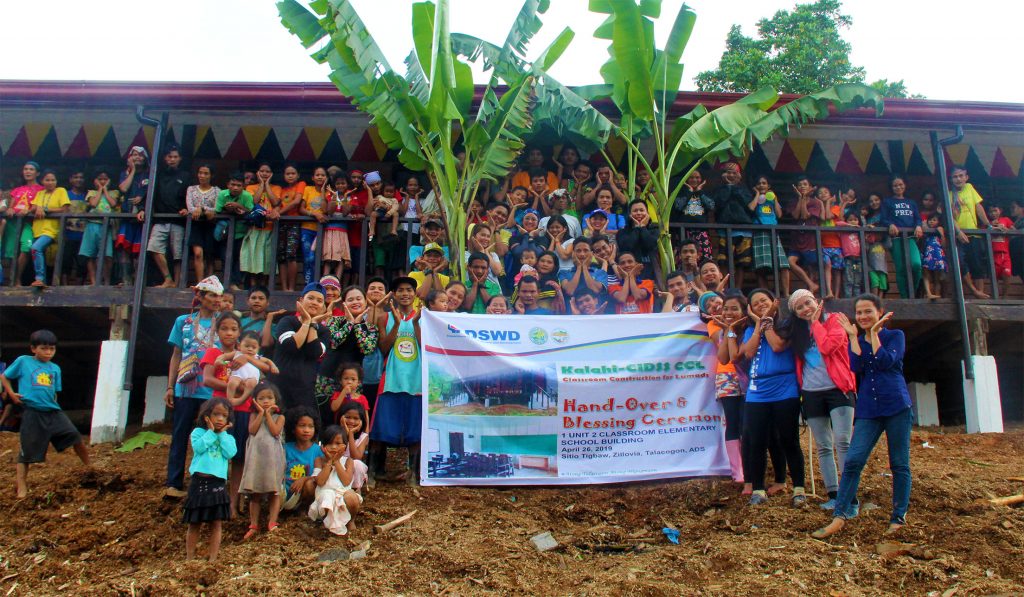 At present, the teachers-in-charge of these two public schools, with the assistance of the Local Government Unit of Talacogon are already facilitating the remaining requirements needed to acquire a school identification number from the Department of Education.
Surely, the Talaandig community has waited a long time for their ambition of having their own school in their community to come true. Now, the wait is over.
By the opening of classes this June, the children are off to a fresh new start.###(CLEA MARIEL C. MALUNHAO/Social Marketing Section/DSWD Field Office Caraga)