Dispossession. Discrimination. Marginalization.
These are the most common issues experienced by the Indigenous Peoples (IP) communities in the country. For several years, the IP communities have been gravely denied of their rights.
Despite these harsh realities, IP members continue to work and fight together to improve their living conditions. They aspire for society to know that they are capable of progress and success.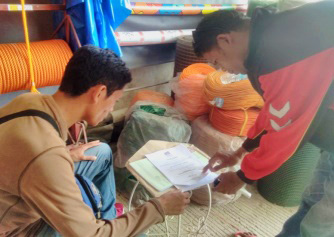 One of them is Jovy Anlugmas – a member of the Manobo community in La Paz, Agusan del Sur.
Jovy is a 36-year old Barangay Kagawad and community volunteer residing in P-4, Barangay Angeles, La Paz. He is a loving husband, a hardworking father to three beautiful children and an active Bids and Awards Committee (BAC) Chairperson of the Community Sub-Project Management Committee (CSPMC).
As BAC Chairperson and Head of Procuring Entity (HoPE), he is tasked to oversee and lead the procurement process and to make sure that the process follows the guidelines of the Government Procurement Reform Act 9183. He reviews all canvass and bidding documents and selects suppliers and service providers together with the procurement team.
Before they became community volunteers, he recalled his community's struggle in voicing out their ideas and suggestions. "Wala kami tingog nga magpadayag sa among mga suhestyon o sugyot para sa kalambuan. Wala kami gihatagan og partisipasyon sa pag apil sa mga plano para sa kalambuan sa among tribu, (We could not speak out our suggestions for progress. Our community was deprived of our right to take part in making plans for the growth of our tribe)," Jovy said.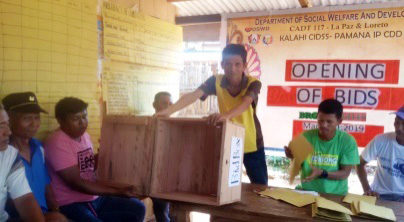 Jovy has always dreamt of a community where they can freely take part in the planning and decision-making. As part of the community, he believes that it is only right that they are directly involved in the process.
When the Community Driven Development Program for Indigenous Peoples (IP-CDD) under the Kapit – Bisig Laban sa Kahirapan – Comprehensive and Integrated Delivery of Social Services Payapa at Masaganang Pamayanan (Kalahi-CIDSS PAMANA) was implemented in their municipality, it paved way for Jovy and his fellow Manobo to achieve what they have always longed for.
Learning about the program, Jovy saw it as a huge opportunity for his community to thrive. This opportunity became his drive to engage in the program implementation and to understand how it can help the community prosper.
As he got more involved in the program, Jovy was surprised that they have the power to personally prioritize sub-projects that would address their topmost needs. The Kalahi-CIDSS PAMANA IP-CDD, as Jovy describes it, was different from any other poverty alleviation program of the government.
At first, Jovy and the other community volunteers struggled to cope with the process of the program as it was long, tedious, and complicated. It entailed the facilitation of numerous documents and requirements that needed to go through the review and approval of several people. Later on, he discerned that there is a necessity to go through the process to emphasize the importance of transparency.
"Medyo kuti ug daghang mga rekisitos ang gikahinanglan. Daghang asembliya ang angay adtuan. Nagkadaiyang resolusyon ug dokumento ang gipangayo pero diri nako nasabtan nga importante ang tanan tungod kay nakasubay ang programa sa saktong proseso, (The process is complicated and it needed a lot of requirements. We also had to attend general assemblies and secure resolutions and other pertinent documents. But I understood that these steps were a part of the proper process)", Jovy shared.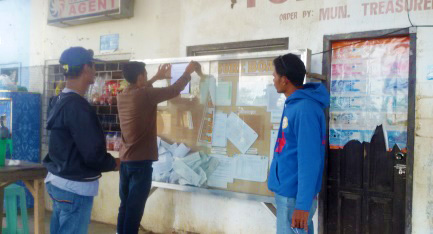 His obligation as a community volunteer was no easy feat. Because there were deadlines to beat, Jovy had to prioritize his job as BAC Chairperson so as not to jeopardize the implementation of the sub-project. He would spend more of his time facilitating the posting of bids and other necessary bidding activities – compromising his job and family time.
Luckily, his wife and children were patient enough and understood that what he was doing was for the whole Manobo community.
"Dakong impact ug kausaban akong nasinati sa pag apil nako sa Kalahi-CIDSS. Bisan dili man taas akong grado nga natapos, dakong tabang ang gihatag sa mga pagtulun-an sabay sa makanunayon nga paghatag og giya sa mga buluhaton, (When I became a community volunteer in the Kalahi-CIDSS, I felt a huge impact and change in my life. With the constant guidance of the Kalahi-CIDSS staff, I was able to learn a lot from the pieces of training the program has conducted despite not being able to finish school)", he expressed.
Jovy and the Manobo volunteers' involvement in the program implementation was not merely about meeting deadlines and accomplishing the project. It was about proving what they were capable of and ending the oppression.###(CLEA MARIEL C. MALUNHAO/Social Marketing Section/DSWD Field Office Caraga)