BUTUAN CITY –  The Department of Social Welfare and Development (DSWD)-Caraga through the Pantawid Pamilyang Pilipino Program (4Ps) equipped its selected case managers and field workers in handling women/children in especially difficult circumstances (W/CEDC) through the conduct of its first-ever paralegal training on women and children's laws last July 11-13, here.
Crislea Celeste, 4Ps regional program coordinator, relayed the need of the Pantawid staff to improve better compliance to the Program in their respective areas based on Gender and Development (GAD) laws, legal protocols, and referral pathways.
"This is also important for promoting social justice in our national development. Since we are serving our clientele who has less in life, they should have more at least in law," added Celeste.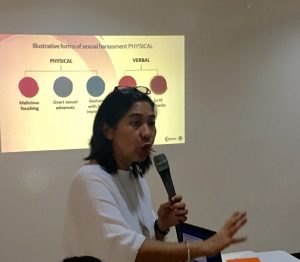 Atty. Josefe Sorrera-Ty, dean of Father Saturnino Urios University (FSUU)-College of Law, served as the subject matter expert in orienting the Pantawid staff on GAD laws that provide the legal framework for managing W/CEDC. These laws include Republic Act 8552 (Adoption Law), 10165 (Foster Care Act), 9775 (Anti-Child Pornography Act), 7610 (Special Protection of Children against Abuse, Exploitation, and Discrimination Act), 8353 (Anti-Rape Law of 1997), 9262 (Anti-VAWC Law), 9208 (Anti-Trafficking in Persons Act of 2003), and 7877 (Anti-Sexual Harassment Law).
Although these laws are similarly constructed, Atty. Ty discussed the difference by providing situational scenarios to the participants. She stressed that all reported cases of violence, harassment, or sexual abuse should be depicted clearly by the witnesses or the social workers who are part in handling the case.
"The fruits of your burden will be the blessing of those who come after you," said Atty. Ty after she narrated the adversities our Filipino lawyers have experienced in crafting the Revised Penal Code which was patterned from the Spanish Civil Code.
Moreover, she said that public employees should be granting their fellowmen, especially women and children, access to social justice at all costs, emphasizing that "Public office is a public trust," as stated in the 1987 Philippine Constitution.
Celeste expressed the interest of the Regional Program Management Office (RPMO) to sit down with FSUU's Urian Legal Assistance Program (ULAP) to possibly fortify partnership and present these laws on women and children during Family Development Sessions (FDS) and possible provision of legal assistance to those who are in need. DSWD and ULAP are still to finalize these plans, and will meet on another date for this breakthrough partnership.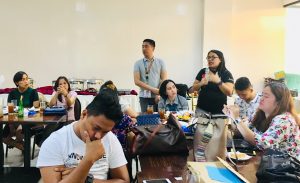 On the third day, Jessie Catherine Aranas, DSWD Protective Services division chief, discussed the procedures in filing gender-based violence (GBV) and other gender-related cases and grievances. These include filling-out the GBV intake sheet, crafting a social case study report, and filing a referral letter.
An action plan and evaluation was done to formally close the three-day training. At least 40 field workers have participated and a second batch is expected next week. ###(JOANA RICA P. MILLAMA/Social Marketing Section/DSWD Field Office Caraga)