Cabadbaran City – It was a fun-filled day as Cabadbaran City hosted the first ever Department of Social Welfare and Development's Sustainable Livelihood Program (SLP) Congress last July 26, 2019, in this City.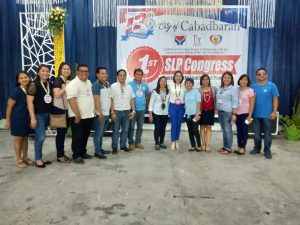 The atmosphere was full of excitement as SLP beneficiaries, together with their families and the program's partners and stakeholders participated in various activities which highlighted the program's implementation, and success, most specifically in Cabadbaran City, which was also celebrating its Charter Day.
Hon. Judy C. Amante, City Mayor of Cabadbaran, together with the members of the Sanguniang Bayan were present to give full support to the said activity. The Provincial Government of Agusan del Norte was also ably represented by the Hon. Elizabeth Marie R. Calo, Sanguniang Panlalawigan Member who heads the Committee on Social Services.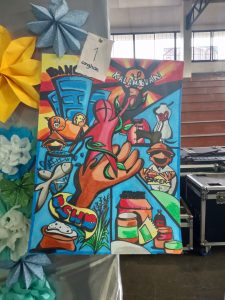 The celebration, with the theme, "Karun ug sa Uma-abot, Kalampusan atong Makab-ot", was a venue for the SLP beneficiaries and partners to interact and showcase the impact of the program. Different activities transpired during the whole-day celebration, which included a poster making contest which was participated by SLP beneficiaries, a livelihood bazaar which exhibited products from SLP Associations, and a livelihood symposium.
Julius Sol Jamero, Technical Education and Skills Development Authority (TESDA) Provincial Director, discussed Social Entrepreneurship to the participants during the symposium, while Gemma Clarin from the Department of Trade and Industry was also able to discuss Business Planning and Promotional Strategies, which came handy to the different SLP Association members who themselves are running different kinds of livelihood programs.
Plaque of Recognition were handed over to SLP Associations who have been successful in their business ventures, while supportive partners and stakeholders were acknowledged for their role in the success of the program. Mayor Amante personally handed over the certificates to the proud beneficiaries and partners.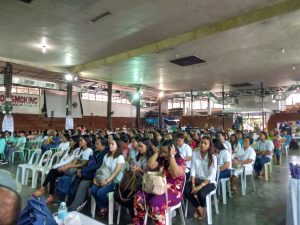 The Philippine Overseas Employment Administration (POEA) was also able to hold a Jobs Fair during the celebration, which was very helpful to SLP beneficiaries, especially those under the Employment Track of the livelihood program.
The Sustainable Livelihood Program (SLP) is a capability-building program for poor, vulnerable and marginalized households and communities to improve their socio-economic conditions through accessing and acquiring necessary assets to engage in and maintain thriving livelihoods. It has two tracks namely Microenterprise Development and the Employment Facilitation tracks. ###(MARKO DAVEY D. REYES/Social Marketing Section/DSWD Field Office Caraga)