BUTUAN CITY- Technical staff and Deputized Training Officers of the Department of Social Welfare and Development (DSWD)-Caraga underwent intensive training during the 3-day Regional Training of Trainers on Listahanan 3rd round household assessment on August 20-22, 2019 at Grand Palace Hotel, this city.
The said training equipped the participants with necessary skills and knowledge on how to properly accomplish the Household Assessment Form or HAF (the main tool used to collect data and pertinent information from the target households), techniques on how to review the HAF, and the use of all monitoring forms and logs.
Part of the training was a roleplaying sessions where all participants were given the chance to act as enumerator where they personally interviewed the assigned respondents and they accomplished the HAF based on what they have learned.
Other discussions include the familiarization of the Philippine Standard Occupational Classification (PSOC) code and User Management System and Data Encoding Application.
This has been part of the preparatory activities of the Field Office as the 3rd round household assessment which will commence on October this year.
On behalf of Regional Director Mita Chuchi Gupana-Lim, Policy and Plans Division (PPD) OIC Chief Ramil M. Taculod encouraged the trainers to help the Department in carrying out the mandate to conduct the household assessment by guiding and mentoring the hired field workers with skills on how to conduct household assessment.
The trainers will be part of the training team during the Basic Training for field workers on Listahanan 3 which will start next month. The Area Coordinators, Area Supervisors, and Enumerators must be capacitated before deployment to their respective area of assignment. This is to ensure that the field workers know the protocol in conducting the household assessment as this will affect the result or the outcome of the collected information which will be used as database for the implementation of different social welfare and development programs and services.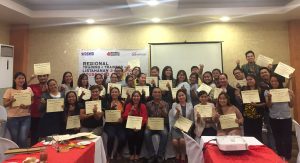 Other preparatory activities to be conducted by the region office is the conduct of the LGU Consultation Dialogue per cluster, which will be attended by City/Municipal/Barangay Officials, Local Social Welfare and Development Officers, Provincial/Municipal Planning and Development Officers, and Liga ng mga Barangay President. This activity will serve as venue to strengthen partnership and to get 100% support from LGUs in order for the department to successfully implement the Listahanan 3.
DSWD Secretary Rolando Joselito D. Bautista directed all the regional offices to obtain a credible list of poor households to guarantee that the programs and services will benefit qualified individuals, families, groups, and communities.
This year, the Department is targeting to assess 16.1 million households nationwide with an allocated budget of 2.7-billion pesos. For the region, a total of 519,881 households are target for assessment but this can be exceeded during the actual enumeration. ###(ABEGAIL R. ALVAREZ/Social Marketing Unit/DSWD Field Office Caraga)