Recognizing its enduring efforts to deliver regional good practices/innovations and continuing passion for quality service, the Department of Social Welfare and Development (DSWD)-Caraga received 11 special citations during the 1st Regional Program Managers (RPM) conference held at the West Avenue Suites, Quezon City, which was attended by DSWD Regional Directors and Regional Program Coordinators, on July 31 – August 2, 2019.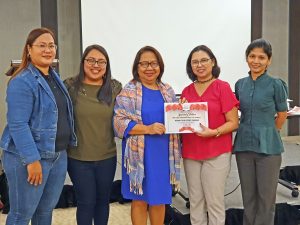 Regional Director Mita Chuchi G. Lim and Regional Program Coordinator Crislea Celeste, received, on behalf of the Regional Program Management Office (RPMO), the special citations on Knowledge Management Initiative (Training), Systems Innovation, Supply-Side Assessment Gaps Addressed Through LGU Support, Validation of Non-moving Accounts, Partnership Efforts on Bata Balik Eskwela, Submission of Partnership Reports, Timely Submission of Grievance – Redress System Reports, Pilot Testing of Community Organizing, Hosting of Joint Missions and Field Visits, Administration of Civil Service Eligibility Review, and 10 Years of Implementation for the said program.
The conference was headed by the Pantawid Pamilya National Program Management Office (NPMO) through the leadership of National Program Manager Director Gemma Gabuya. In her welcome message, Dir. Gabuya acknowledged the great contribution of the key officials from the different regional offices to the success of the program's implementation for the first (1st) semester, achieving the program's milestones.
Prior to the awarding, the regional directors and program coordinators discussed the Thrusts and Priorities of Pantawid Pamilya for 2020, specifically the administration of Social Welfare and Development Indicators to all 4Ps households. It was also an avenue for the regional directors to discuss issues and concerns that needed to be elevated to the NPMO level.
Moreover, the body discussed the different strategies to ensure that 4Ps households are reached during DSWD Listahanan-3 household assessment/survey. Another matter discussed was the process in drafting the Implementing Rules and Regulation for the newly-approved 4Ps.
Another important matter tackled during the plenary was the proposed systems integration between DSWD, DepEd, and DOH information systems by Compliance Verification Division.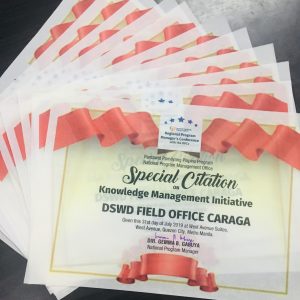 "We all have done our part for the best interest of our program clientele. We are here because we want to keep our children in school, healthy, and nurtured by a family," Dir. Gabuya reminded.
Gabuya added that in return, they would like to see and hear all of the beneficiaries' victories through the good practices, innovations, and success stories of the field offices. In conclusion, she emphasized that it is also essential to keep the work-life balance – time allocated for work and other aspects of life such as family, hobbies, and social/leisure activities.
DSWD Caraga would like to share the different awards and recognition to the Pantawid Pamilya regional workforce and to the different partners of the agency who have worked hard to make the program implementation successful. ###(JOANA RICA P. MILLAMA/Social Marketing Section/DSWD Field Office Caraga)