The Department of Social Welfare and Development (DSWD) Field Office Caraga formally names its Huwarang Pantawid Pamilya after deliberating the results of the week-long field validation conducted by the Regional Program Management Office together with the Social Marketing Section.
The Quesaba family from Agusan del Norte topped all 5 provincial winners to become the regional titleholder of the annual contest – this as a result of a very hectic and tough validation process. With the win, Agusan del Norte has had a back-to-back victory as it also won the Huwarang Pamilya search last year.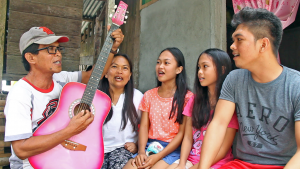 The Quesaba family, composed of parents Zenon and Cresilda, together with their five children Frimar, Cristian, Lovin, Cellyn, and Kesiah lives in the coastal municipality of Carmen. Being a Pantawid beneficiary for eight years, the household considers 4Ps as a blessing to their family.
"Sa dihang miabot na ang Pantawid mapasalamaton jud mi kaayo kay matag ikaduha ka-bulan naa naman mi madawat unya ang among budget amo gyud nang giayo paggamit – gipalit og pagkaon ug gamit sa mga bata, para dili na sila magkalisod-lisod og eskwela (When 4Ps came, we were thankful because we now receive grants every two months and we really allocate the grants for food ensure the needs of our children for their schooling)," Cresilda tearfully shared.
She also added that whenever they have savings from their cash grants, they use it to fund some kind of small business such as selling fruits, laminating and printing photos/documents (IDs) in their small studio, and offering electrical services (repair, installation, and connection). The children also experienced selling vegetables in their school and being working students/scholars in hopes to pursue their studies and help their parents.
Lovin, the third child of the Quesaba siblings acknowledged the love and hard work of their parents which has brought them different opportunities, which has seen him through high school and even in college.
"Nakita pud nako nga maayo ang ilang pagpadako sa amoa, ginapa-remind mi nila sa mga consequences kung magbinuang mi sa among eskwela o sa komunidad. Sila ang parents nga wala nagkulang sa pagmatuto sa amoa mao ng proud kaayo ko saila (I have seen that they raised us well, they always remind us of the consequences when we do something bad in school or in the community. They are the kind of parents who did not lack in imparting us with knowledge that's why I am a proud son)," Lovin, the third child who recently graduated this year with a degree in BS-Mathematics, shared.
Aside from being a family who values education, they also maintain harmonious relationships in their community. Cresilda is a church lector while Zenon serves in the church choir. He also is the on-call barangay electrician, answering requests for any electrical concern by the barangay, and even from their neighbors.
As good Christians, they consider following simple barangay ordinances, and even the program's advocacies as a good way of showing their faith. Following simple rules is one way of being good parents to their children.
They consider simple tasks like segregating waste materials through Material Recovery Facility (MRF) and compost pit, maintaining cleanliness and sanitation in their home and surroundings, establishing a backyard garden that provides them vegetables and spices, and having an emergency kit in preparation for typhoons or calamities as tasks f=performed by responsible Filipino families.
They consider being Pantawid grantees as a responsibility to be role models in the society. This drives their family to be better citizens for their community.
The field validation to determine the Regional Huwarang Pantawid Pamilya was conducted last August 19-23, 2019, covering all 5 provinces who have already identified their provincial winners.
The objective of the activity is to recognize family-beneficiaries of the Pantawid Pamilyang Pilipino Program (4Ps) who maintain strong family ties, demonstrate positive Filipino values, create positive impact in the community and empower children and family beneficiaries for an improved quality of life.
The Quesaba family is expected to join the Pantawid Pamilya National Family Day celebration as the regional representative for DSWD Caraga.