Finding the right person is not always an easy thing to do; sometimes you have to chart unfamiliar territory, brave mountains, cross raging seas and rivers, and endure long treks and bad weather.
These challenges hold true to workers of the Department of Social Welfare and Development (DSWD) in Caraga, who literally went an extra mile and took the road less traveled just to find the "right people".
One of these workers is 23-year-old Donna Rosales, a project development officer for DSWD's Social Pension for Indigent Senior Citizens Program (SocPen).
Donna, a resident of Barangay Antongalon, Butuan City, has been a SocPen worker for three years now, but still finds it challenging to do her job, especially when conducting validation of senior citizens.
"It's very hard to find them (senior citizens), especially when a senior has transferred residency. You really need the help of barangay workers," said Donna, who is assigned in the province of Surigao del Norte.
"We have to walk under the scorching heat of the sun just to find them. Lisud pa gyud mag-handle sa ilaha kay ang uban dili magpa-interview (It's hard since some of them refuse to be interviewed)," the Sociology graduate of Caraga State University said.
"Despite these challenges, I enjoyed my work since I get to know people and travel to many places. What is really rewarding, is you get to help poor senior citizens," Donna said.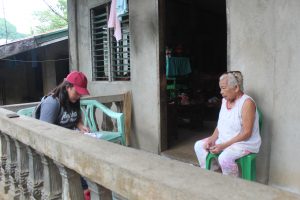 DSWD-Caraga is currently conducting validation process of senior citizens for the said program. The Field Office targets to serve 140,000 SocPen beneficiaries this year. SocPen was established in 2010 by virtue of DSWD Administrative Order 15 series of 2010 with an overarching goal of fulfilling the provisions of Republic Act No. 9994, also known as the "Expanded Senior Citizens Act of 2010."
Aljen Manilag, 23, a social worker assigned in Agusan del Sur province, said it is part of her job to reach out to senior citizens in far-flung areas even if the weather is bad.
"Typically, ang kalay-on ug kalisud sa dalan para maabot ang beneficiary, bisan pa ulan or init kaayo, mao ang mga challenges (It's the distance, the rough road, and the weather that challenges me when reaching out to beneficiaries)," said Aljen, a graduate of Social Work in Mindanao State University-Marawi.
During the validation, DSWD workers will have to visit senior citizens in their homes and interview and assess them if they are qualified in the said program.
Qualified beneficiaries are those who are 60 years old and above; frail, sickly, or with disability; without pension from government and private agencies; and without regular income, compensation or financial assistance from their relatives.
These beneficiaries will receive P500 monthly or P3,000 stipend every semester intended for their medical and financial needs.
Aljen said that during validation, some senior citizens are annoyed with too many queries so they tend to turn down even some of the basic questions.
"It makes my job more difficult as some seniors will not tell you the truth. Some of them lie and are resistant," Aljen said, adding that: "Diha makita ang skill sa validator on how to determine if that elderly is telling the truth or not."
Aljen said other beneficiary also forget about their personal information due to Alzheimer's disease or memory loss.
"Grabe na ka tigulang bisan personal information dili nila mahatag kay dili na kadumdum kay medyo ango-angohon na (They are too old to remember even their personal information)," she said. "What we do is we interview other family members instead or some community members."
A beneficiary can be removed from the program if he/she have already passed away, transferred residency, cannot be located during the period of validation, is receiving pension from other agencies, have regular income and support from family, or absent during the last two semestral payout.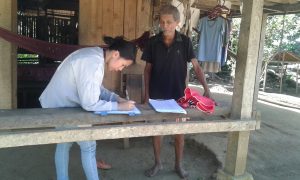 However, a senior citizen who have transferred residency could still be in the program provided that he/she would secure a certificate of transfer from the Office of Senior Citizens Affairs (OSCA) or Local Social Welfare and Development Office (LSWDO) that would then be submitted to DSWD Field Office Caraga. The field office will then submit the name of the beneficiary to the LSWDO where he/she have transferred.
"Personally, I find it difficult no to be emotionally attached sa client. Dili gyud malikayan na maluoy ko sa kahimtang sa client. Lisud pugngan ang luha motulo. (You really will feel pity to the clients' living condition. It's so hard to hold back your tears)."
Aljen, however, said that she needs to apply the "no emotional involvement" rule and that she should trust the Department's process.
"It may sound cliche, pero (but) I stayed because of my passion to help people. Nakuha nako nga (I learned the) ideology when I was in college. My professors inculcate us to have heart for the people. And of course, I need this job para sa akong anak (for my son)," Aljen said.
For Donna and Aljen, taking the road less traveled and overcoming challenges just to find the right persons for the social pension program bring them joy and self-fulfillment. ###(DARYL D. ANUNCIADO/Social Marketing Unit/DSWD Field Office Caraga)