BAYABAS, SURIGAO DEL SUR – Local government unit officials and community volunteers from Bayabas, Surigao del Sur gathered on August 29 to 30 at the Cabana, Bayabas to participate in the first Pamumunong Makamasa: Local Government Unit and Community Volunteers' Exchange of the Kapit-Bisig Laban sa Kahirapan – Comprehensive and Integrated Delivery of Social Services (Kalahi-CIDSS) of the Department of Social Welfare and Development (DSWD) Caraga.
During the activity, the LGU officials and community volunteers exchanged roles for a day and attended activities that were usually done by each party. The LGU officials, led by Bayabas Mayor Ma. Clarita G. Limbaro, acted as the Barangay Sub-Project Management Committee of Cagbaoto while the community volunteers played as heads of offices of the municipality.
The activity aims to achieve the following objectives: let community stakeholders and community volunteers develop high appreciation of the roles and responsibilities of each group in the implementation of Community-Driven Development (CDD); increase awareness among community members on the gains and impact of CDD in communities; and strengthen the relationship of the community stakeholders and volunteers. Further, the activity also intends to generate support for the CDD institutionalization campaign.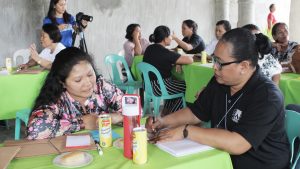 "We are doing this activity so that the LGU and volunteers would understand their roles in implementing Kalahi. Especially now, naa na ta sa pag institutionalize sa CDD. Maayo ni nga venue para masabtan sa officials and volunteers nato unsa ka-importante ilahang mga roles sa community (We are doing this activity so that the LGU and volunteers would understand their roles in implementing Kalahi. Most especially now that we are campaigning for the institutionalization of CDD. This is a conducive venue for both LGU officials and community volunteers to realize the importance of their roles in the community)," Regional Community Development Specialist Elsa Montemor said.
Before the exchange, the LGU officials and community volunteers were given time to discuss on their tasks for the day. This was to ensure that both groups are well-aware of their responsibilities and what is expected of them.
For the LGU officials-turned community volunteers, they kicked off the exchange activity with the monitoring and spot-checking of sub-projects in Barangay Cagbaoto. It was followed by a BSPMC meeting presided by Mayor Limbaro.
Media partners were also invited to witness the activity to strengthen the program's efforts to generate public support for the CDD institutionalization.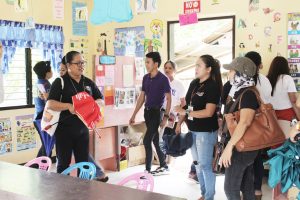 Moreover, the community volunteers-turned LGU officials, started with an Expanded Municipal Planning and Development Council meeting moderated by BSPMC Chairperson Loyda Egina, who was acting-mayor for the day. During the meeting, three Barangay Chairpersons presented their Barangay Development Plans to the body.
Afterwards, the community volunteers reported to their respective offices, reviewed pertinent documents and accommodated clients. Egina shared that while sitting inside the Mayor's Office, she became anxious because a client might come in and ask for financial assistance.
"Nahadlok gyud ko kay basig naay musulod unya mangayo og hinabang. Wala gyud ko kaandam para ana nga butang. Maayo na lang ang niadto kay taga Pantawid nangutana bahin sa mga anak sa beneficiaries na walay mga birth certificate. Ako ra pud giingon nga naay tay libre na registration unya muadto lang siya sa Civil Registry (I got nervous with the thought that a client might come in and ask for financial assistance. I wasn't ready for it. Good thing my client for the day was the staff from Pantawid Pamilyang Pilipino Program and only inquired about beneficiaries who were not yet registered. I instructed her to proceed to the Civil Registry because we have free services for birth registration), " Egina shared.
During the sharing of insights and experiences, Mayor Limbaro expressed that the exchange activity made her realize and gauge how hard and challenging it is to be a community volunteer.
"Mas na appreciate nako ang empowerment. Nakita nako how meticulous ang ilahang trabaho. Gikan sa very small details, from the procurement padulong sa operations and maintenance. Mas nilalom akong bilib sa atong mga community volunteers. Being in their shoes, mas nafeel nako unsa kalisod ilahang trabaho (I learned to appreciate more the empowerment that we impart to our community volunteers. I realized how meticulous their job was – from the procurement stage up to the operations and maintenance stage. This activity has deepened my respect for our community volunteers. Being in their shoes, I felt the gravity of their work)," she said.
The activity also paved way for LGU Bayabas to initiate a signature campaign in support for the institutionalization of CDD. The Sangguniang Bayan has already expressed their commitment to serve a resolution that would be utilized in support of the CDD ordinance that would be passed within the municipality.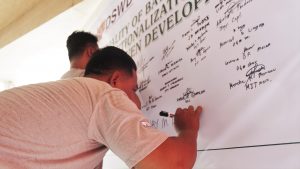 When asked of her secret to having a successful implementation of the program in the municipality, Mayor Limbaro said that there's no secret at all.
"I think it's not a secret. Since day one, I have been vocal on how much I appreciate our community volunteers. I always appreciate their contributions. I tell them that they are not just any ordinary citizen. Napatunayan na ilang gibuhat through CDD. Nahimo na gani ng infectious. Mao ing-ani ang Bayabas kay gina-highlight sa LGU nato ang contribution sa atong community volunteers (Our community volunteers have proven what they are capable of through CDD. As a matter of fact, it has already become infectious among other community members. This is why Bayabas is successful in terms of implementation because the LGU highlights the contribution of our community volunteers)," Mayor Limbaro said.#(CLEA MARIEL C. MALUNHAO/Social Marketing Section/DSWD Field Office Caraga)