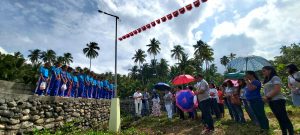 BAYABAS, SURIGAO DEL SUR – The Department of Social Welfare and Development (DSWD) through the Kapit – Bisig Laban sa Kahirapan – Comprehensive and Integrated Delivery of Social Services Program (Kalahi-CIDSS) handed over 30 units of electric-powered street lights to the community of Barangay Cabugo in Bayabas, Surigao del Sur on August 30, 2019.
The streetlight project, with a total project cost amounting to PhP 703,005.47, was implemented through the Kalahi – CIDSS Makilahok Project. Makilahok is an initiative of the DSWD in coordination with the Department of the Interior and Local Government (DILG) and with funding support from the World Bank (WB) and Asian Development Bank (ADB), designed to strengthen community participation in local development through the Community-Driven Development (CDD).
Makilahok allows more inclusiveness, wider community participation, transparency, and accountability in all stages of the barangay development process.
Municipal Mayor Ma. Clarita G. Limbaro and Vice Mayor Apolonio B. Lozada attended the inauguration ceremony. They were joined by Regional Community Development Specialist Elsa D. Montemor, Barangay Cabugo Chairperson Floriano D. Luna, Community Sub-Project Management Committee – Chair (CSPMC) Jocelyn N. Maximo, Sangguniang Bayan Members and Barangay Officials, and community members.
The CSPMC prioritized and opted for the 30-unit street light project to address the community's concern on safety and security. Due to the darkness engulfing the barangay, parents fear the safety of their children going to and from school early morning and during night time. Common incidents feared by the residents are road accidents that happen at night because of the lack of lighting in their streets.
Other than these, fisherfolks also expressed their concern and worry when the seawater rises at night because it might waft away their boats.
Hence, when their community was included in the list of barangays to implement Makilahok, the CSPMC saw this as an opportunity to address their dire need for streetlights.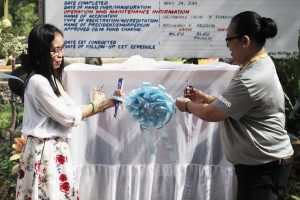 During the turnover ceremony, Operations and Maintenance Chairperson Apolinario Arquion expressed his elation and gratitude to the program for helping them with their problem.
"Salamat niini nga project nga 30-units streetlights nga gihatag kanamo sa DSWD pinaagi sa Kalahi-Makilahok kay kami na mga mangingisda matag gabii dili na magka pandul pandul ug di na magka baylo sa mga pump boats tungod sa kangitngit sa una na panahon. Wala makawang ang amo pagpaabot niini nga pangahinanglan, ug ang mga kahago ug paningkamot (We are very grateful for the 30-unit streetlight project extended by the DSWD to our community through the Kalahi-Makilahok. From now on, our fisherfolk community will not have to worry about stumbling at night or getting our pump boats exchanged with others due to the dark)," he said.
Mayor Limbaro said that the project has been completed because of the hard work, perseverance, and commitment of the community volunteers. She said that the local government of Bayabas owes the success of the implementation of the Kalahi-CIDSS program in the municipality to the volunteers.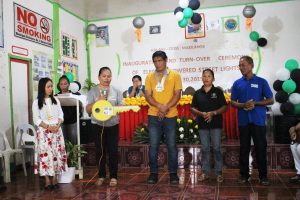 "As I said, we owe the accomplishment to our community volunteers. This has been made possible because of their contribution. This is why the municipality of Bayabas is pushing for the institutionalization of Community-Driven Development (CDD). As a matter of fact, we had a signature campaign this morning to show our support for this campaign. I personally saw that CDD provides inclusive participation and empowerment to the communities," she said.CLEA MARIEL C. MALUNHAO/Social Marketing Section/DSWD Field Office Caraga)