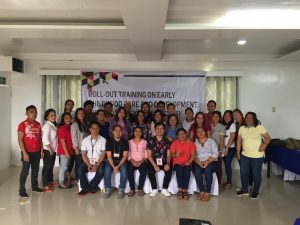 The Department of Social Welfare and Development (DSWD) recently conducted a series of Roll-Out Training on Enhanced Early Childhood Care and Development-Information System (ECCD-IS) to the five provinces in Caraga to improve the monitoring and reporting system of Day Care Services in all local government units (LGUs) in the region.
Local Social Welfare and Development officers, Local ECCD focal persons and IT encoders attended the trainings, which were conducted in four batches: Agusan del Norte on Aug. 14-16, Agusan del Sur on Aug. 22-23, Surigao del Norte and Dinagat Islands on Aug. 28-30, and Surigao del Sur on Sept. 2-4.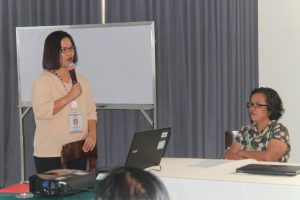 DSWD, through Field Office Caraga ECCD Focal Person Cristal Urot, led the training of representatives from different LGUs on the features and utilization of the enhanced ECCD-IS. Information Communication Technology and Management Section head Vergel Rey Abucayon also facilitated the demonstration and hands-on workshop on online accomplishments of the facility profile, service provider profile, child profile, nutritional status, and ration monitoring.
The trainings were aimed at generating information on profile of Child Development Centers and Child Development Workers, child profile, and other relevant services provided to children. It is also geared towards knowing the issues and concerns faced by the LGUs in the utilization of the system.
"The ECCD-IS was created so that our monitoring and reporting system will be enhanced. Kabalo ta (We all know) that from the previous database, monitoring, and mechanisms that hinay gyud ang atong (we have a slow) reporting system. So this is the reason why this ECCD-IS was created so that we can have our improved monitoring and reporting system," Jessie Catherine B. Aranas, OIC-Division Chief of DSWD Caraga's Protective Services Division said.
"We are expecting that through this training, which is part of the technical assistance of DSWD Field Office is providing to the LGUs, we are expecting that you will really utilize the ECCD-IS," Aranas added.
ECCD refers to full range of health, nutrition, early education and social services development programs that provide for the basic holistic needs of young children from 0 to age 4, and to promote their optimum growth and development.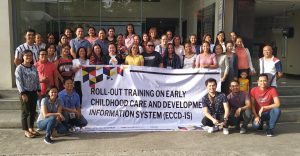 The said Information System is an automated and web-based reporting system developed by the DSWD and funded by the UNICEF to generate reliable and timely information on the ECCD program from ECCD service providers at the local level for the effective implementation and management of the ECCD Program and improvement of service delivery system. The system is electronic in nature and accessible through the internet.
The ECCD-IS was developed by the DSWD in 2006, with the assistance from UNICEF. It aims to address the current monitoring and reporting system which is manual, slow, difficult and prone to errors and inconsistency
With the passage of Republic Act 10410 entitled: The Early Years Act of 2013 (RA 10410), DSWD is mandated to support the national ECCD Program that ensures consistency in integrated service delivery thus ECCD-IS would be a great support in monitoring the service delivery of all service providers of ECCD Programs. Also, ECCD-IS can reinforce evidence-based information for evaluation and assessment of various ECCD programs nationwide as one of the functions stipulated under Section 10 of the said law. ###(DARYL D. ANUNCIADO/Social Marketing Unit/DSWD Field Office Caraga)