They say that there is no perfect formula in raising children; there is no such thing as a school for raising a family. The Quesaba family of Carmen, Agusan del Norte is a testament to this old adage.
Rearing five children is not an easy task; you get to deal with different personalities and different characters. And this is most challenging in the case where one of these 5 children need that extra care and attention.
Music started it all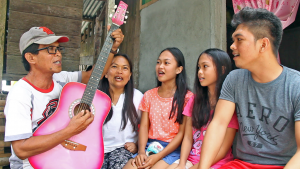 Music played a key role in the story of the Quesaba family. You see, Cresilda Maambong, 16 years old during that time, met 32-year old Zenon Quesaba, who was one of the well-known musicians in the coastal barangay of Cahayagan, Carmen. It all started with a simple lesson in music, most specifically the guitar, that brought together Zenon and Cresilda. With Zenon's passion and love for music, he willingly, and patiently spent time with Cresilda teaching her the basics.
The longer they spent time with each other during their sessions, the deeper they had developed their feelings – but this time, the love and appreciation for music became love and appreciation for each other. The rhythm, harmony, and melody weaved a beautiful song which was love between the two of them.
"18 siya atong gikasal 'mi duha. Sa akong kagustuhan nga pa-eskwelahon siya sa kolehiyo, nanarbaho ko pagka-electrician aron suportahan nako siya sa iyang kurso nga Computer Science (She was 18 when we got married. In my hopes to support her college dream, I worked as an electrician to support her studies)," Zenon said.
But when Cresilda finally jumpstarted her college life, she got pregnant during the end of the first semester, so she decided to stop and focus on being a mother to Frimar, their firstborn. Six months after she bore her first born, she again got pregnant to their second child –  they named him Cristian. When their sons were growing up, the couple noticed that Cristian's speech development normally progressed, but there was something wrong with Frimar's speech development. That was when they decided to bring him to a specialist, first in Butuan City then in Cagayan de Oro City.
Channeling the language of love
Initial tests showed that there was something wrong with his hearing, there was something wrong with the auditory nerves. Congenital hearing loss, or deafness is caused by genetic factors, but can also be caused by other things, like an infection during pregnancy, prematurity, injury at birth, and other health conditions.
To put it simply, Frimar was deaf at birth. A devastating information relayed by the doctor to Zenon and Cresilda.
Dr. Charlotte Chiong, director of the Newborn Hearing Screening Reference Center (NHSRC), reported in her study that, "at least eight profoundly hearing deaf babies are born everyday in the Philippines or one deaf baby born every three hours." Frimar was on the sad end of this statistic.
Discovering their child's disability, Cresilda and Zenon were worried of how they will be able to raise a deaf child – how will they be able to let Frimar experience the world. Their worst fear is that Frimar will grow up being bullied. And that they will have a problem accessing special education, since they do not have the resources for services, which they know would cost them a lot.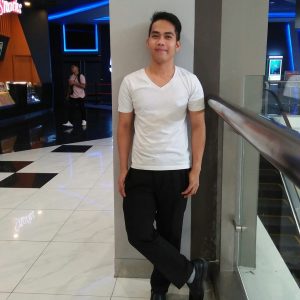 It was hard at first, but they weren't hopeless; in fact, they gave him more. They poured their love and guidance through constant love and care, showing him that the world can be a better place for everyone – using the simple language of love.
Their efforts were not put in vain as they witnessed how Frimar grew to be a disciplined and responsible child in school. He was able to finish primary and secondary school from a regular class with consistent good grades and was receiving awards and recognition.
"Sometimes I can't understand the people around me, they are discriminating me because I'm deaf, but I proved them wrong. I am working hard to follow my dreams, I just put in mind that I can do everything I want for my family," the 23-year old Frimar shared through messenger as he reminisced his past.
The couple doubled their efforts taking care of Frimar and Cristian. The family grew bigger with the addition of Lovin, Sellyn, and Kesiah. But as their family grew, so was their expenses. Addressing their financial needs was one of the challenges for the family especially that both Zenon and Cresilda did not have stable jobs.
Carrying the burden of poverty
But despite these challenges, the family kept going, maximizing all efforts on every opportunity that would come their way, just to provide for the needs of the members of the family.
"Gipugos gyud nako akong kaugalingon nga magkat-on unsaon paghimo og banig para makatabang sa among panginabuhi (I tried hard to learn how to make a woven mat so I can earn us a living)," she shared. They would wake up early to sell the finished products to their neighbors and add the income to Zenon's wage as an on-call electrician and farmer. The brothers would labor/carry sand and sell for construction projects for additional income.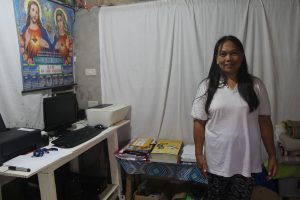 Sometimes when price of rice is too high, they would opt to combine root crops (banana, camote, yam) in their food, they would eat it three times a day, every day. The family would till the farm and plant corn, alugbati, and okra. The children also experienced selling vegetables at school for other expenses even if they were already working students/scholars, in hopes to pursue their studies and help their parents. Because of the hardships, Cristian lost hope and doubted himself to pursue his dreams in entering college.
"Sa among kalisod, nawad-an gyud ko og paglaum nga maka-eskwela pako. Mahadlok ko mu-eskwela kay huna-huna nako useless ra og pag-abot sa board examination mabagsak rako. Pero tungod sa akong mga ginikanan nipadayon ko pag-eskwela isip usa ka-working student (In our situation, I really lost hope. I was afraid to go to school thinking that it would be useless because I might fail the board examination. But because of my parent's encouragement, I continued to study as a working student)," he shared.
With the help of Ms. Evelyn Paceno, head teacher of Nasipit National Vocational School, Cristian is now on his junior year taking up Bachelor of Science in Elementary Education. He has been with her working as an all-around house help, and in return, all his needs for school is provided, including tuition and fees.
Pantawid: a blessing for the family
The family was identified as qualified beneficiary for the Pantawid Pamilyang Pilipino program way back in 2011. Lovin became the first child to benefit from the program. But as he grew older, Sellyn, and Kesiah became the qualified children for the program.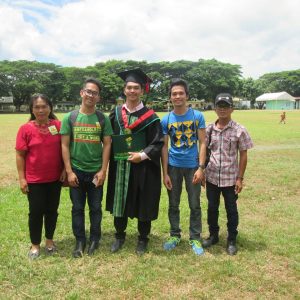 Lovin saw the opportunity with the program as a blessing for their family. Because of this, he went for any opportunity when he was no longer covered by the program.  Lovin was fortunate enough to get a scholarship grant in college from an international non-government organization. It was his desire to provide a better life for his family that pushed him to finish his studies. He finished his BS Mathematics with flying colors.
With two remaining monitored children, Cresilda sees to it that the cash grants were spent for health and education. She also added that whenever they have savings from their cash grants, they use it to fund some kind of small business such as selling fruits, laminating and printing photos/documents (IDs) in their small studio, and offering electrical services (repair, installation, and connection). During graduation season, Cresilda also takes photos and processes it before printing.
As the role model of the family, the couple veered away from any form of vices that would post as a bad influence for their children. They want to instill in the minds of their children the good values and hard work. They always encourage their children to be better in school and do their best. Cresilda also did her best to guide his handicapped child to be enrolled in an Alternative Learning System (ALS). When the school hesitated because of Firmar's condition, she negotiated with the instructor and decided to enroll herself along with him in Basic Computer Literacy, so that she will be the one who will relay any instruction or information to her son. They both graduated in February 2015.
Multi-talented, blessed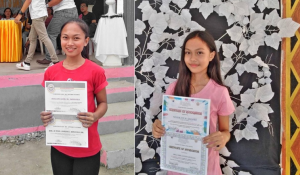 side from being a family who values education, they also maintain harmonious relationships in their community. Cresilda is a church lector, Zenon serves in the church choir, while their children Sellyn and Lovin plays the guitar and keyboards. Zenon , being the on-call barangay electrician, answers requests for any electrical concern by the barangay, and even from their neighbors. The youngest child Kesiah got the skills of her father as she competed in their school's Lamp Shade installation contest and won. She represented her school at the district level and placed 4th. She also graduated as class valedictorian in elementary and continues to receive awards and recognitions this day.
"Giayo mi pagpadako sa akong mga ginikanan pinaagi sa pagtudlo sa amo nga mahimong simple ug matinumanon sa balaud sa barangay. Ila pud ming gi-disiplina sa pagtipid ug pagkamahadlukon sa Ginoo (Our parents raised us well by teaching ug how to be simple and law-abiding citizens. They also disciplined us to be thrifty and God-fearing)," Sellyn, the fourth child who is currently a Grade-11 student at Carmen National High School-Stand Alone, said. She also added that her parents were her support system making her an achiever since grade school.
Transformation: Better citizens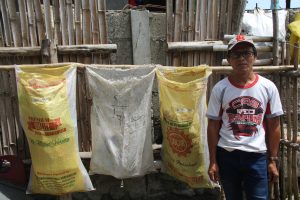 The family consider simple tasks like segregating waste materials through Material Recovery Facility (MRF) and compost pit, maintaining cleanliness and sanitation in their home and surroundings, having an emergency kit in preparation for typhoons or calamities, and establishing a backyard garden that provides them vegetables and spices, as tasks performed by responsible Filipino families.
"Nakita nako nga nahimo kaming role model diri sa Carmen tungod kay ang uban ginikanan muingon sailang mga anak nga himuon ming inspirasyon sailang pag-eskwela. Dili lang sa achievements apan apil usab ang maayong pamatasan o spiritual nga bahin (I have seen that we are a model family here in Carmen because some parents tell their children to make us an inspiration. Not just for our achievements but including the good manners and spiritual aspects)," Lovin, shared.
The Pantawid Pamilya Program played a good part in uplifting their condition in life. But more than the financial aid of the program, the family considers the more important features of the program as the "transforming" drive that helped in improving their family's bond and the dynamics in the family.
"Isa sa gusto nako sa programa kay duna mi matun-an. Dako ug tabang ang Family Development Session sa amo mga ginikanan ug sa mga anak namo. Dako ang kausaban namo sa pagatiman ug paghatag panahon sa usag-usa tungod sa natun-an namo sa FDS (One of the features I liked about the program is that we learned a lot. The Family Development Session really helped us as parents, and even our children. There was really some kind of transformation on how we raised our children and how we valued spending time with them because of what we learned from the FDS)," Cresilda said.
Truly, the Quesaba family showcased what it is to be a Huwarang Pantawid Pamilya. With their continued perseverance to face life's challenges, one thing is certain: the Quesaba family will definitely reach their dreams, and one day be able to rise to the occasion and face the challenges of poverty head on. And they will certainly win that battle.