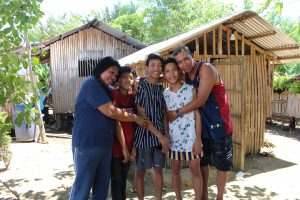 "You don't choose your family. It's a God's gift to you, as you are to them." – Desmond Tutu
It has been sixteen years, Emma and Cresenciano Concellado can still recall the day when their lives would intertwine with that of the Esguerra brothers, who are now in their foster care. It was 16 years ago, and Emma and Crsencio never thought that their lives would change.
Emma and the children crossed paths when she started working as house-help for the Esguerra family. When the couple she worked for had their first born, Lorenz, she took the role as nanny for the child. Emma accepted the new role without any hesitations, and she did her job well. A year later, Rennel, the second born of the Esguerra couple was born. According to Emma, there were other nannies hired but the mother of the Esguerra siblings didn't like the performance of the new nannies, so just like Lorenz, Emma served as nanny to Rennel.
A few, months after Rennel was born, Emma was instructed by the boys' mother to bring along Lorenz and Rennel, and keep them away from their home. At that moment, Emma was puzzled of the decision of the mother, but she continued her duty as a nanny to Lorenz and Rennel since the Esguerra couple still supported them financially and paid her with the right salary.
This arrangement went on for two years. But it became more complicated when Rave, Esguerra couple's third son was born. The child was also taken care of by Emma, who now has 2 young kids to look after, and a third one who is still a new born. It was about this time when Emma's world changed. Emma was surprised with the news that the Esguerra couples were jailed because of drug-related charges and prostitution.
What does the future hold for the Esguerra children? Emma was placed in a dilemma. But the Esguerra couple begged Emma and Cresencio to hold on to their children. After all, their arrangement has led both families to be close. So Emma and Cresencio continued taking care of the boys. They tried to provide for the needs of the siblings, raising them just like their own children.
During that time, Cresencio tried to work different jobs to provide for their needs. He tried construction work, and other non-technical jobs to earn enough money to buy the needs of the children like milk, clothing, and vitamins. That time the salary for a construction worker was not enough to sustain the basic needs of the whole family, so Emma also accepted daily laundry jobs and other part time jobs to help his husband in supplying their needs.
In 2014, Emma and Cresenciano were oriented on Foster Care. They found the idea favorable, since Foster Parents were provided subsidy to take care of fostered children. They applied and were granted foster care to Lorenz who was 11, Rennel who was 9, and Rave who was 7 years old that time.
Emma and Cresenciano do not have biological children, so as foster parents they treated Lorenz, Rennel, and Rave like their own. They acted as responsible parents and provided the needs of the children. As foster parents they have been provided subsidy to take care of the needs of the children. But since the subsidy, but with prices of goods and commodities rising every year, there are still needs of the family that are not addressed.   So they still maintain regular jobs to address those needs. They started farming in a small lot they acquired. They planted rice, vegetables, and flowers. They harvested the rice and vegetables and used it for their own consumption, while the flowers were sold to different flower shops in the city.
The couple made sure that despite their status in life, the children were well taken care of.  Sending them to school was a priority for them.  Lorenz and Rennel are now both in Grade 10 and Rave is in Grade 7, all enrolled at Banza National High School.
Emma and Cresencio are treating the boys just like their own biological kids children. They bring along the children to regular mass every Sunday. During weekends and after school, the children have their own assigned house chores. According to Emma, in this way she and her husband can instill values to the children. The couple is also using Positive Discipline rather than corporal punishment. With this type of parenting, the children are nurtured emotionally, mentally, spiritually and physically. "We try to inculcate positivity in them. We try to raise them as good Christians," Emma said.
The couple is also trying to ensure the future of the children. In fact, the couple have already saved a little over Php160,000 in the bank to ensure the future of the boys. They came up with the savings without depriving the needs of the children. The savings is primarily intended for boys' education when they reach college level.
As foster parents they want to be the best parents for the children. Emma and Cresenciano attended programs and trainings of DSWD like Responsible Parenting, Positive Discipline and other activities that will give them new ideas in rearing children. The adjustment of being a foster parent is really hard according to the couple, but because of the love they have for the children they are willing to face all the struggles to give the best for the Esguerra brothers.
The couple are trying to raise the boys as normal as possible, even with the situation they are in. They know that their real parents are serving their sentences in prison. And they know some relatives from both sides of their family. Sadly, these relatives do not want to be associated with the boys because they have cut their ties with the Esguerra couple because of the issues they are in.
Because of this, Lorenz, Rennel, and Rave would rather be with their foster parents, and would dismiss the idea of them being turned over to their own relatives. "We would like to be with Mama Emma and Papa Cresencio since we consider them as our real parents. They have been the ones who have taken care of us since birth, Lorenz said.
The love of Emma and Cresenciano for the Esguerra brothers is endless and cannot be measured. They are family not by blood but bound with unconditional love and tender care. "We may not be bonded by blood, but we love them just like our true children, Cresencio said.
Emma and Cresenciano Concellado deserves all the appreciation for their selfless love and their commitment to raise the Esguerra boys just like their own. Even though they are foster parents to Lorenz, Rennel and Rave, there is no doubt that they have been the best parents for the boys.#