"Volunteerism is a noble act. It is fulfilling that you have helped somebody in a particular day. Do not wait for anybody to ask help, be helpful always, all the time; because Someone up there listens."
This conviction keeps 51-year old Leah going despite being subjected to life's ups and downs. Currently residing in Barangay Taguibo, Butuan City, she is a mother of five, a parent leader of 32 Pantawid members, and one empowered woman in today's generation.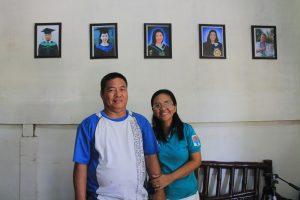 She married Antonio Rebuta in 2016, a year after her first husband died. Raising five children without a stable income is hard for the couple. Her husband works as a security guard while she used to be a barangay gender and development focal officer, trying to work as nail technician during her free time.
Series of life-changing events as a volunteer-leader
Her service in Barangay Taguibo as the GAD focal officer opened opportunities for her children. Henry Nichol, Joselle, and Angelie were given priority slots in applying for college scholarships, which they enjoyed after passing the qualifying exams. Even in this situation, the family still experienced difficulties in sustaining their daily needs. So they tried to expand their earnings by selling retail products by repacking and selling garlic, chlorine, and floor wax, among others. Apart from this, they also ventured in hog raising just to make ends meet. These helped them in buying their own lot which they paid through installment for five years.
2011 was a promising year for them. In January, the household became a recipient of the Pantawid Pamilyang Pilipino Program – a human development program of the national government which aims to provide social protection to 4.4 million poor Filipino households.
"Noong isa kami sa napili na benepisyaryo ng 4Ps, lubos ang aking pagpapasalamat. Napili rin akong maging isang parent leader sa aming purok at hindi ko inaasahan na mababago nito ang aking buhay (When we were chosen as one of the beneficiaries of the 4Ps, I was greatly thankful. I was also chosen to be a parent leader in our purok and was not expecting that it would change my life)," Lea reminisced.
According to her, being a parent leader helped her be more responsible in dealing with different cultural backgrounds, moods, and personalities of her co-members. She is also thankful with the series of trainings that she had attended, trainings which has molded her to be a humble, lively, and empowered leader.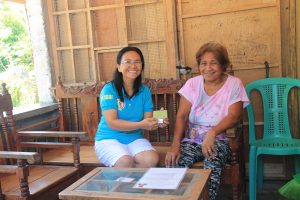 As indicated in the Program's Operation Manual, a parent leader is defined as "a point person, program beneficiary and volunteer leader in a group of 25-30 household grantees." Moreover, the parent groups through their PL must agree and establish their system of communication to facilitate efficient information dissemination.
She took the chance of being a parent leader as her stepping stone to gain wider knowledge, stronger connections, and a stronger willpower to deliver public service. On top of these, she understood and fully embraced the advocacy of the program.
Milestones built through services and commitments
Being chosen as a parent leader was just the start of her journey because in the same year (2011), she was elected as the President of the Parent Leaders Federation in Butuan City, which she held until 2017. Since then, she served as one of the front liners during activities and advocacy/program campaigns that the DSWD or Pantawid Pamilya conducted.
The following are the highlights to her engagement with the program:
Attendance to the Writeshop on 4Ps Act Implementing Rules and Regulations last October 8-11, 2019 Cagayan de Oro City. With this, she was able to discuss with the RPMO Pantawid staff and National Government Agency partners her contributions in drafting the IRR.

Attended the Consultation Writeshop on Republic Act 11310 or 4Ps Act implementing rules and regulations (IRR) in Cagayan de Oro City. With this, she was able to discuss with the RPMO Pantawid staff and National Government Agency partners her contributions in drafting the IRR. As a parent leader, she had the opportunity to experience first-hand witness on-the-ground implementation of the Program which is helpful in identifying the policies and procedures for 2020 implementation of the Act;

Led/facilitated various workshops and seminars in 2013 such as the Poverty Reduction Plan Workshop, Listahanan Launching, FDS Consultation, Women's Summit, Skills Enhancement for Parent Leaders, Tree Planting, and Aksyon Barangay Kontra Dengue (ABKD) Parade.
Representing Butuan City on September 2015 in one of the trainings, and experienced lobbying the Institutionalization of the 4Ps through the CCT Bill. It was through this experience that she was also able to lead a group of dynamic parent leaders in convincing non-Pantawid beneficiaries to also share their stories highlighting the positive effects of the program to the less fortunate people in the society;
Led the signature campaign for the institutionalization of CCT Bill in 2015 at Robinsons Place Butuan. She also experienced lobbying the advocacy of 4Ps to different agencies and media outlets (television and radio) together with other Civil Society Organizations;

Serving as a resource person during DSWD trainings, hand-in-hand with the training specialists of the Department. She also speaks during Family Development Sessions concerning various modules from 2011-present.

Served as a resource person during DSWD trainings, hand-in-hand with the training specialists of the Department. She also serves as resource speaker during Family Development Sessions concerning various modules from 2011-present. She loves to share her continuing success story to her co-beneficiaries to encourage and inspire them to be more active and compliant to the conditions of the Program as indicated in its guidelines;
Participated in other Agency's activities: DTI's Consumer Forum and Standards Blitz, Winrock Internationals' Swine Production Management Training, LGU Butuan's City-wide Consultation on Climate Change Actions, DepEd's Workshop on the Formulation and Revisiting of School Improvement Plan (SIP), DILG's Orientation of Barangay Council for the Protection of Children, and Alternative Learning System's Cake Decoration.
Organized the Consumer Store of Taguibo Pantawid Sustainable Association. It was funded by DSWD-SLP with a seed capital of Php 300,000.00 consisting of 30 Pantawid Pamilya beneficiaries;
Authored the BUB School Library of Taguibo Elementary School which was inaugurated last February 2018 through partnership with the Department of Education. She felt the need of the children to have an easy access to quality education thus she lobbied to have a library in their barangay;
Serves as Vice President of STAR Entrepreneurs Organization sponsored by Coca-Cola and TESDA. She is also the president of the Parents Association in Light and Life Nursery School-Taguibo and the vice-chairman of their
These are just few of her involvements in DSWD endeavors and advocacies. In their barangay, she is also an active citizen as attested by their punong barangay.
"Si Lea permi nagaapil sa mga kalihukan sa barangay, gani ato siyang gi-recognize nga usa sa mga CSO diri. Aktibo siya sa han-ay sailang mga programa sama sa 4Ps ug SLP. Maayo usab ang iyang relasyon sa komunidad, aktibo sa simbahan, masaligan og tahasan siya og trabaho, maayo mudala sa grupo kay aduna siyay liderato (Lea always participates in the activities of the barangay, in fact we recognize her as one of our Civil Society Organization (CSO) partner. She is well-versed in the programs of DSWD such as 4Ps and SLP. She has good relationship with the community, active in the church, responsible in all the tasks given to her, and has the skills of a leader)," Hon. Rogelio P. Dumadag expressed.
Conquering the ever-challenging circumstances
In spite of juggling all these civic responsibilities, Lea believes the most essential things in life – family and faith. She constantly instills to her family to never cease in serving and trusting the Lord.
"Naging matatag ang tiwala ko sa Diyos dahil sa kanya. Simula noong bata pa kaming magkakapatid (My trust in God grew stronger because of her. When we were still young), she molded us to trust in God and serve Him for the community. Kahit may mga panahon na nauubusan ka ng tiwala sa sarili mo (Even though there were times that you lose confidence with yourself), she taught us to always pray and encouraged us to help other people. It became our strength and foundation," Chelsea Rebuta, fourth child, emotionally shared.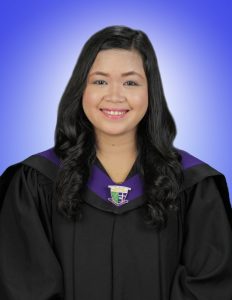 Chelsea graduated Cum Laude with a degree in Bachelor of Science in Information Technology major in Animation at Father Saturnino Urios Univeristy last 2017. This is an additional feat for Lea's family since four out of her five children have already graduated in college.
Henry Nichol is a graduate of Bachelor of Science in Fisheries, Joselle and Angelie both got a degree and a license in Elementary Education, and their youngest Arianne is in Grade 11. Sadly, her eldest died in a motorcycle accident last 2016. After mourning for his death, Lea kept herself busy in continuing her commitment and service to the people.
In observing the policies and procedures of DSWD, she sees to it that all her co-members conform to the conditions of the Program by conducting a surprise spot-check in every household. She is well aware of the Provincial Ordinance no. 435 series of 2017, "An Ordinance Prohibiting the Pawning of 4Ps Cash Cards IDs or Kasabotan to Government Officials and Employees, Private Individuals/Groups and Local Businesses."
As to issues on cash card pawning, she is sure that their barangay has zero incidents because they immediately provide action in coordination with the DSWD field workers. Whenever she notices a non-compliant member, she delivers proper intervention and advice, then reports it to the City Link for formal action.
"Lea always gives us timely updates as to the beneficiaries in their barangay. She is a great leader to her group, voluntarily offering her free time anytime they need her," Alma Mia Casipong, city link of Butuan City, shared.
Heeding the call of value-added service
"Si Lea maayo mudala sa mga membro, maayo mutambag bisan parte sa simbahan ug sa amoa, maabi-abihon, masinabtanon, ug masaligan. Unta magpadayon ning among grupo sa SLP ug magpermanente lang siya sa iyang pagka-pangulo (Lea is good in handling her members, good in advices as to church-related and people's concerns, friendly, understanding, and trust-worthy. I just hope that our association will sustain and she stays permanent as our leader)," Arlene Lumantao, storekeeper of the Taguibo Pantawid Sustainable Association, said.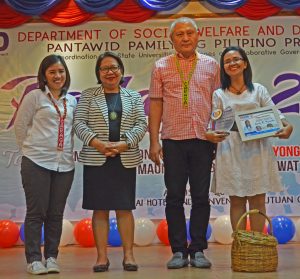 Lea continues to be a beacon of hope for her co-beneficiaries. Through her, the advocacy of the Department in improving the well-being of poor Filipino families, as indicated in the Organizational Outcome no. 1, is slowly made possible. She heeded to the call of value-added service. She went the extra mile. She empowered herself and others. These characteristics also made her the Regional Modelong Parent Leader all over Caraga in 2017.
Up to this moment, Lea remains an empowered parent leader-volunteer in the community. She vows to support all the projects, programs, and services of DSWD even after she exits the Pantawid Pamilyang Pilipino Program in a few years. She is one of the living testaments that being poor is not a hindrance to success when combined with positive outlook in life, persistent hard work, and unwavering faith in God.
"Hindi ako napapagod dahil mayroon akong pinanghuhugutan ng lakas (I do not get tired because I have my source of strength). Anytime I am called by DSWD, I will go there because I feel that I owe the Department a lot. I always lead in my home and in the community, I want to serve as an inspiration," she ended with a sweet smile painted on her face.###(Social Marketing Section/DSWD Field Office Caraga)