Cabadbaran City, being the capital of the Province of Agusan del Norte, is known, not only as the city of golden smiles, but also as a prime area for opportunities. As it continues to hold a number of booming commercial establishments, it also facilitates the sprouting of hope for the vulnerable and the disadvantaged.
It harbors a milieu of a dream-fulfilling garden, ushering the growth of a sustained human development through partnerships and project implementations.
With the introduction of Department of Social Welfare and Development's Sustainable Livelihood Program (SLP) in 2015, the city has welcomed a ray of hope for its constituents. Today, as it continues to implement microenterprise projects through the SLP, Cabadbaran also strengthens its mission to provide a better living condition to its people while integrating the Department's organizational outcome to improve the wellbeing of poor families.
Since 2015, DSWD has granted a total of P17,775,709.30 for 35 SLP projects in Cabadbaran City. As the projects continue to increase in number, the vision of the city to expand its support and assistance to SLP project implementations has also become concrete and clear.
It maximizes its participation by providing financial counterparts and initiating activities for the SLP associations. It strengthens its civic engagement with various external stakeholders. It teaches accountability to the program participants therefore modeling transparency. It institutionalizes assessment mechanism by forming a monitoring team to ascertain progress of the projects. It ensures sustainability of the projects through supplemental initiatives.
Maximizing Participation
Proving that it is one with the DSWD in planting the seeds of livelihood in the city, the local government unit of Cabadbaran has been very much involved with carrying out the objectives of SLP. In fact, it had several financial counterparts for the completion of the project implementations.
Recently, the LGU has assisted in the construction and improvement of the facilities of several SLP Associations in 2019 such as the Dressmaking and Tailoring Shop of the Calibunan 4Ps SLP Association, Calamba SLPA General Merchandise, and the Mabini SLPA Laundry Shop.
"Daku kayo og natabang ang LGU sa amo, sugod pa dyud sa sinugdanan. Sa wala pa matukod ang among association, naghatag na sila og training. Sa pagsugod na, libre pa dyud and among area, suga ug kuryente (The LGU has been a big help for us. Even before when our association was still starting, they already made us participate in skills trainings. They provided us with a rent-free area and even paid for our electricity bill)," Mabini SLPA President Jonnalyn Salilima said.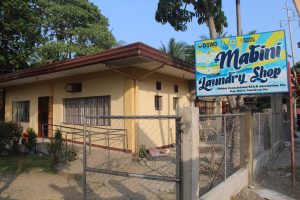 Salalima also said that the support provided by the LGU of Cabadbaran did not stop even after their shop was already fully functional. In fact, just this year, the LGU provided support for the purchase of materials and payment for laborers in the construction of the shop's perimeter fence, extension of the store premises and installation of water tank and water connection.
"Shoulder tanan sa LGU. Daku kaayo og tabang ang LGU sa amo (All the expenses have been paid for by the LGU. Indeed, they have been a great help)," Salalima added.
Aside from its counterparts for the construction of facilities, Cabdbaran also makes sure that several activities for the SLPAs are initiated.
A Local Technical Working Group – ALERT (Alliance of Local Economic and Resources Taskforce) of the SLP is created every term through issuance of executive orders to ensure partnership and collaboration among agencies in relation to the implementation of the program at all levels. This is in cognizance to the idea that "the SLP relies on the Multi-Stakeholder Approach, thus accessing all assistance from both private and public partner stakeholders to ensure effective and efficient implementation and sustainability."
The functions of LTWG-ALERT are to provide information in the prioritization of areas, participants, and projects based on existing and available resources and opportunities, complement SLP with existing programs and services of LGU and other partner agencies, complement SLP through provision of necessary resources during activities, facilitate the creation of local policies and systems to support the program, and lobby to the council for resolution to support the activities of the program.
Starting 2017, an annual localized project review and evaluation workshop (PREW) and proposal review and assessment sessions are conducted. The localized PREW, which is usually conducted outside the city for learning visits and benchmarking of possible projects from other LGUs, is held to provide technical assistance to SLP implementers and beneficiaries. Activities include the presentation of SLP accomplishments and updates, thrusts and priorities, monitoring reports, and monitoring tools, as well as the review on constitution and by-laws per project type, and action planning.
LGU Cabadbaran also initiated last July 6, 2019 the city's first SLP Congress. The celebration, with the theme, "Karun ug sa Uma-abot, Kalampusan atong Makab-ot," was a venue for the SLP beneficiaries and partners to interact and showcase the impact of the program. Different activities transpired during the whole-day celebration, which included a poster making contest which was participated by SLP beneficiaries, a livelihood bazaar which exhibited products from SLP Associations, and a livelihood symposium.
"We also incorporated SLP orientation in our Parents' Congress which is also done yearly," said Pamela Elumba, social welfare officer of Cabadbaran City.
Elumba, who is the focal person for Family Welfare and Development Program under which SLP belongs, added that some of these SLP activities are already institutionalized and are given budget allocations every year.
Furthermore, the LGU also supports the SLPAs through the provision of financial counterparts during each association's anniversary and even prioritizes these associations as service providers for different activities of the city. For instance, SLPAs offering catering services are always tapped during LGU activities. In support of the city's ordinance establishing a "No Plastic Bag Day," the constituents and commercial establishments are encouraged to purchase eco-bags from the Calibunan SLPA.
Strengthening Civic Engagement
Admitting that livelihood is a multi-sectoral and multi-stakeholder endeavor, the LGU of Cabadbaran taps different stakeholders especially in the conduct of capability building trainings and activities.
Engagement with different stakeholders has become one of the priorities of the LGU to ascertain the quality of assistance it provides to program participants. Through the LTWG-ALERT, different activities and sessions with the partners are conducted to strengthen the program implementations.
These trainings, which are also LGU funded, are done through inviting multiple stakeholders to provide discussions and facilitate trainings for the program participants.
Some of these activities are the Securities and Exchange Commission (SEC) Orientation and Online Registration, Bureau of Internal Revenue (BIR) Orientation for SLP Associations, Planning Workshop and Crafting of Standard Operating Procedure on Lending and Planning Workshop with LGU livelihood assisted projects with resource persons from the Landbank of the Philippines, Cantilan Bank, Baug Carp Beneficiaries Multi-Purpose Cooperative, and Cooperative Development Authority, among others.
This partnership is even made stronger through constant invitation of resource persons from various agencies to tackle on financial and inventory management, and business planning. These discussions were recently conducted with the Technical Education and Skills Development Authority (TESDA) and the Department of Trade and Industry (DTI) during a livelihood symposium during the Charter Week Celebration.
Teaching Accountability
As livelihood projects involve financial matters, concerns on spending and accounting always arise. Because of this, the LGU of Cabadbaran has made sure to become the medium in which these program participants will become knowledgeable in accounting their financial spending, therefore reflecting transparency.
With the conduct of an annual simplified bookkeeping workshop, the SLPAs are taught methodologies and principles on financial management, organizational roles and responsibilities, basic features of accounting and reporting, the book of accounts and preparation of income statements. Government employees from the City Accountants' Office are also always willing to extend help through technical assistance even on weekends.
This good practice on giving premium to financial tracking and reporting resulted to accountable and responsible officers of the SLPAs as they regularly submit their financial reports to the LGU and the BIR.
"Ginacheck dyud ang ilang recording nga makita dyud ang ilang income para [mahibaw-an] kung nakatabang ba dyud ang mga livelihood nga gihatag sa ilaha (Their recordings are regularly checked to track their income so that we will know whether the livelihood projects granted them are really helping them)," Elumba said.
This way, the sustainability of these livelihood projects is carpentered.
Institutionalizing Assessment
Another step that the LGU of Cabadaran has taken to make sure that the implemented projects in the city are properly monitored is the creation of SLP Monitoring Team issued through executive orders.
The monitoring team's functions are to attend/participate project orientation for reporting and documentation requirements to be called by the DSWD, to conduct regular monitoring and actual field visits to all SLP projects and document the status, issues and concerns in the implementation of the project with the beneficiaries, and to update or appraise the SLP-LTWG on the status, progress, issues and concerns of the SLP projects.
The said monitoring team is composed of representatives from the City Accounting Office, City Social Welfare and Development Office, City Treasurer's Office, City Economic Enterprise Office, City Budget Office, City Agriculture Office and 2nd District Congressional Office.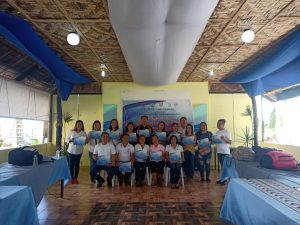 Aside from the site visits done by the TWG, the monitoring team supplements the assessment of the projects monthly as reflected to their reports that are then presented to the TWG.
"Dili dyud mahimo nga ang mga projects sa SLP walay magmonitor tungod kay importante kaayo ang mga records ug ilahang pag-manage sa ilahang grupo (Monitoring of SLP projects is really important to make sure that their recording and the management of their groups are done correctly)," SLP Monitoring Head Editha Pioco said.
Pioco added that the monitoring team also checks whether the associations conduct monthly meetings by looking at their minutes.
"Kung aduna man gani mga dili maayo sa grupo, amo silang tagaan og inputs especially sa pagmanage sa ilang mga proyekto. Pagtan-aw namo nga naay mga dili maayo, muhatag mi og mga pamaagi para unsaon mapalig-on nila ang ilang mga association (If we see that there something wrong within the associations, we give them inputs especially on how to manage their projects. We give them suggestions on how to strengthen their organizations)," Pioco said.
Ensuring Sustainability
Recognizing the good outcomes of the SLP projects to the program beneficiaries, the LGU of Cabadbaran is taking a step on institutionalizing budget allocations for the activities related to the program.
"Under family welfare, institutionalized na nga naay allocation sa yearly budget ang SLP (Under family welfare, allocation of funds for the SLP is already institutionalized)," Elumba said.
In fact, since 2017, the support to DSWD partnership on city action plan for 4Ps and SLP convergence and SLP program partnership and capability building and implementers and focal persons are regularly included and prioritized in the budget under the Annual Investment Plan.
A city action plan for the SLP implementation is also annually proposed and reviewed to ascertain SLP activities are prioritized and institutionalized.
As a form of assistance to program participants of SLP, City Ordinance No. 2018-015 has been drafted and approved. The said ordinance grants a business tax holiday for government-funded business enterprises and livelihood programs in the city including SLP project implementations.
The tax holiday is granted to qualified cooperatives and other peoples' organizations exempting them from the payment of business taxes within a period of three years from the time they commence their operations.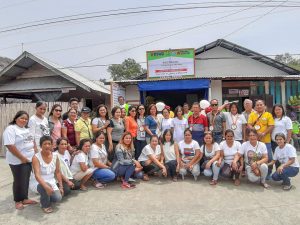 Free notarial services are also given to the SLPAs courtesy of their lawyer city councilors.
These, among all the other good practices of Cabadbaran City, are reflective of the LGU's commitment in serving better its constituents by implementing DSWD's SLP outstandingly.
"The city government of Cabadbaran is very committed to support the SLP implementation because we believe that isa dyud ni sya sa programa sa gobyerno nga daku kaayo'g ikatabang para matagaan nga hamugaway nga kinabuhi ang atong constituents (this is one of the programs from the government which are of big help to provide a better living condition for the constituents)," Elumba said.
Today, even if Cabadbaran is still a young city, it continues to grow as a place of opportunities that prioritizes a sustainable development of its people through a sustainable livelihood.